Job Listings In Robertson County Tennessee
GET YOUR JOB FILLED FAST!!
Find A Job Or Fill A Job on Smokey's Jobs page!
List your job opening on the number one news site in the Robertson County area. Thousands of middle Tennesseans just like you rely on Smokey Barn News everyday, let us tell your story of opportunity.
Let Smokey help you grow your business!!
"Thank you so much for your help. We had a monumental response to our job posting. I'm sure we are going to find the perfect person for the job. The immediate response was overwhelming. I am so glad I decided to go to Smokey Barn!" Rita Hallman,  KMC Music
For ad prices: email Jobs@SmokeyBarn.com or call 615-513-9844
——–JOB LISTINGS——–

Now Hiring Office Manager/Bookkeeper
Small Electrical Contractor seeking a full-time office manager/bookkeeper.
Responsibilities include:
• Manage all office procedures, documents, and personnel.
• Process Accounts Receivable, Accounts Payable, and Payroll functions.
• Prepare monthly, quarterly, and annual Federal and State forms.
• Complete various documents requested by all other municipalities, customers, and management.
Experience with Quickbooks, Microsoft Office, Word, and Excel is a must.
Prefer Management and Bookkeeping experience of 7 or more years.
Associates Degree in Accounting is required. Bachelors Degree would be better.
Salary will be based on education and experience.
Send resume to: mwebb@seiwh.com


NOW HIRING: Sales & Service Tech
Could This Be Your Next Boss? – Payne Chevrolet (NEW OPENINGS!!!)
Sales Representative
Springfield, TN
Come be a part of the Payne family. Family owned business for over 88 years.
Job Responsibilities
Assist customers in every aspect of the dealership.
Track and monitor all advertising provided by the dealership.
Work with phone and internet customers to answer any and all questions.
Help maintain all aspects of merchandising including the lot.
Help to meet and exceed all goals set by manufacturer and management.
We offer
40 hour work week
Salary plus aggressive bonus plan based on performance
Health, Dental and Vision insurance
Company matching 401k
A very extensive training program
Modern and Professional work environment
Email your resume to pmathis@PayneChevrolet.com, no phone calls please.
Payne Chev. – Auto Detailer:
Payne Chevrolet, a top automobile dealership and repair facility in
the middle Tennessee, has an immediate opening for an automotive
Detailer.
Do you love cars? Do you love making them sparkle? Does the thought of working for one of the worlds best selling automotive brands excite you? Then send us your resume today!
Experience preferred but not necessary, training can be made available to the right individual.
Pay: Compensatory
Payne is an equal opportunity employer.
Email your resume to pmathis@PayneChevrolet.com with DETAIL JOB in the subject, no phone calls please.
General Line Service Technician:
ASE certified
General Motors experience preferred
· Testing to check whether systems and components are secure and are working properly.
· Isolating the systems or components that might have caused the problem.
· Driving the vehicle for testing purposes or using various equipment, including hand-held and onboard compression gauges or diagnostic computers.
· Maintaining efficiency and accuracy in diagnosing as well as repairing vehicles.
· Repairing or replacing worn parts ahead of the vehicle's breakdown or damage.
· Following a checklist in ensuring that, they examine each critical part of the vehicle.
· Watching or inspecting closely parts like hoses, belts, plugs, fuel systems, brakes, and other possible troublesome items.
Our Dealership's Commitment to You :
· Competitive Salary
· Health, Dental, Vision and Life
· 401k
· Paid Time Off
· Professional Work Environment
· Opportunities For Advancement
Job Type: Full-time
Salary: $50,000.00 /year
Required experience:
· Automotive Technician: 2 years


NHC HIRING: Full Time RN or LPN
The qualified nurse for this position will provide kind and compassionate care and clinical assessments for our patients, maintain accurate, detailed documentation, administer medications and treatments to patients and monitor patients' response, record patients' medical information and vital signs, monitor record and report symptoms or changes in patients' conditions, consult and coordinate with healthcare team members to assess, plan, implement, or evaluate patient care plans and provide direction to the CNA staff.
NHC Springfield offers an excellent benefits and compensation package for full time employment, including health, dental, vision, life and disability insurance, paid time off and sick leave, a generous 401k match and more.
If you are interested in working for a leader in senior care and share NHC's values of honesty and integrity, please apply in person at 608 8th Ave E Springfield, TN or e-mail your resume to Jayda Fuqua at jbarbee@nhcspr.com
Required Skills: current TN state license as an LPN or RN
Equal Opportunity Employer

Smokey Barn News (Sponsor/Advertisement)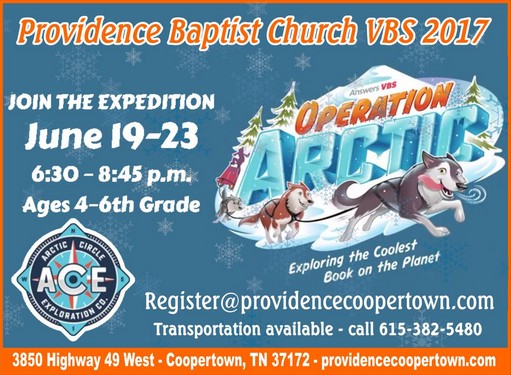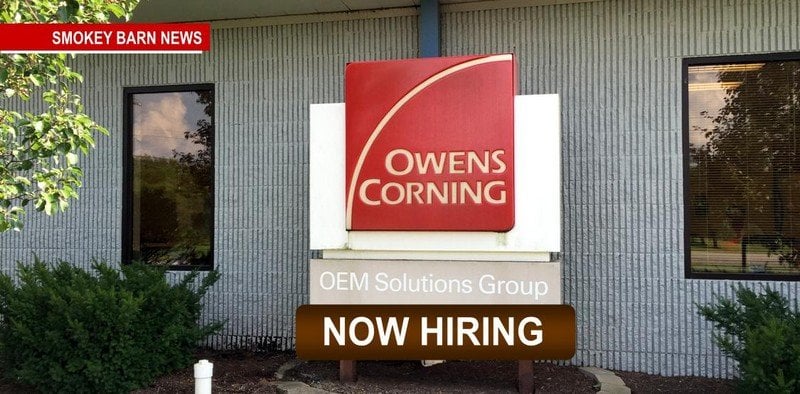 Owens Corning Now Hiring Multiple Positions
Forklift Driver 4-10 hour shifts Monday-Thursday Shift: 1st
SUMMARY
Is a "certified" and competent forklift truck operator. Loads/unloads trailers and moves materials within the plant area.
ESSENTIAL DUTIES AND RESPONSIBILITIES include the following. Other duties may be assigned.
• Completes daily forklift checklist, including blowing the radiator free of "lint" and immediately reports defects to supervisor(s) and/or maintenance department.
• Follows plant and safety rules, as well as forklift truck safety rules, paying particular attention to speed and safe operation of the forklift truck.
• Regular attendance is essential.
• Works in a team environment.
• Aware of activities in working surroundings and is responsible for keeping the department clean, tidy and safe.
• Reports any unsafe act, condition, accident or injury immediately to supervisor(s).
• Understands and follows the lock-out procedure.
• Unloads materials from trailers and organizes them in the work area and loads finished goods onto trailers.
• Prepare bill of lading (BOL).
• Determines method of shipment.
• Ship and receive goods.
• Compares quantities and identification numbers of goods against orders to ensure accuracy.
• Prepares shipments prior to loading on trailers.
• Verifies receipt of shipments against bills of lading, invoices or other documents.
• Keeps pertinent records.
• Moves materials, parts, skids, totes, finished goods, etc. within the plant area.
• Dumps garbage bins and other garbage in appropriate containers when required.
• May assist maintenance, die makers and operators in moving heavy dies or equipment.
• Follows directives from supervisor(s).
• Liaises with production and the customer service department to verify shipping dates, quantities etc.
• Attends training, seminars and meetings as requested by management.
QUALIFICATIONS
EDUCATION and/or EXPERIENCE
High school diploma; one to three years related experience and/or training; or equivalent combination of education and experience.
LANGUAGE SKILLS
Ability to read and interpret documents such as blueprints, safety rules, operating and procedure instructions. Ability to communicate effectively with management, supervisors and employees of the organization.
MATHEMATICAL SKILLS
Ability to add, subtract, multiply and divide in all units of measure, using whole numbers, common fractions, and decimals.
REASONING ABILITY
Ability to solve practical problems and deal with a variety of concrete variables in situations, where only limited standardization exists. Ability to interpret a variety of instructions furnished in written, oral, diagram or schedule form.
CERTIFICATES, LICENSES, REGISTRATIONS
Forklift operating license.
PHYSICAL DEMANDS
While performing the duties of this job, the employee is regularly required to stand; use hands to handle, or feel objects, tools, controls etc.; and reach with hands and arms. The employee frequently is required to stand or bend. The employee must frequently lift and/or move up to 50 pounds and/or more heavy loads with a pump truck or forklift. Specific vision abilities required by this job include close and distance vision, and the ability to adjust focus.
WORK ENVIRONMENT
While performing the duties of this job, the employee is regularly exposed to moving mechanical parts and fumes or airborne particles; and occasionally works with fiberglass insulation. The noise level in the work environment is usually moderate.
To apply for Forklift Driver click HERE
Production Associate 1st shift 4-10 hour shifts Mon.-Thurs.
SUMMARY
The Production Associate position is an hourly position, and reports to the Shift Supervisor. The employee works at presses, assist machine operators, removes parts from press, separates parts from scrap, assembles parts, stacks or packages parts and operates equipment.
JOB DUTIES AND RESPONSIBILITIES:
• Follows all plant safety guidelines, practices, and procedures. This includes the proper use of personal protective equipment when required
• Regular attendance is essential
• Works in a team environment ensures helpers understand their role, knows what precautions are necessary and location of emergency stop buttons
• Understands and interprets company work orders and job control procedures
• Works efficiently and accurately to achieve and maintain 100% of goal. Gets or requests materials needed, assembles totes, prepares skids, bags and boxes for packaging
• Packages specific number of parts on skids, in bags, boxes, etc., labels them, stacks bags of parts on racks, or in appropriate packaging and moves totes/skids of parts to a storage area or to the next operation
• Ensures that safety devices are in place and reports any unsafe behavior or situation
• Is aware of activities in working surroundings and is responsible for keeping the area clean, tidy, and safe
• Other tasks as assigned by Leader
JOB REQUIREMENTS, SKILLS AND ABILITIES
• Must have ability to read/write and interpret documents (safety rules, operating/procedure instructions, blueprints, etc..)
• Must have ability to communicate effectively with co-workers, supervision and management
• Must have the ability to do basic mathematical calculations
• Must have the ability to use a tape measure
EDUCATION AND/OR EXPERIENCE
• Must be at least 18 years old
• Must have a high school diploma or equivalent
• 3-6 months related experience and/or training; or equivalent combination of education and experience
ESSENTIAL PHYSICAL REQUIREMENTS/WORK ENVIRONMENT
• Standing/walking for 8 – 12 hours at a time
• Exposure to noise is usually moderate
• Bending, twisting and turning
• Full use of both hands – to handle, feel objects, tools, controls, etc.
• Close and distance vision abilities
• Works with fiberglass insulation
• Regularly works near moving mechanical parts
• A/C spot cooled work areas
To apply for Production Associate, Click HERE
JOIN OUR TEAM TODAY! CLICK HERE TO APPLY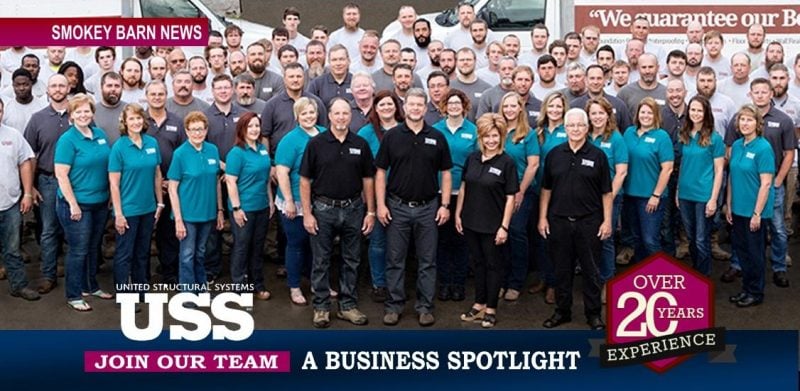 USS Expands Workforce in Pleasant View

You've heard their catchy jingle on TV and it's fun to watch the concrete slowly rise back into proper alignment. Did you know that United Structural Systems (USS) is located right here in Robertson County's own backyard? The USS headquarters is in Pleasant View, which partially sits in Robertson and Cheatham County.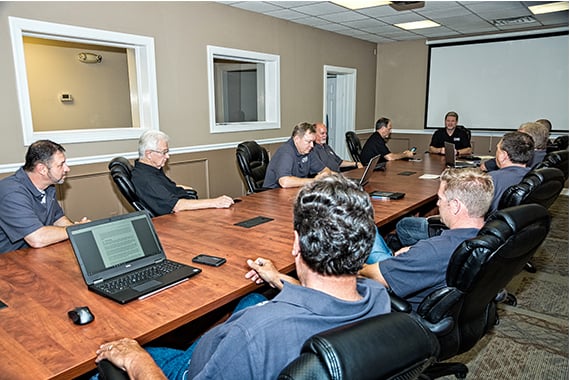 USS provides commercial and residential foundation repair, waterproofing, floor support systems, sinkhole remediation, encapsulation, concrete leveling, and other specialty services.
With over 12,000 residential and commercial foundation repair and waterproofing jobs under their belt, USS continues to build a strong reputation among homeowners.
"Most of our employees have been with USS for years. They feel a great sense of pride in having helped build both our company and the surrounding communities we serve," said Smith.
If USS sounds like a great company to work for, you're in luck! USS told Smokey Barn News that they are hiring. Below is some of the information about the jobs available and how to apply.
Join the Leading Foundation Repair Company in Middle Tennessee and Southern Kentucky
WE ARE HIRING FOR THE FOLLOWING POSITIONS:
• Crew Leader
• General Labor
United Structural Systems, Inc. is looking for hard working, dedicated individuals to join our foundation repair and waterproofing crews in Pleasant View, TN.

Desired skills and Job Requirements:
Great work ethic
Willing to work outdoors year round
Valid driver's license
Ability to pass a drug test and background check
Start time 6:15 a.m.
Willing to work overtime
Construction experience a plus
Compensation:
Pay ranges DOE. Forty-hour weeks year round with possibility of overtime each week. Annual paid holidays, (40) Forty hours paid vacation after one year. Eligible for health, dental and vision insurance after 60 days. $15,000 life insurance policy provided at no cost.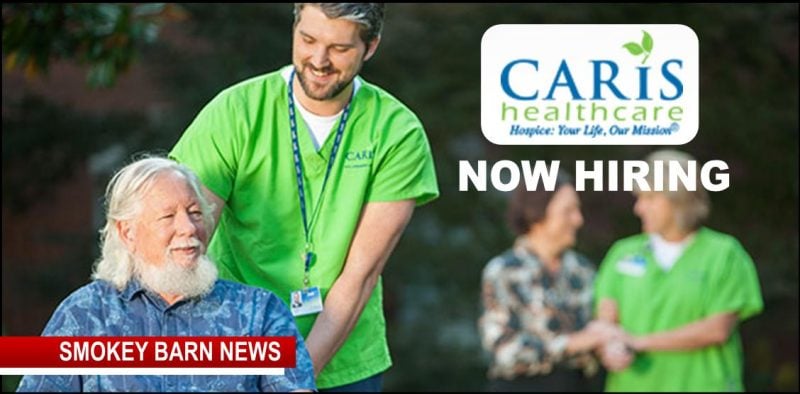 Caris HealthCare is Now Hiring
Do you wish you worked for a company where you:
• Spend more time with the patients?
• Enjoy more autonomy in decision-making?
• Rarely are confined in the same building?
• Love your job?
Caris Employees enjoy their jobs because we offer day shift work. We have a great patient-to-staff ratio, so you can spend more time with patients. At Caris, our Employees really make a difference in the lives of patients and their families at a time when they need us the most. FREE training is available for applicants with an RN or LPN license, or CNA certification.
Whatever your skills and talents, there is a place for you at Caris. Experience the rewards of sharing your TALENTS and your COMPASSION with one of the nation's leaders in hospice care.
Registered Nurse
Due to recent growth we are seeking full time RN's to help us continued to provide exceptional end of life care in Springfield and surrounding communities.
Currently seeking:
Weekend RN
RN Director of Nursing
Fulltime RN
Competitive salary & excellent benefits! Excellent computer skills, required.
EOE
Thanks for your interest in working for Caris Healthcare. Employees at Caris Healthcare must agree to live up to the 20 Promises of The Better Way as a condition of employment. After watching the above video, if you agree to live up to the 20 Promises of The Better Way, we encourage you to continue with the application process by Applying Online for an exciting career with Caris Healthcare.
Please APPLY ONLINE – Click Here
or
Send resume to: LHardy@CarisHealthCare.com


NOW HIRING FIREFIGHTERS
The Springfield Fire Department is excepting applications for future part time, and full-time positions.
This is a three-part process:
Physical Ability test
Written test
Oral interview
Requirements If hired:
Within five (5) years from date of employment you must attain:
Firefighter 1 State Certificate From Tennessee Commission Of Firefighting
A Medical License From The Tennessee Department Of Health
Vehicle Extrication Technician Certification
Pick-up Application At City Hall: 405 North Main St.
Application closing date: June 5, 2017

TRANSMISSION EXCHANGE (SPRINGFIELD) HIRING
Remove & Replace Transmissions Mechanic
Remove & Replace transmissions mechanic needed at Springfield location, but able to help at Nashville location if needed. Pay is based on experience.
Call Ralph Renee Meadows or Lacey Walker at  615-804-6445, and 615-382-5393 or email:  lacey.walker06@gmail.com

Rod's Tire and Automotive, in Springfield, TN
NOW HIRING GENERAL SERVICE TECHNICIAN
Due to a huge increase in sales and service we are looking for motivated, experienced people to come join our team. Competitive pay, 5 paid holidays. Paid vacation after just 1 year. Health care participation after 90 days. If the below job description fits you please send your resume' to sales@rodstireco.com.
General Service Tech – Automotive (Springfield, TN):
• Opening for a General Service Technician who has experience with tires and maintenance service on Autos, Light Trucks. Specific areas of expertise are:
• Oil Changes
• Tire Mounting – Balancing – Repairing
• Passenger – Light Truck – Large Truck and Farm
• Vehicle Inspection
• Manufacturer Scheduled Maintenance Services
• More qualifications will help
Minimum of 1 year experience required and a clean driving record.
Compensation: Hourly
Employment type: full-time

The Cross Plains Volunteer Fire Department is looking for you. If you interested in becoming a volunteer firefighter, contact Chief Tommy Jackson.
Call (615) 654-9287
Email: crossplainsvfd@comcast.net

Firefighter – Two Full Time Positions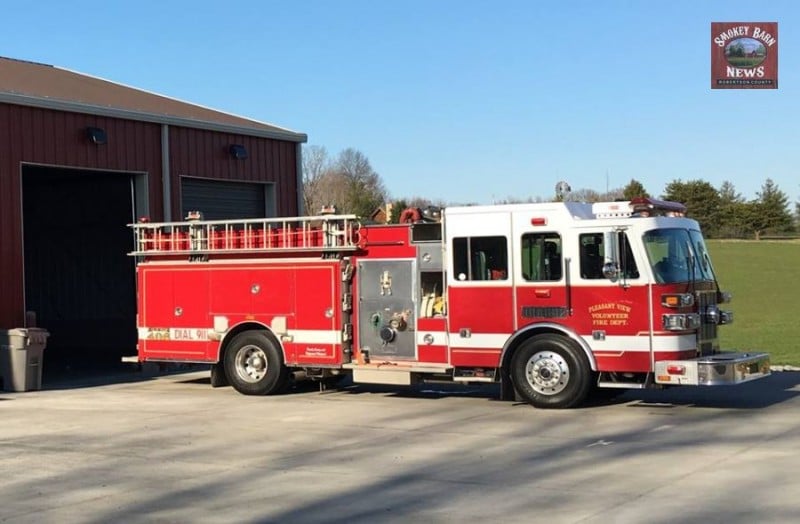 The Pleasant View Volunteer Fire Department has recently opened our doors to a new station. Our Station 6, found at the corner of Thomasville Rd and Mosley Ferry Rd, has two full time positions Monday-Friday from 6am-6pm. These positions are filled with part-time personnel and we are looking for qualified people to help fill these spots. The qualifications we are looking for are: – 18 years of age or above – High School Diploma or equivalent – Valid Tennessee Driver's License – State Certified Firefighter I or higher – State Certified Emergency Medical Responder or higher The pay scale ranges from $11.00 – $15.00/hour depending on your qualifications. If you are interested in a position please fill out an application online at www.pvvfd.org. The PVVFD will contact you after receiving your application and it has been reviewed. If you have any questions or would like more information please contact us – pleasantviewfire@pvvfd.org
((

Fill your job fast on Smokey's jobs page!

))
For ad prices: email Jobs@SmokeyBarn.com or call 615-513-9844
Smokey Barn News (Sponsor/Advertisement)
We bring you ALL the News in Robertson County, Tennessee.
Local jobs, job openings, job postings, job listings, help wanted,  employment opportunities, businesses now hiring in Springfield tn, Greenbrier tn, Adams tn, Ridgetop tn, White House tn, Cross Plains tn, Millersville tn, Cedar Hill tn, Coopertown tn and Orlinda  in Robertson County Tn, Tennessee!