GET YOUR JOB FILLED FAST!!
Find A Job Or Fill A Job on Smokey's Jobs page!
List your job opening on the number one news site in the Robertson County area. Thousands of middle Tennesseans just like you rely on Smokey Barn News everyday, let us tell your story of opportunity.
Let Smokey help you grow your business!!
"Thank you so much for your help. We had a monumental response to our job posting. I'm sure we are going to find the perfect person for the job. The immediate response was overwhelming. I am so glad I decided to go to Smokey Barn!" Rita Hallman,  KMC Music
For ad prices: email Jobs@SmokeyBarn.com or call 615-513-9844
——–JOB LISTINGS——–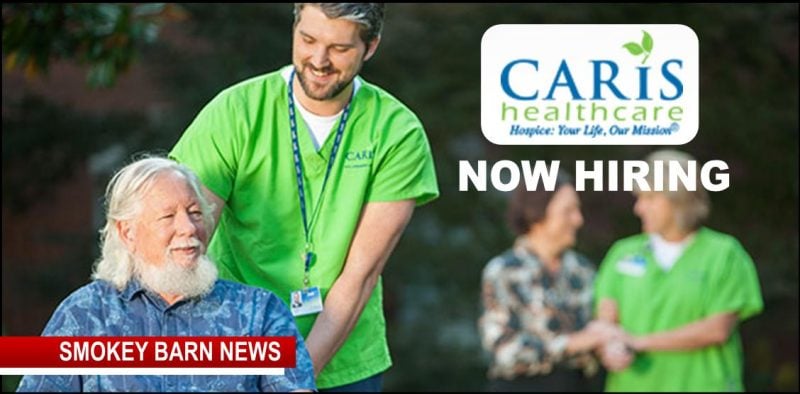 Caris HealthCare is Now Hiring
Do you wish you worked for a company where you:
• Spend more time with the patients?
• Enjoy more autonomy in decision-making?
• Rarely are confined in the same building?
• Love your job?
Caris Employees enjoy their jobs because we offer day shift work. We have a great patient-to-staff ratio, so you can spend more time with patients. At Caris, our Employees really make a difference in the lives of patients and their families at a time when they need us the most. FREE training is available for applicants with an RN or LPN license, or CNA certification.
Whatever your skills and talents, there is a place for you at Caris. Experience the rewards of sharing your TALENTS and your COMPASSION with one of the nation's leaders in hospice care.
Registered Nurse
Due to recent growth we are seeking full time RN's to help us continued to provide exceptional end of life care in Springfield and surrounding communities.
Currently seeking:
• Weekend RN
• RN Director of Nursing
Competitive salary & excellent benefits! Excellent computer skills, required.
EOE
Thanks for your interest in working for Caris Healthcare. Employees at Caris Healthcare must agree to live up to the 20 Promises of The Better Way as a condition of employment. After watching the above video, if you agree to live up to the 20 Promises of The Better Way, we encourage you to continue with the application process by Applying Online for an exciting career with Caris Healthcare.
Please APPLY ONLINE – Click Here
or
Send resume to: LHardy@CarisHealthCare.com

Your local Springfield, TN, Rent A Center
is now hiring for multiple positions
• Delivery driver- Part time (15-22 hours)
• Bilingual Sales Assistant Manager (38-40 hours)
• Bilingual Customer Account Representative (38-40 hours)
Our coworkers also enjoy a total rewards package that includes:
• Industry-leading pay ranges for all positions
• Sundays off
• Paid sick/personal days
• Paid vacation
• Employee discount plan
• 401 (k) and company match
Job Qualifications
• Must be at least 19 years of age
• High school diploma or GED
• Friendly with great communication skills
• Excellent customer service skills
• Valid state driver's license and good driving record
Store location:
2007 Memorial Blvd a, Springfield, TN 37172


USS Now Hiring Crew, General Labor
Join The Leading Foundation Repair Company in Nashville
WE ARE EXCITED TO ANNOUNCE AN EXPANSION TO OUR CREW! WE ARE HIRING INDIVIDUALS IN THE FOLLOWING AREAS:
• Crew Leader
• General Labor
United Structural Systems, Inc. is looking for hard working, dedicated individuals to join our foundation repair and waterproofing crews in Pleasant View, TN.
JOB QUALIFICATIONS:
• You must have transportation to our office located in Pleasant View, TN.
• You must pass a pre-employment drug screen and background checks.
• Preferably have a valid driver's license.
• Preferably be 21 years of age or over so that you can obtain a DOT medical card (paid for by USS) to allow you to drive a company vehicle as needed.
• You must be able to lift and carry 95 pounds without accommodation on a repetitive basis.
• You must have no felony convictions in the past ten years.
• You must be able to work overtime and on out of town jobs. Crews work 4-10 hour days with potential for overtime on Fridays. (Overtime is not guaranteed.)
JOB DUTIES (MAY INCLUDE BUT NOT LIMITED TO THE FOLLOWING):
• Working outside in all types of weather, and in crawlspaces and basements of homes
• Hand digging with shovels, raking, and hauling all types of debris/gravel in wheelbarrows
• Jackhammering and grinding/replacing mortar joints
• Sawing wood and/or concrete
• Operating excavators and/or skidsteers and other large equipment
• Driving USS vehicles as needed
• General construction duties as assigned by the project foreman
COMPENSATION:
Pay ranges DOE. Forty hour weeks year round with possibility of overtime each week. Annual paid holidays, (40) Forty hours paid vacation after one year. Eligible for health, dental and vision insurance after 60 days. $15,000 life insurance policy provided at no cost.


NOW HIRING FIREFIGHTERS
The Springfield Fire Department is excepting applications for future part time, and full-time positions.
This is a three-part process:
Physical Ability test
Written test
Oral interview
Requirements If hired:
Within five (5) years from date of employment you must attain:
Firefighter 1 State Certificate From Tennessee Commission Of Firefighting
A Medical License From The Tennessee Department Of Health
Vehicle Extrication Technician Certification
Pick-up Application At City Hall: 405 North Main St.
Application closing date: June 5, 2017

—-Springfield, TN—-

NOW HIRING 2nd Shift Positions
Nashville Wire Products, an established local manufacturer of steel wire products for the material handling industry, is growing and…
Accepting resumes for:
Skilled machine setter/operators for automated welding machines, material handlers/sit-down forklift drivers, and maintenance technician on night shift for our Springfield, Tennessee location.
2nd shift typically works approximately 52 hours per week with occasional additional overtime as required to meet customer demands.   2nd shift base schedule 3:30 pm until 3:30 am Monday through Thursday with additional Friday OT as required to meet customer demands
Full time benefits include:
Medical, dental, and vision insurance availability first of month after 60 days of service, 80 hours vacation after 1 year of service, paid sick time after 90 days of service, 401k with 100% match, 9 paid holidays, employer paid short and long term disability, 1 year pay progression top out, and $300 quarterly attendance bonuses.
Successful applicants for all positions must pass math test that includes adding and subtracting tape measure fractions, tape measure reading test, mechanical aptitude evaluation, drug screen, and 7 year background check for misdemeanors and felonies.
Please email resumes to mhdjobs@nashvillewire.com
Manufacturing Multi Skill Maintenance/Automation Technician
This position has strong emphasis on electrical, however, mechanical experience is required. Duties include preventive maintenance activities, troubleshooting and repairing manufacturing machinery and equipment with a goal of reducing downtime and recurring problems.  Equipment includes PLC controlled machinery, hydraulic, pneumatic, mechanical presses, and various welding systems. The desired candidate must have a steady work history with 3+ year's recent experience as a multi skilled maintenance technician in a manufacturing environment with mechanical, electrical, pneumatic and hydraulic equipment and be proficient in general machine and building maintenance.  The desired candidate must be proficient with troubleshooting PLC's, AC, DC drives and automation/motor controls.  General knowledge of Ladder Logic, Function Blocks, and RS Logic 500 & 5000 programs preferred for troubleshooting purposes. Base starting pay range $24 – $26.50 DOE, 1 year pay range $26.00 – $28.50 DOE.
Skilled Machine Set Up Maker/Operator
This position will set-up automated welding and metal forming equipment then run production jobs while meeting and/or exceeding established production, set up, and quality standards.  This position regularly conducts quality inspections to verify all parts meet blueprint specifications and quality tolerances and are usable for next operations and performs necessary rework and minor repairs on non-conforming parts.  Applicants should have recent steady work history with recent experience performing machine set ups and running production jobs on PLC controlled machinery, hydraulic and mechanical stamping presses, or automated welding systems. Prior experience interpreting blueprints, reading tape measure, and computer knowledge required. Prior experience in metal fabrication or resistance welding a plus. This position regularly requires regular heavy lifting (up to 50 pounds).  Base start rate $16.00/hour with increases at 90 days, and 1 year from full time hire. Base Pay range $16.00-$18.50/hour.
Manufacturing Material Handlers/Sit Down Forklift Operator
This position will operate a sit down forklift to deliver work in process and raw materials to multiple production lines to ensure manufacturing equipment does not shut down for lack of supply. Applicants must have recent steady work history with material handling experience in fast paced manufacturing environment distributing loose materials to machines using a sit down forklift.  This position regularly requires regular heavy lifting (up to 50 pounds).  Base rate $14.00/hour with increases at 90 days, and 1 year from full time hire. Base pay range $14.50-$15.75/hour.
Please email resumes to mhdjobs@nashvillewire.com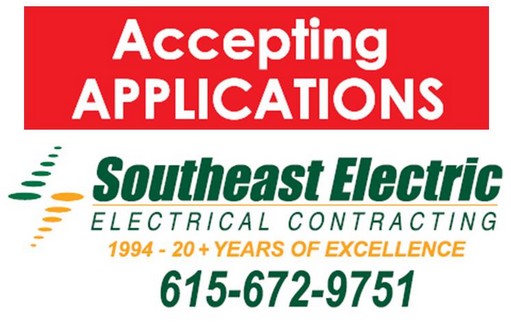 Southeast Electric Now Accepting Applications
8 AM to 4 PM for Electricians & Apprentices
To inquire or apply call 615-672-9751
OR Email: contact@southeastelectric.com
To Learn more about Southeast Electric – Click Here

TRANSMISSION EXCHANGE (SPRINGFIELD) HIRING
Remove & Replace Transmissions Mechanic
Remove & Replace transmissions mechanic needed at Springfield location, but able to help at Nashville location if needed. Pay is based on experience.
Call Ralph Renee Meadows or Lacey Walker at  615-804-6445, and 615-382-5393 or email:  lacey.walker06@gmail.com


The City Of Ridgetop Is Hiring
Utility Worker:
The City of Ridgetop will be accepting applications for a full-time experienced utility worker position. Experience in sewer field preferred. Applications will be available at City of Ridgetop City Hall, 1730 Hwy 41S, Ridgetop, TN
EOE/Drug-free Workplace
Seasonal Worker:
The City of Ridgetop will be accepting applications for a part time seasonal worker position. Job requires general equipment knowledge, includes mowing, weed eating. General Utility and Operator skills a plus, room for advancement, competitive wages. Applications will be available at City of Ridgetop City Hall, 1730 Hwy 41S, Ridgetop, TN.
EOE/Drug-free Workplace


Local Girl Scout Camp is hiring
experienced Cooks and Health Officers
for Summer 2017!
For Cook position, kitchen experience and knowledge of food safety regulations preferred. Applicant must be able to lift 50 lbs. Schedule is Sunday through Thursday. On-site living not required.
The Health Officer is responsible for administering all medications, communicating with parents, maintaining health records and handling all medical concerns on camp. Candidates should have the ability to assess and evaluate medical needs. Nursing students or experienced health care professionals preferred. Applicants must have a valid driver's license and must be able to lift 50 lbs. Current First Aid and CPR certifications required. Schedule is Sunday to Friday.
To apply, please contact Camp Director at campholloway@gsmidtn.org or 615-460-0212.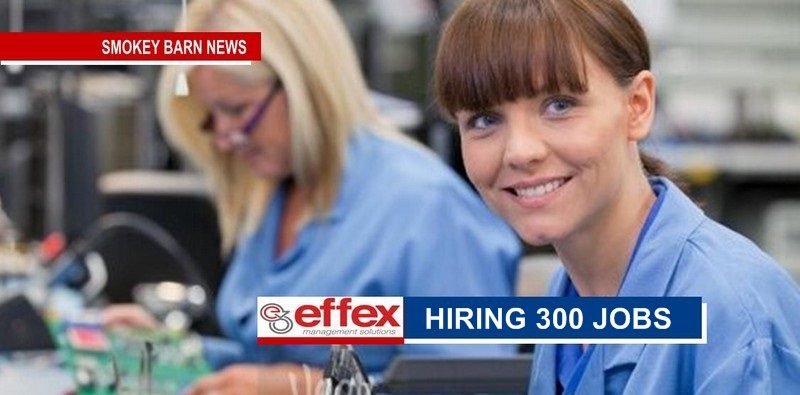 (Sponsored Ad) 
Effex Management Solutions – 300 Positions Open In Springfield
SPRINGFIELD TENNESSEE: (Smokey Barn News) – Effex Management Solutions is Hiring for Electrolux who is a global leader in household appliances and appliances for professional use, selling more than 60 million products to customers in more than 150 markets every year. The company focuses on innovations that are thoughtfully designed, based on extensive consumer insight, to meet the real needs of consumers and professionals.
If you believe these qualities apply to you, we encourage you to find your place at Effex Management Solutions today. We are hiring for 1st, 2nd & 3rd shifts.
Requirements for employment opportunities:
• Pass a Background Check
• Pass a Drug test
• Be able to lift up to 40lbs
• Assembly & Production positions
Apply Direct for Fast response CLICK HERE
Applicants can now apply via text using a smart code.
All you have to do is text EFFEXMS 12 to 313131. The text must be in all CAPS and you must enter a "space" between the word 'EFFEXMS' and the number 12.
Apply in person onsite:
• Effex office onsite at Electrolux : 1100 Industrial Drive Springfield TN 37172
Benefits available to you as an Effex Management Solution associate include:
• Medical Coverage – Access to affordable and comprehensive group medical coverage plan
• Vacation Bonus – Rewarding employees who make an extended work commitment
• 6 Paid Holidays – based on accrued hour requirements
Get $100 for each referral!! Refer a friend to work for Effex Management Solutions. If they are hired, you get $100 per person after completion of 60 days.
OR Apply in person at 2 Locations:
• WorkForce Essentials 299 10th Ave E, Springfield, TN 37172
• WorkForce Essentials, Inc. 523 Madison Suite B, Clarksville, TN 37040



NOW HIRING: Sales, Service Tech & Service Porter
Could This Be Your Next Boss? – Payne Chevrolet (NEW OPENINGS!!!)
Sales Representative
Springfield, TN
Come be a part of the Payne family. Family owned business for over 88 years.
Job Responsibilities
Assist customers in every aspect of the dealership.
Track and monitor all advertising provided by the dealership.
Work with phone and internet customers to answer any and all questions.
Help maintain all aspects of merchandising including the lot.
Help to meet and exceed all goals set by manufacturer and management.
We offer
40 hour work week
Salary plus aggressive bonus plan based on performance
Health, Dental and Vision insurance
Company matching 401k
A very extensive training program
Modern and Professional work environment
Email your resume to pmathis@PayneChevrolet.com, no phone calls please.
Payne Chev. – Auto Detailer:
Payne Chevrolet, a top automobile dealership and repair facility in
the middle Tennessee, has an immediate opening for an automotive
Detailer.
Do you love cars? Do you love making them sparkle? Does the thought of working for one of the worlds best selling automotive brands excite you? Then send us your resume today!
Experience preferred but not necessary, training can be made available to the right individual.
Pay: Compensatory
Payne is an equal opportunity employer.
Email your resume to pmathis@PayneChevrolet.com with DETAIL JOB in the subject, no phone calls please.
General Line Service Technician:
ASE certified
General Motors experience preferred
· Testing to check whether systems and components are secure and are working properly.
· Isolating the systems or components that might have caused the problem.
· Driving the vehicle for testing purposes or using various equipment, including hand-held and onboard compression gauges or diagnostic computers.
· Maintaining efficiency and accuracy in diagnosing as well as repairing vehicles.
· Repairing or replacing worn parts ahead of the vehicle's breakdown or damage.
· Following a checklist in ensuring that, they examine each critical part of the vehicle.
· Watching or inspecting closely parts like hoses, belts, plugs, fuel systems, brakes, and other possible troublesome items.
Our Dealership's Commitment to You :
· Competitive Salary
· Health, Dental, Vision and Life
· 401k
· Paid Time Off
· Professional Work Environment
· Opportunities For Advancement
Job Type: Full-time
Salary: $50,000.00 /year
Required experience:
· Automotive Technician: 2 years
Phillip Mathis – Manager – Payne Chevrolet
Email Resume to pmathis@paynechevrolet.com
615-384-5573

SPRINGFIELD POLICE OFFICER
($34,840- $50,648/YR)
ANNOUNCEMENT NUMBER #SPD-075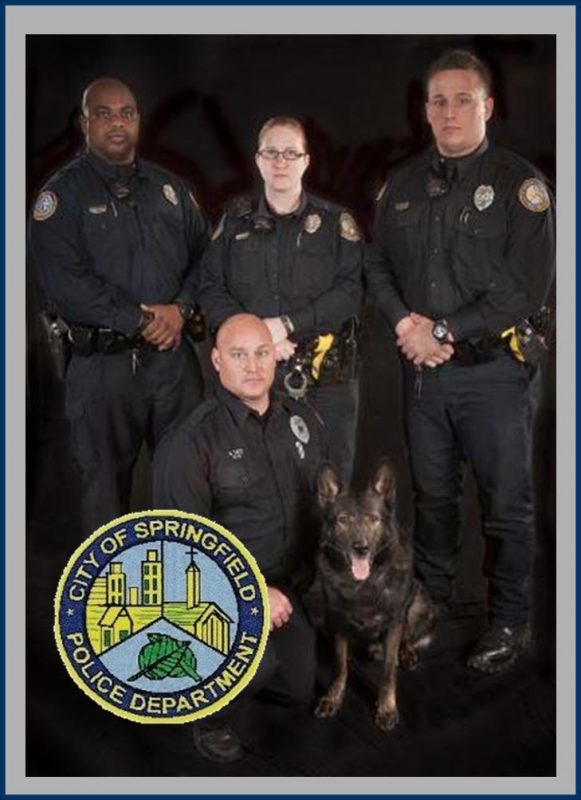 The City of Springfield is accepting applications for a Police Officer with Springfield Police Department from February 22, 2016 until filled.
Essential functions include observing for violations of traffic laws and disturbances of law and order; investigating accidents and suspected crimes; serving warrants and making arrests.
Graduation from a standard high school or equivalent required; some experience in police work desirable.
Applications may submitted on-line at www.springfield-tn.org or may be received in person at the City of Springfield Personnel Office, 405 North Main Street and returned no later than 4:30 p.m. on the date specified above.
Applicants who recently applied within the last 6 months will be re-considered and need not re-apply. When applying for this vacancy announcement, please reference the above announcement number.
CITY OF SPRINGFIELD PERSONNEL DEPARTMENT
P.O. BOX 788
SPRINGFIELD, TN 37172
THE CITY OF SPRINGFIELD IS AN AFFIRMATIVE ACTION/EQUAL OPPORTUNITY EMPLOYER

Rod's Tire and Automotive, in Springfield, TN
NOW HIRING GENERAL SERVICE TECHNICIAN
Due to a huge increase in sales and service we are looking for motivated, experienced people to come join our team. Competitive pay, 5 paid holidays. Paid vacation after just 1 year. Health care participation after 90 days. If the below job description fits you please send your resume' to sales@rodstireco.com.
General Service Tech – Automotive (Springfield, TN):
• Opening for a General Service Technician who has experience with tires and maintenance service on Autos, Light Trucks. Specific areas of expertise are:
• Oil Changes
• Tire Mounting – Balancing – Repairing
• Passenger – Light Truck – Large Truck and Farm
• Vehicle Inspection
• Manufacturer Scheduled Maintenance Services
• More qualifications will help
Minimum of 1 year experience required and a clean driving record.
Compensation: Hourly
Employment type: full-time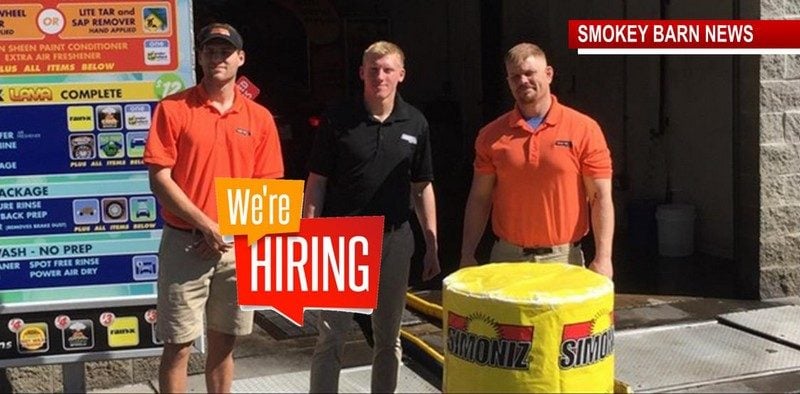 Wash Me Express In Springfield NOW HIRING Leadership and Sales
Starting at $9 – $18/Hour
SPRINGFIELD TENNESSEE: (Smokey Barn News) – Another great Robertson County company is hiring. Wash Me Express in Springfield is looking to fill several critical positions in Leadership and Sales.
"At Wash Me Express, we believe in finding the right partners to serve our customers. We're looking for leaders with high energy and an optimistic outlook.
"We value good logic and decision-making skills when it comes to customer service. Also, leadership needs to value time and resource management.
"Above all else, we want you to have a passion for being great at what you do and possess the highest levels of integrity and loyalty with us and our customers.
"Bottom Line – we operate a drug-free work environment that sets our employees up to make optimal amount of money and have success for both the company and themselves," said Jeff Fields District Manager Wash Me Express.
Hours include weekdays, weekends and holidays.
LOCATION: 2200 Memorial Blvd,  Springfield Tennessee MAP
Benefits
• Advancement based on top performance
• One-on-one coaching
• An outgoing, fun, team-based environment
Requirements
• Strong work ethic
• Proficient communication skills
• Ability to work in collaborative environment; with minimal supervision
• Must have a smart phone
• Proactive at handling issues in the workplace
HOW TO APPLY
Please go to www.WashMeExpress.com/employment and fill out an application.
After completing an application, call or text Marcus (615) 417-9472 or Jeff (270) 779-8534 to follow up.
*Principals only. Recruiters, please don't contact this job poster.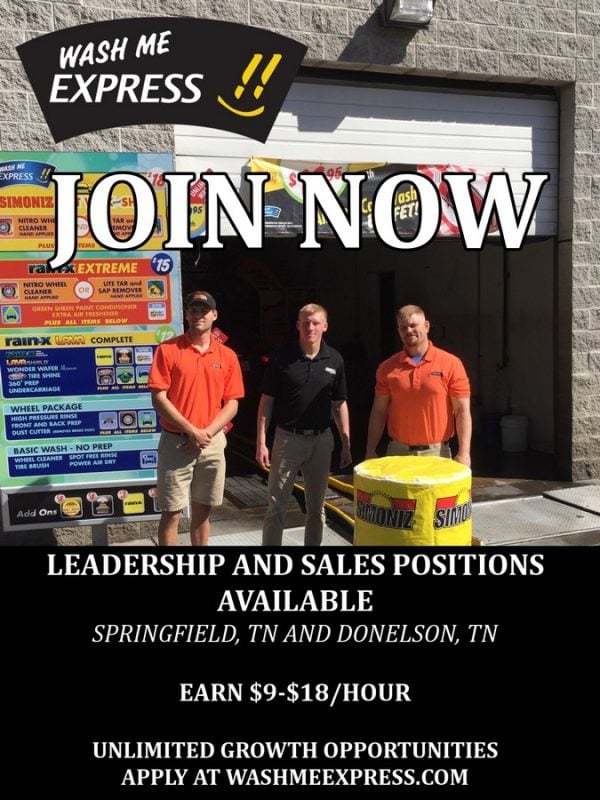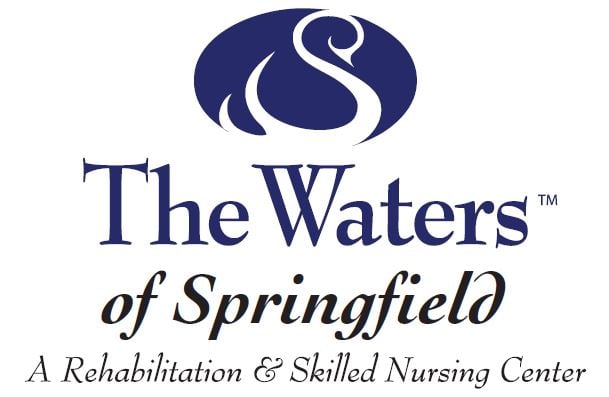 Now Hiring RN/LPN's & Certified Nursing Assistants
SPRINGFIELD TENNESSEE: (Smokey Barn News) – The Waters of Springfield are now hiring registered nurses, licensed practical nurses and  certified nursing assistants for full-time positions on 1st and 2nd shifts to provide skilled medical care, rehab-to-home programs, memory care, long term care services, hospice services, respite care and a variety of other healthcare services.
Nursing Opportunities:
RN/ LPN – provide direct nursing care to the residents and supervise the day-to-day nursing activities performed by nursing assistants. Full-time positions on 1st and 2nd shifts; part-time position on 2nd shift (12-hour shifts). Shift differential paid for hours worked after 3 p.m. and before 7 a.m. Monthly bonus paid for attendance.
Must be a Registered Nurse or Licensed Practical Nurse in accordance with the state of Tennessee
Participation in continuing education classes, workshops, and seminars affiliated with outside nursing organizations desirable
Certified Nursing Assistant (CNA) – provide each assigned resident with routine daily nursing care and services in accordance with the resident's assessment and care plan, and as may be directed by supervisors. Full-time positions on 1st and 2nd shifts; part-time position on 2nd shift (12-hour shifts). Shift differential paid for hours worked after 3 p.m. and before 7 a.m. Monthly bonus paid for attendance.
Must possess, as a minimum, a GED and Certified Nursing Assistant Course (CNA)
Must be a licensed Certified Nursing Assistant in accordance with the laws of this state.
Benefits:
• Competitive Compensation
• Health, Dental and Vision Insurance Packages
• Supplemental Plans
• Vacation and Sick Pay
Submit Resumes To Both Email Addresses:
hr@watersofspringfield.com AND administrator@watersofspringfield.com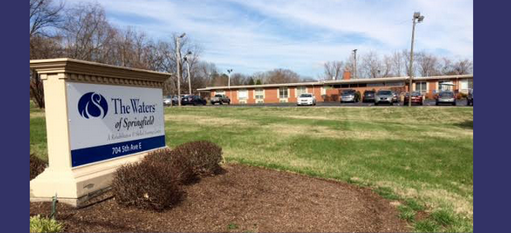 About the facility:
The Waters of Springfield is conveniently located in the heart of Springfield, Tennessee. With a cozy country feel, we offer comprehensive skilled medical care, rehab-to-home programs, memory care, long term care services, hospice services, respite care and a variety of other healthcare services. We have spacious rooms, in-house therapy gym, dining room and daily activity programs. Private rooms are available as well! Our facility is part of the community and we treat our residents like family here at The Waters.

The Cross Plains Volunteer Fire Department is looking for you. If you interested in becoming a volunteer firefighter, contact Chief Tommy Jackson.
Call (615) 654-9287
Email: crossplainsvfd@comcast.net

Millersville Police Looking For Officers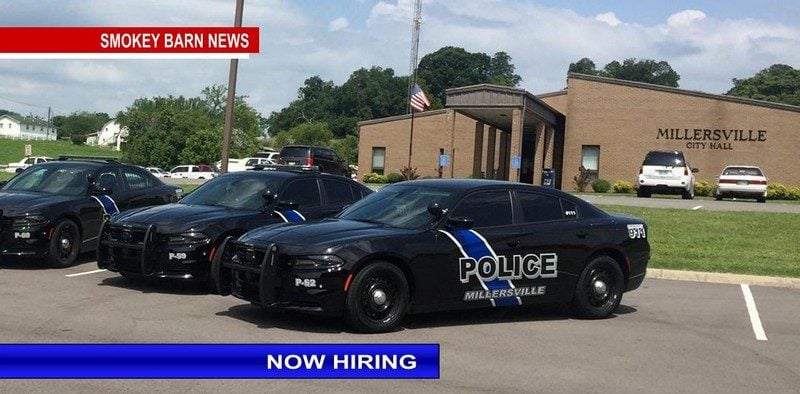 The City of Millersville is accepting applications for a full-time State Certified Police Officer.
The City of Millersville was established in 1860 and incorporated in 1981. Millersville Police Department serves its citizens in both Robertson County and Sumner County.
We are committed to treating all individuals with courtesy, professionalism and respect.
We offer a salary plus benefit package including health and dental insurance, state retirement, vacation, and paid holidays.
Officers also have take home vehicles if they live within 10 miles of Millersville City Hall. Position open until filled.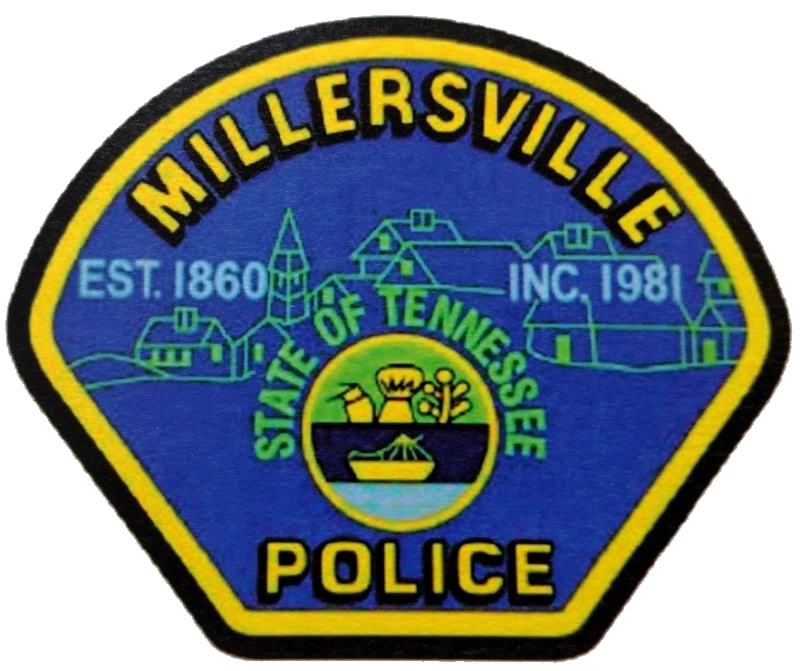 Apply in person at:
Millersville Police Department
1246 Louisville Highway
Millersville, TN 37072
615-859-0880
Or obtain an application online at www.cityofmillersville.com
EOE

Firefighter – Two Full Time Positions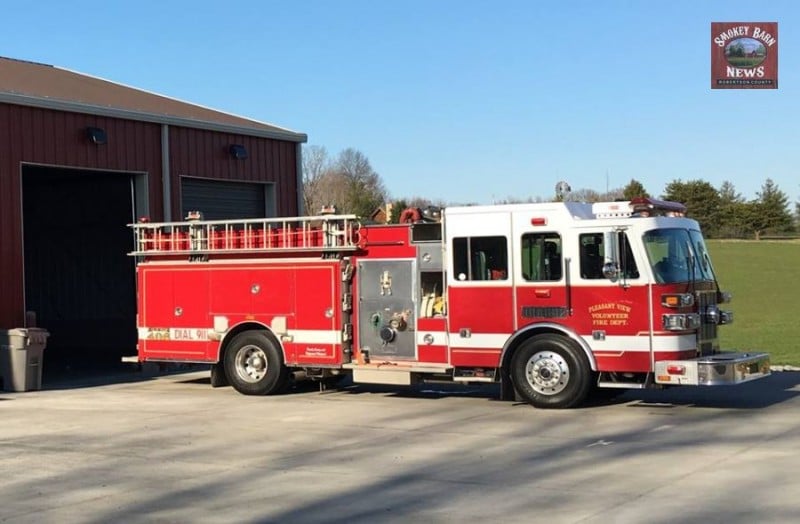 The Pleasant View Volunteer Fire Department has recently opened our doors to a new station. Our Station 6, found at the corner of Thomasville Rd and Mosley Ferry Rd, has two full time positions Monday-Friday from 6am-6pm. These positions are filled with part-time personnel and we are looking for qualified people to help fill these spots. The qualifications we are looking for are: – 18 years of age or above – High School Diploma or equivalent – Valid Tennessee Driver's License – State Certified Firefighter I or higher – State Certified Emergency Medical Responder or higher The pay scale ranges from $11.00 – $15.00/hour depending on your qualifications. If you are interested in a position please fill out an application online at www.pvvfd.org. The PVVFD will contact you after receiving your application and it has been reviewed. If you have any questions or would like more information please contact us – pleasantviewfire@pvvfd.org
((

Fill your job fast on Smokey's jobs page!

))
For ad prices: email Jobs@SmokeyBarn.com or call 615-513-9844
Smokey Barn News (Sponsor/Advertisement)
We bring you ALL the News in Robertson County, Tennessee.
Local jobs, job openings, job postings, job listings, help wanted,  employment opportunities, businesses now hiring in Springfield tn, Greenbrier tn, Adams tn, Ridgetop tn, White House tn, Cross Plains tn, Millersville tn, Cedar Hill tn, Coopertown tn and Orlinda  in Robertson County Tn, Tennessee!