Sponsored Business Spotlight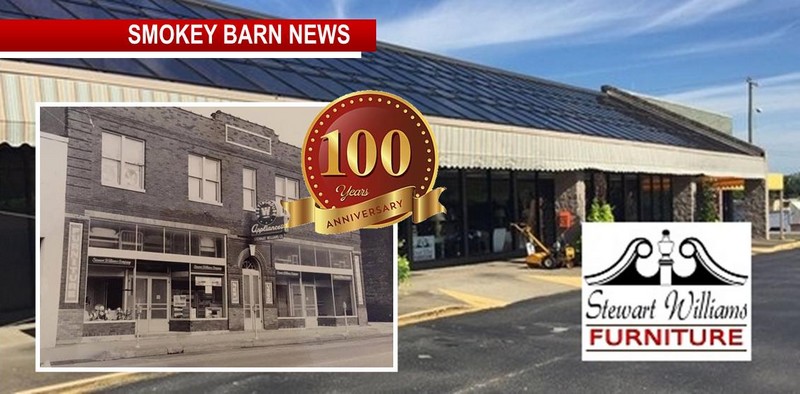 100 Years of History: A Century of Comfort And Family Legacy in Springfield
SPRINGFIELD TENNESSEE: (Smokey Barn News) – Stewart Williams Furniture has reached a milestone few companies have achieved. They have been in continuous operation for 100 years.
Last week Stewart Williams Co. celebrated the milestone with a look back at their history presented by local historian Bill Jones.
We have all heard of Stewart Williams, but is it Stewart & Williams or just Stewart Williams Co?
Mr. Stewart Williams, who worked for the Dulin, Glenn & Co. as the secretary-treasurer, went to work full time for his own company, Stewart Williams Co. on June 18, 1923, which was located on the West side of the Public Square in Springfield. This was the previous location of Henry & Bell Furniture Co. after they moved into their new building on Main St.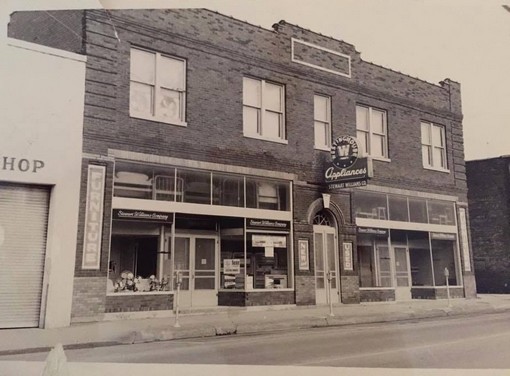 Mr. Stewart Williams was born May 27, 1874, in Atlanta, Ga. His father was Willoughby Williams and his mother was Ellen Stewart Williams. They lived in Cheatham County. They later moved to Robertson County. He was a county surveyor. Stewart later moved to North Main Street in Springfield.
His first business license was taken out on January 1, 1927, for $2.50 with an inventory of $5,000 which would be about $70,000 today. Phone # as 30.
In 1922 the new building was built on South Main St. by Mr. Williams. Part of the building was a hardware store operated by Joe and Bud Holman. As soon as the building was completed the Stewart Williams Company moved from the Masonic Bldg. on the square to the new South Main building. The move was made in mid-September of 1922.

The 2nd floor was for apartment space. This was a large building compared to the newly erected Bell Building and the Henry & Bell Building on Main St. Since Mr. Williams lived on North Main Street (like many other merchants) putting him within walking distance of their businesses.
In October of 1927, Mr. Williams married Mattie Lou Harris. Williams was 53 and Mattie Lou was 37. Both lived in Springfield. Her mother was Linnie Harris, who had moved from Auburn, Ky. Five years earlier. They were married at Inglewood Cumberland Presbyterian Church in Nashville.
After the Stock Market crash hardly anyone had radios in their homes. So Stewart Williams advertised in the Nashville Banner in 1929 selling Stewart-Warner radios. In those days "radio" was the rage and hardly anyone had one. Only a few brands were in existence. Stewart Williams Co. set up a "listening post" at their store and people could come to listen to the radio programs. They had a special time set up for children to listen to the "Sunset Club". WSIX started in Springfield at the 638 Service Station on the west side of the square in 1927 so it was one of the main stations they would listen to.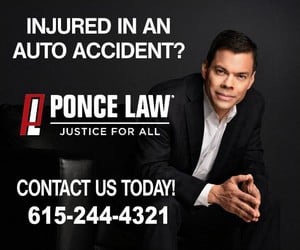 They sold bedroom suites for $75, breakfast sets for $13.75, porch swings for $2.50, dining room suites for $115, high chairs for $2.50, and three-piece living room suites for $118.50 (2 chairs and sofa). Recliners weren't sold in stores until the 1950s. The Morris Chair was one of the first rocker chairs that reclined. They advertised they would take in old furniture as trade for new furniture. The Steward Williams Co. also got into the rental business of floor polishers and vacuums and sold linoleum flooring that came in pre-cut rolls in cardboard tubes cut to a certain size.
Talking Pictures (movies with sound) came to the Princess Theatre in Springfield in the 1930s. They were located on the North side of the Public Square. With little else to do for entertainment, radio was very popular and a big seller at Stewart Willims Co. By 1930 Springfield had increased its population by 45%. Williams began the logo "A mighty good house to deal with." in 1929 and it has been used even to this day.
They sold "Mohair" living room suites (goat hair sofas), couches, and divans. The Love Seat was originally made for women with billowing skirts. They were called "Settees." They originally started out as a wood bench and back. They were renamed "love seats" indicative of how courting couples could sit together. A "Couch" had no arms and used for lying down on. It's name is now a casual term meaning either a sofa or coach. A Divan was a backless sofa made to go against the wall for sleeping. This later became known as a "daybed." "Sofa" is the more formal term we use today. "Couch" comes from the French word "coucher" and Sofa comes from an Arabic word. In 1932 the Simmons Company started making "sofa sleepers" which was a cross between a sofa and a Divan or Daybed.
The Recliner came out of this idea of sleeping on a sofa vs a chair and footstool but we didn't see them much until the 1950s at Stewart Williams. Radios and Record Players were disguised as occasional tables at that time and became a luxury piece of furniture in someone's living room.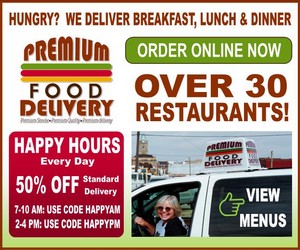 "Drapes" vs "Curtains." People called their more expensive window dressing "Drapes" while the cheaper ones they called "Curtains." Bedroom "Suite" vs hotel "Suite" (sweet) People then called the bedroom "suite" (pronounce suit), but when they stayed at a hotel it wouild be called a "suite" (sweet). Early American furniture styles could be made cheaper than other designs so that is why furniture stores mostly carried that style.
Hand-made solid woods were popular with more affluent customers such as Cresent in Gallatin and Davis Cabinet Co. in Nashville. Cardboard furniture came about in the early 1970s and some plastic.
In the 1930s furniture was purchased every 17 years. Today about every 5 years. In the 1930s the average furniture purchases was about $50 per year per household. There were very few National Brands recognized. Better furniture was advertised without a price. Cheaper would use price to attract. Time payment on furniture (making monthly payments on furniture loans) was an important aspect of a furniture store. It was very unusual to have two large furniture stores in a small town financing purchases in-house. But at that time Henry & Bell and Stewart Williams did that.
Their new electric refrigerator was the Norge brand. Stewart Wiliams once ran an ad that said, "They were so good they didn't have to repossess any of them!"
Stewart Williams immediately took on a partner, Mr. Charlie Pearson. He was known as a junior partner because Mr. Williams was a major stockholder in the company.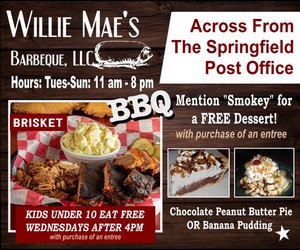 Mr. Williams was an educated man and he was asked to teach at the Barnard Astronomical Club at Vanderbilt discussing Albert Einstein in 1931. He later taught there concerning Relativity, Time, Space, Gravitation, and the Fourth Dimension.
By 1938 the two owners had opened a store in Goodlettsville called Williams & Pearson Furniture Co. located downtown Goodlettsville on the right across from the old Goodlettsville Bank. Now, there is an antique store located in that location. B.F. Myers was also located in that same strip along Hwy. 41 going through Goodlettsville.
In the beginning, Stewart Williams sold "ice boxes." They were large chests with a tin or zinc lining that held a block of ice in a compartment that kept the food cool. The local "Ice House" was located on South Main where people would come and pick up large blocks of ice for the "ice boxes" or would have it delivered to them by wagon. They also sold coal at the same location. It was located across from where Carter Lumber Co. was located on South Main.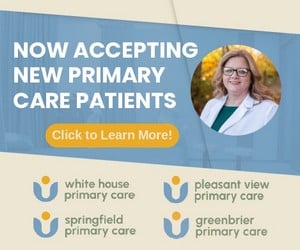 In 1937 they began to sell Westinghouse appliances. Since they were buying for two stores, one in Springfield and one in Goodlettsville they became very important to the distributors of appliances and radios. Westinghouse became a staple in their inventory for many years.
B. F. Myers began operations in 1854. They had a store in Cedar Hill, Tn and also operated a warehouse making furniture. The furniture was shipped down the Ridgetop hill to Goodlettsville by train. At that time in order for a train to go up the hill it required a booster engine to push the train up the grade. So, getting freight from Cedar Hill down to Goodlettsville was cheaper than getting it up to Cedar Hill. They more than likely sold some of their manufactured furniture to Stewart Williams Co because furniture was hard to get at that time and much of it was handmade.
The oldest furniture store in Springfield at that time was Henry & Bell Furniture also located on Main St. They started business in 1842. Frank Bell built the Henry & Bell Bldg. and the four floor Bell Bldg. across the street on the corner of 7th and Main St.
Mr. Stewart Williams was very fortunate to have a qualified partner because in July of 1938 he was living on the Greenbrier Rd. and was involved in a car wreck at a railroad crossing when he ran into the back of a truck. He suffered a head injury and was in the Protestant Hospital (later called the Baptist Hospital) in Nashville for a while.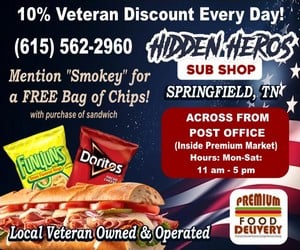 Stewart Williams died in August 1953 at the age of 79. At that time, he lived on 7th Ave. in Springfield. He was a member of the First Methodist Church in Springfield. The obituary stated that he started his business in 1921.
Others selling furniture in Springfield in the 1900s was Garvin Furniture (began in Clarskville in 1914), Henry & Bell Furniture (began in 1842), Randolph & House and a few small businesses such as Smith and Hall Co. and others that made furniture located in Eastland Heights and other areas around town.
Williams & Pearson store in Goodlettsville had a closing auction sale in July 1984. It had been located there for 48 years. Mr. Charlie died in 1984 at 86 yrs. old.
An interesting story about Williams & Pearson store happened in 1948. The store was located across the street from the Goodlettsville Bank owned by Mr. Claude Garrett. Two men robbed the bank of $6,000 (abt. 76K today) and the get-a-way car had Robertson County license plates. They turned out to be stolen tags. Mr. Garrett was slugged with a black jack and injured. The manager of the Williams & Pearson store was a former Highway Patrolman. They had installed an alarm at the store from the bank and when someone set off the alarm the manager of the store came out with a gun and shot at the get-a-way car placing 2-3 holes in the car. The men starting shooting back. The two were later caught.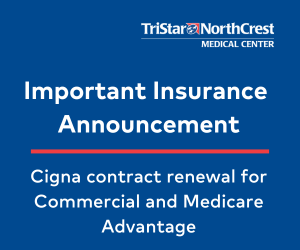 Thomas Downey became the manager of the Stewart Williams store in the early 1950s. He was from Hickory Flat in Warren County Ky. He was born in 1918 and died in 1998 at the age of 80. He married Helen Page Graham in Sampson, NC in 1946. They had one adopted son, Allen Downey, who was born in 1950 and died in 2009.
Tom Downey was related to Stewart Williams' wife, Mattie Lou Harris. His father had married Karleen Harris in Auburn Ky. In 1916.
In 1950 Tom Downey was elected as treasurer to the newly formed civic club the Springfield Jaycees. Mr. Downey was known for having a good mind in financing.
After Tom Downey, Dorris Head became the manager and owner of the Stewart Williams Co. He came into the business in 1955. His brother, Jerry Head, came to the business in 1957 and stayed 55 years.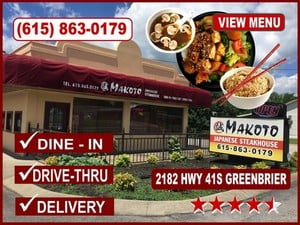 Early days:
Deliveries were made in wagons and later pickup trucks with rails on the sides. Furniture was either made locally or delivered by train from Nashville. The store, like Henry & Bell Furniture, got into the funeral business. In the early 1900s, most funerals and even the embalming were done at home. Stores sold caskets and delivered bodies to the cemetery.
The first store contained 6,000 sq. feet of space. But that included the upstairs which were originally apartments. Now they have 30,000 ft. of space. The furthest delivery of furniture they have ever made was to Florida and Columbus Ohio. Their logo current was designed in 1930 and is still used today.
Today, Bruce Head and his sons carry on the tradition of quality furniture at affordable prices that Mr. Williams started back in 1923. The current location is 108 Memorial Blvd. in Springfield. The store features products from La-Z-Boy Ashley, Serta, Beautyrest, Coaster, Catnapper, Jackson Furniture, icomfort and many others.
The Head family would like to thank their many loyal customers who made 100 years possible and we're looking forward to serving our community for another hundred years.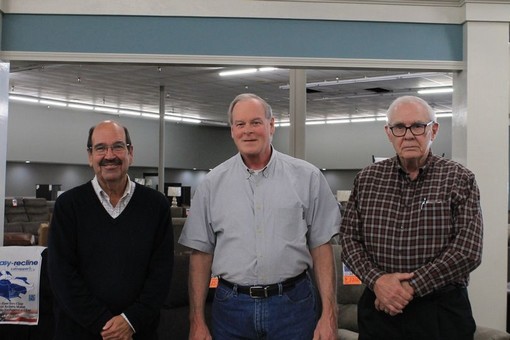 Mobile: To See The Latest Stories or to share this article, scroll below