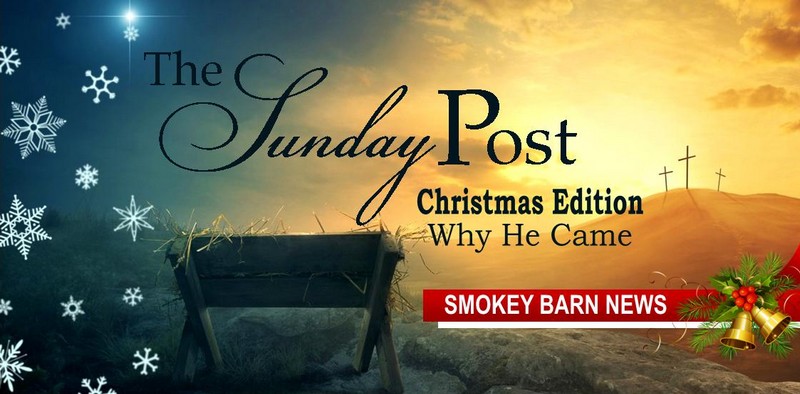 A 2020 Christmas Edition Of The Sunday Post (Why He Came)
"The Sunday Post" is a non-denominational column comprised of articles of Faith, poetry and devotions…
Merry Christmas Robertson County 

Our greatest need
If our greatest need had been information,
God would have sent us an educator;
If our greatest need had been technology,
God would have sent us a scientist; If our greatest need had been money,
God would have sent us an economist;
If our greatest need had been pleasure, God would have sent us an entertainer;
But our greatest need was forgiveness, so God sent us a Savior.
— Source Unknown
And the Word was made flesh, and dwelt among us, (and we beheld his glory, the glory as of the only begotten of the Father,) full of grace and truth. (John 1:14)
Jesus said unto her (Martha – after her brother's death – Lazarus), I am the resurrection, and the life: he that believeth in me, though he were dead, yet shall he live: And whosoever liveth and believeth in me shall never die. Believest thou this? (John 11:25-26)

The Heart of Christmas
"for behold, I bring unto you good tidings of great joy, which shall be to all people. For unto you is born this day in the City of David a Savior, which is Christ the Lord. And this shall be a sign unto you; Ye shall find the babe wrapped in swaddling clothes, lying in a manger.' And suddenly there was with the angel a multitude of the heavenly host, praising God, and saying, 'Glory to God in the highest, and on earth peace, goodwill toward men." (Luke 2:8-14)

Why He Came
(John 3:16) For God so loved the world, that he gave his only begotten Son,that whosoever believeth in him should not perish, but have everlasting life.
It is singularly appropriate that we look at this greatest of all verses this Christmas season, for it records the greatest of all gifts. The theme of giving is very prominent in the Bible, with such words as "give," "gift," "gave," etc., occurring more than 2,100 times. The first is Genesis 1:17 when God created the sun, moon, and stars "to give light upon the earth," and the last is Revelation 22:12 when Christ will return with His rewards to "give every man according as his work shall be." "He…gave us rain from heaven, and fruitful seasons," as well as "life, and breath, and all things" (Acts 14:17; 17:25).
But the greatest gift, clearly, was when God gave Himself for a lost and undeserving world. It was the greatest gift because it met the greatest need, revealed the greatest love, and had the greatest scope and greatest purpose of any gift that could ever be conceived in the heart of an omniscient Creator.
That was not the end of His giving, of course. "He that spared not his own Son, but delivered him up for us all, how shall he not with him also freely give us all things?" (Romans 8:32). "Trust…in the living God, who giveth us richly all things to enjoy" (I Timothy 6:17).
This great gift of God is abundantly sufficient to provide salvation and everlasting life for the whole world. But a gift only becomes a gift when it is accepted, and the greatest of all tragedies is that this greatest of all gifts has been spurned and even ridiculed, or—worst of all—simply ignored by multitudes who need it so greatly. Sadly, when they refuse God's free gift of everlasting life, they can only perish in everlasting death. God did all He could do when He gave His Son; for when He gave His Son, He gave Himself.
 – Dr. Henry M. Morris (1918-2006) was Founder of the Institute for Creation Research

You're Here
Noel – Jesus our Emmanuel…You could have left us on our own, but you're here!

Jesus In Every book of the Bible
In Luke 24:27 Jesus reveals to two of his disciples that all Scripture is about him and then proceeds to show them from the books of Moses and the prophets (the Old Testament).
In Hebrews 1:1-2 the voice of Scripture is expanded to include the New Testament (which speaks of all that Jesus said, did and continued to do through the mission of the Church). All Scripture really is about Jesus. Here's a quick overview of how you can find Jesus in every book of the Bible…
Genesis: He's the Serpent Crusher
Exodus: He's the Passover Lamb
Leviticus: He's our High Priest
Numbers: He's the Pillar of fire by night and a Shining Cloud by day
Deuteronomy: He's the Prophet greater than Moses
Joshua: He's the Captain of our salvation
Judges: He's our Saving Judge
Ruth: He's our Kinsman Redeemer
1 & 2 Samuel: He's our Forever King
1 & 2 Kings, 1 & 2 Chronicles: He's our Perfect King
Ezra-Nehemiah: He's the Rebuilder who reverses the devastation of sinfulness
Esther: He's our Guardian like Mordecai
Job: He's our ever-living Redeemer
Psalms: He's our Shepherd-King
Proverbs: He's our Comprehensible Wisdom in life
Ecclesiastes: He's our Incomprehensible Wisdom in faith
Song of Songs: He's our Loving Bridegroom
Isaiah: He's the Suffering Servant
Jeremiah: He's the Righteous Descendant (branch) who restores God's people
Lamentations: He's our Weeping Prophet
Ezekiel: He's the appearance of the likeness of the glory of the Lord
Daniel: He's the one like a son of man, the fourth person in the fiery furnace
Hosea: He's the Faithful Husband who pursues his unfaithful wife
Joel: He's the one who pours out his Holy Spirit in power
Amos: He's the one who will come on the Day of the Lord
Obadiah: He's the Savior on Mount Zion
Jonah: He's our Foreign Missionary who dwelt for three days in the grave
Micah: He's the Ruler who comes out of Bethlehem Ephrathah
Nahum: He's the Avenger of God's elect
Habakkuk: He's the Righteous One in whom we live by faith
Zephaniah: He's the Mighty One who will save
Haggai: He's the Restorer of God's House
Zechariah: He's the Fountain that cleanses us from sin and impurity
Malachi: He's the Sun of Righteousness rising with healing in his wings
Matthew: He's the King of the Jews
Mark: He's the Servant Son of God
Luke: He's the Son of Man came to seek and save the lost
John: He's the Word of God
Acts: He's the only Name under heaven given to men by which we can be saved
Romans: He's the Righteousness of God
1 Corinthians: He's the one who gives us victory over death
2 Corinthians: He's the one who reconciles us to God
Galatians: He's our Freedom
Ephesians: He's the Head of the Church
Philippians: He's our Joy
Colossians: He's the Fullness of God
1 & 2 Thessalonians: He's the one we wait for in hope
1 & 2 Timothy: He's the one that we preach and serve
Titus: He's the Truth of sound doctrine
Philemon: He's our Advocate before God
Hebrews: He's the Author and Finisher of our faith
James: He's the Work of our faith seen in our lives
1 Peter: He's the one who died for sin once for all
2 Peter: He's our Life and Godliness
1 John: He's how we know God's love
2 John: He's our Example to follow
3 John: He's our Pattern to imitate
Jude: He's the Source of our salvation
Revelation: He's the first and last, the living one, the lamb who was slain – the coming forever King of God's people, the Alpha and the Omega and every letter in between…


"We find Christ in all the Scriptures. In the Old Testament, He is predicted, in the Gospels, He is revealed, in Acts, He is preached, in the epistles, He is explained, and in Revelation, He is expected."
— Alistair Begg

Christmas according to kids

"This is Christmas: not the tinsel, not the giving and receiving, not even the carols, but the humble heart that receives anew the wondrous gift, the Christ."
For the sin of this one man, Adam, brought death to many. But even greater is God's wonderful grace and His gift of forgiveness to many through Jesus Christ … For Adam's sin led to condemnation, but God's gift leads to our being made right with God … for all who receive it will live in triumph over sin and death through this one man, Jesus Christ." (Romans 5:15-17)


How can I be saved?
Examine what is taught in the Holy Scriptures for yourself and see
All have sinned—

"For all have sinned and come short of the glory of God" – Romans 3:23
Sin must be paid for—

"For the wages of sin is death but the gift of God is eternal life" – Romans 6:23
Jesus Christ paid for our sins—

"But God commendeth His love toward us, in that while we were yet sinners, Christ died for us" – Romans 5:8
What we must do—

"For whosoever shall call upon the name of the Lord shall be saved"  – Romans 10:13
Then he called for a light, and sprang in, and came trembling, and fell down before Paul and Silas, And brought them out, and said, Sirs, what must I do to be saved? And they said, Believe on the Lord Jesus Christ, and thou shalt be saved, and thy house. (Acts 16:29-31)
For by grace are ye saved through faith; and that not of yourselves: it is the gift of God: Not of works, lest any man should boast. (Eph. 2:8-9)
He that believeth on the Son of God hath the witness in himself: he that believeth not God hath made him a liar; because he believeth not the record that God gave of his Son. And this is the record, that God hath given to us eternal life, and this life is in his Son. He that hath the Son hath life; and he that hath not the Son of God hath not life. These things have I written unto you that believe on the name of the Son of God; that ye may know that ye have eternal life, and that ye may believe on the name of the Son of God. (1 John 5:10-13)
How we can know we are on our way to Heaven—

"He that believeth on the Son hath everlasting life…" – John 3:36
How To be Sure We are Saved—

"But as many as received him, to them gave he power to become the sons of God, even to them that believe on his name"  – John 1:12
Prayer is our most powerful resource and our direct line with Heaven! You can call on the Lord any hour of the day or night no matter where you are. Pray honestly and openly with the Lord in your own words from the heart. Richard Sibbes Once said, "God can pick sense out of a confused prayer!" And The angel fetched Peter out of prison, but it was prayer that fetched the angel according to Thomas Watson. So pray!!!, God is listening, he knows you, He knew you before you were born according to Jeremiah 1:5.
It will change your life, and you will NEVER be the same!
*Check out the various links and resources provided below to help you grow in your Christian walk.

For as in Adam all die, even so in Christ shall all be made ALIVE!  (I Corinthians 15:22)


Helpful links……

Click Here to Read A Past Sunday Post Archive