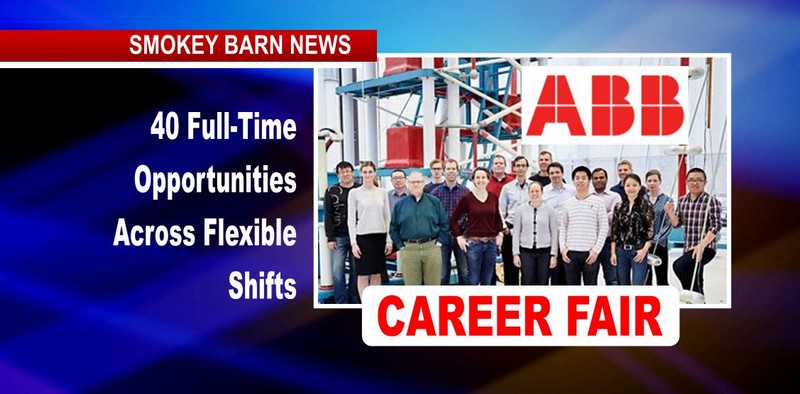 (Sponsored)
ABB Portland, TN Career Fair: 40 Full-Time Opportunities Across Flexible Shifts
PORTLAND TENNESSEE: (Smokey Barn News) – ABB Installation Products is making a multimillion-dollar investment this year and staffing up to 40 positions as it expands and updates its manufacturing facility in Portland, Tenn., to meet increased demand for electrical equipment.
The integration of new automated equipment and ABB robotics technology, along with the more than 35,000 square feet of building improvements, will help boost production capacity of the 200,000 square-foot site by more than 20 percent. The facility manufactures Carlon® electrical boxes and fittings used in homes and buildings worldwide.
We're Hiring Assemblers!
The ABB Career Fair will be held on Saturday April 10 10am-12pm and 1pm-4pm
Location: 200 Challenger Dr, Portland, TN 37148
• Interviews will be held in 30 minute increments and no walk-ins will be available due to safety protocols
• In order to be scheduled for the fair please apply online
• Temperature screenings/masks will be required that day
• Tours will be taken so steel toe boots are welcomed but not required that day.
• Someone from the team will contact you to phone screen and schedule for a time slot
• Pay starts out at $16.50 + shift differentials where applicable
• Benefits day 1
• Background check and drug screens are required
• Interviews will be completed and verbal offers will be made within 24- 48 hours to those who qualify
1st, 2nd & 3rd shifts
New weekend shifts: Weekend Crew A and Crew B
• Friday night 11pm to 11am (Friday, Saturday and Sunday)
• Saturday morning at 11am to 11pm (Saturday, Sunday and Monday)
ABB's Portland, Tenn., facility is the largest manufacturer of electrical junction boxes in North America and also produces millions of parts and PVC fittings each week under the Carlon® brand name used by retailers and contractors for lighting, outlets and wiring. The manufacturing facility enhancements, including the installation of additional production lines and injection molding technology, are expected to be completed by the end of third quarter 2021.
"The average home has over 100 electrical boxes and the Carlon and ABB products we make are some of the most re-quested by contractors, retailers and their customers," says ABB Portland, Tenn., general manager Keith Lang. "This investment reinforces our commitment to be an employer of choice in the community and enables us to add new teams and shifts with advanced manufacturing capabilities to improve safety and ergonomics, quality, and increase the speed of production and delivery of critical items to our customers."
Opened in 1990, the facility currently has over 300 employees and will add up to 40 full-time roles, offering flexible shift options and a comprehensive benefits package. Information about current opportunities and the new positions can be found at ABB's career page. To allow for safe scheduling, interested candidates will need to apply online in advance of the April 10 Career Fair.
ABB Installation Products Division, formerly Thomas & Betts, is a global leader in the design, manufacture and marketing of products used to manage the connection, protection and distribution of electrical power in industrial, construction and utility applications. With more than 200,000 products under more than 38 premium brand names, ABB Installation Prod-ucts solutions can be found wherever electricity is used.
ABB (NYSE: ABB) is a leading global technology company that energizes the transformation of society and industry to achieve a more productive, sustainable future. By connecting software to its electrification, robotics, automation and motion portfolio, ABB pushes the boundaries of technology to drive performance to new levels. With a history of excel-lence stretching back more than 130 years, ABB's success is driven by about 105,000 talented employees in over 100 countries. www.abb.com
EEO/AA/M/Vet/Disability Employer
Mobile: To See The Latest Stories or to share this article, scroll below