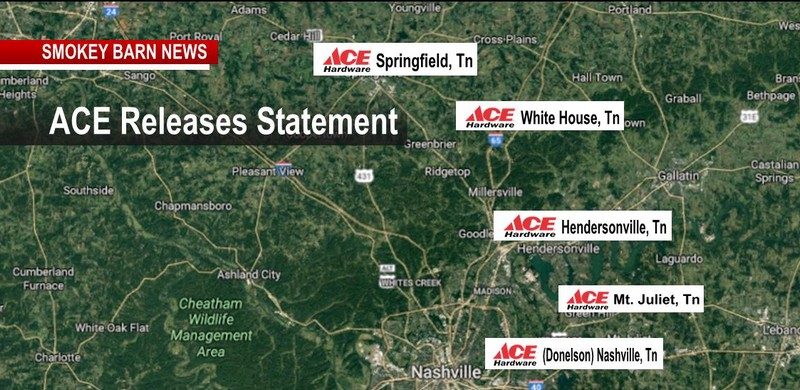 Ace Hardware Corp Releases Statement On Local Closings
ROBERTSON COUNTY TENNESSEE: (Smokey Barn News) – Yesterday Smokey Barn News brought you the news about five Ace Hardware Stores in Robertson County and surrounding areas that suddenly closed without warning or notice. Now Ace Hardware Corporation is releasing a statement regarding the closings.
The release, sent to Smokey Barn News Thursday, does not go into the circumstances of the closing, other than to gently suggest that there is some ambiguity about ownership of the five stores presently.  The statement goes on to say that the corporate end of Ace Hardware is doing what it can to get the stores reopened under new ownership. It's the first official statement released by the company concerning the closings.
"At Ace, we strive to offer our customers the best, most helpful hardware stores on the planet. We're very sorry for the inconvenience you may have experienced with the unexpected closure of the following five Ace Hardware stores in the greater Nashville area. These five stores have been operated by an independent store owner, we're working diligently to have them reopened very soon under new ownership."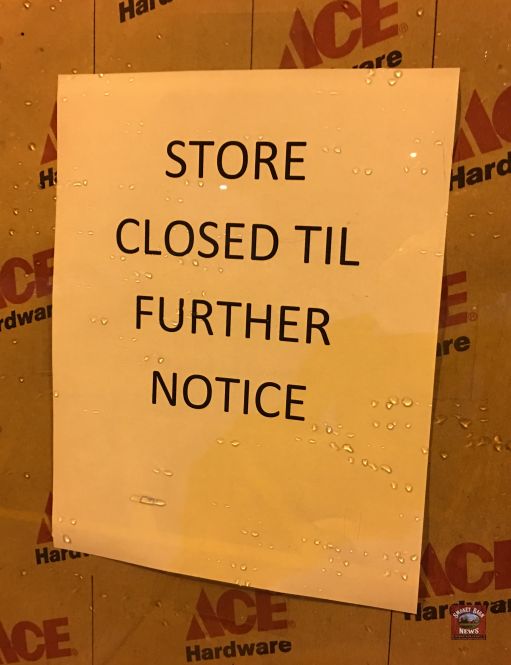 Stores currently closed:
· Ace Hardware of Hendersonville (203 W Main Street, Hendersonville, TN)
· Ace Hardware of Donelson (2730 Lebanon Pike, Nashville, TN)
· Ace Hardware of Springfield (400 Central Avenue East, Springfield, TN)
· Ace Hardware of White House (429 Highway 76, White House, TN)
· Ace Hardware of Mount Juliet (4110 N Mt Juliet Road, Mount Juliet, TN)
Outside the official statement Ace Corporate told Smokey Barn News, "These five stores were operated by an independent store owner who made the decision to close them. We are cooperating with the owner regarding his potential sale and re-opening of the stores."
The official release went on to say;
"We encourage all area residents and businesses to visit any of the following 13 Ace Hardware stores for all your hardware-related needs. These 13 stores all reside within 30-miles of Nashville, are open and are excited to offer you excellent service, and all of the products and know-how you expect from Ace Hardware."
· Ace Hardware (511 S Broadway, Portland, TN)
· Ace Hardware of Goodlettsville (110 Rivergate Parkway, Goodlettsville, TN)
· B & C Hardware (124 Pewitt Drive, Brentwood, TN)
· Gils Hardware (415 Nissan Drive, Smyrna, TN)
· Hart Ace Hardware (8203 Highway 100, Nashville, TN)
· Hart Ace Hardware (5304 Harding Pike, Nashville, TN)
· Midway Supply Co. Inc. (121 Cumberland Street, Ashland City, TN)
· Richland Ace Hardware (6401 Charlotte Pike, Nashville, TN)
· Tennessee Hardware (441 East Broadway, Gallatin, TN)
· The Home Center Ace Hardware (9688 Highway 46, Bon Aqua, TN)
· Tusculum Ace Hardware (5821 Nolensville Pike, Nashville, TN)
· Walker Lumber & Hardware (527 W Thompson Lane, Nashville, TN)
· White Bluff Ace Hardware (2010 Highway 47 North, White Bluff, TN)
Smokey Barn News will continue to track this story for you, if you have any information about this story call 615-513-9844.
REPORTED EARLIER: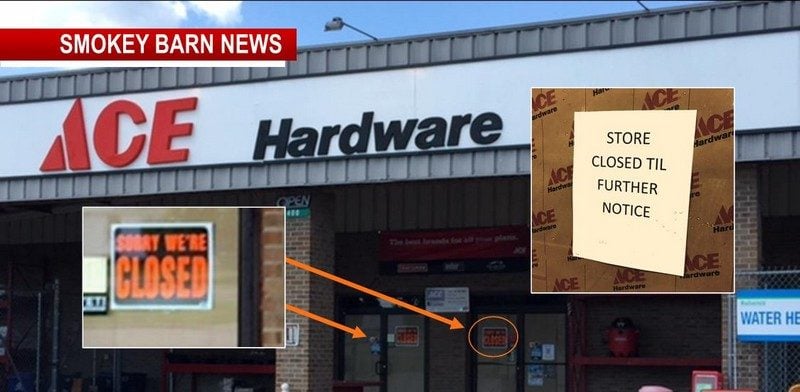 Multiple Ace Hardware Stores Suddenly CLOSE
ROBERTSON COUNTY TENNESSEE: (Smokey Barn News) – Several Ace Hardware Stores in Robertson County and surrounding areas have suddenly closed without warning or notice. It appears that their last day of operation was Saturday.
To further the mystery, lots of people that claim to be directly connected to the stores will talk but no one will talk on the record due to fear, including one city leader.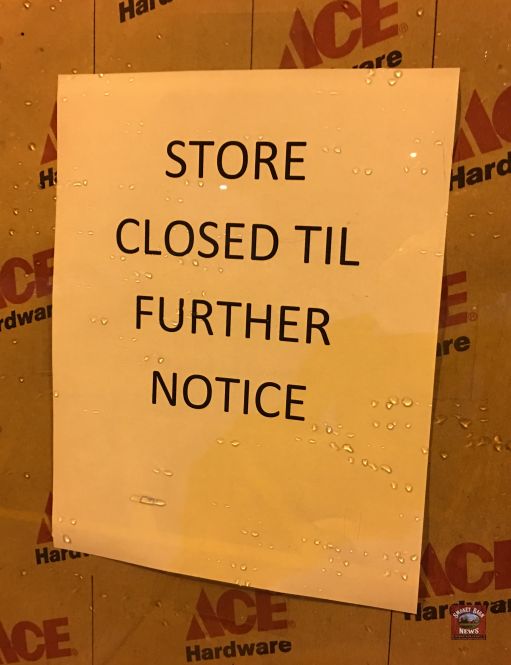 A quick search on Facebook and Google will reveal lots of comments and curiosity about the closings but there are few concrete facts available at the moment.
Here are the facts we do have.
First, the closings have affected 5 Ace Hardware Stores including White House, Springfield, Hendersonville, Donelson and Mt Juliet.
We checked White House, Springfield and Hendersonville and confirmed that all three are closed with the windows covered but only one offered any kind of information. On the door of the Hendersonville store is a note (in-all-caps) that reads; "STORE CLOSED TIL FURTHER NOTICE."
Second, on the Ace Hardware of Donelson's Facebook page, someone posted a comment asking if the store was closed. Someone with admin status to the page replied "Just temporarily. Will soon reopen."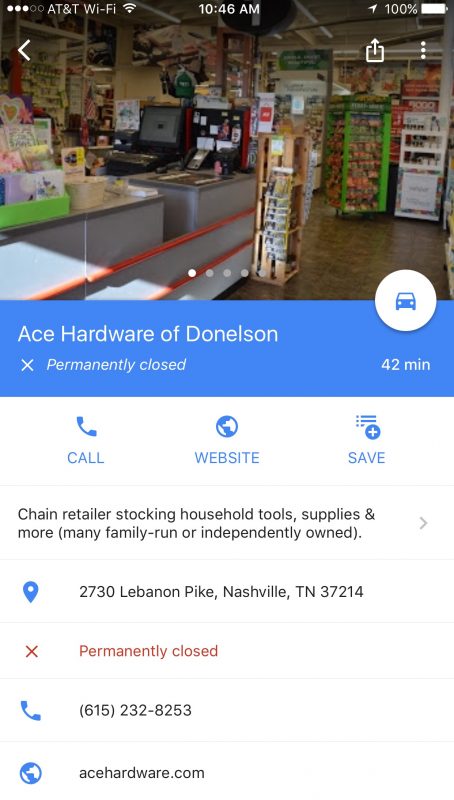 Third, the Springfield Ace Hardware LINK Backup LINK and the Ace Hardware in Mt Juliet LINK Backup LINK (or at least the property's) have had listings on Loopnet, a commercial property real estate website.
Forth, Businesses near by the Mt Juliet store were told by someone that the store was closed for two weeks.
Fifth, If you search for the Donelson and White House stores on Google Maps it says- "Permanently closed".
Sixth, someone has very nicely covered all the windows and glass doors with brown paper. This is a very common method used when a business is transitioning.
Smokey Barn News reached out to the White House Chamber of Commerce and they too are in the dark. According to White House Area Chamber of Commerce President & CEO Mandy Christenson, the community and local businesses that rely on Ace Hardware have been reaching out to her for answers.  The callers are concerned that White House could be losing Ace hardware but at the moment she has little to tell them.
"They want information and of course we don't have information to provide them right now. We would like to know what to tell people as well but we realize that during transition times sometimes things take a little bit longer then anticipated."
"There's going to be a void in our community for the services they provided," Christenson said. "We would like everybody to know that they are a valuable part of the community."
Smokey Barn News also reached out to the last known owner we had on record which is Tri-Core and we have yet to receive a reply.
Surrounding stores in Portland, Goodlettsville and Gallatin are unaffected by the closings. On the Facebook page  for the Ace Hardware located in Portland a note reads; '"YES, WE ARE OPEN"
The Portland Ace Hardware, which is located just a few miles North of the White House store, MAP, released the following statement about the closings.
"We wanted to let our customers know that we are unaffected by any of the store closings. We are all individually owned and Portland Ace Hardware is our only location. We are open for business as normal. (m-f 7am-6pm sat 7am-5 ) In the meantime, if you have any Hardware needs, we would appreciate the opportunity to serve you." Trent Randolph (owner of Portland Ace Hardware)
Why the decision was made to offer no real communication about the transition is a bit of a mystery. As soon as we have more information we will bring it to you.
If you have any information about this story call 615-513-9844.
Follow comments on from original story on Facebook: Click Here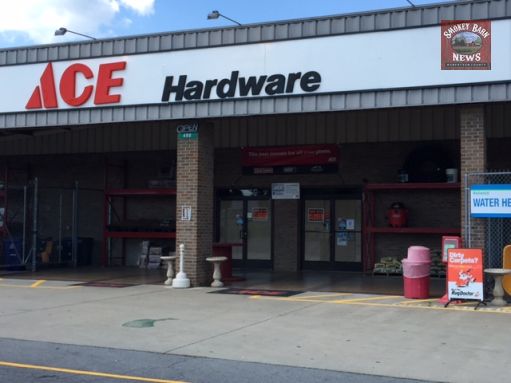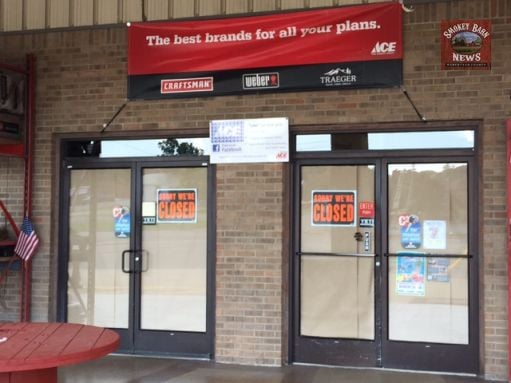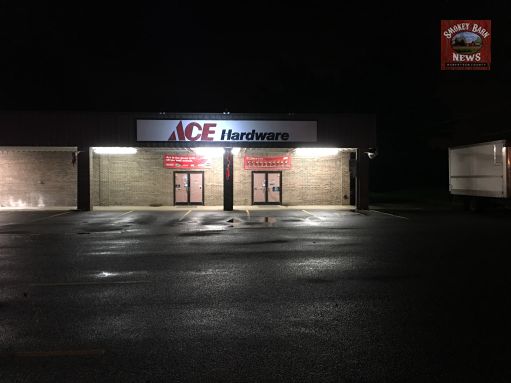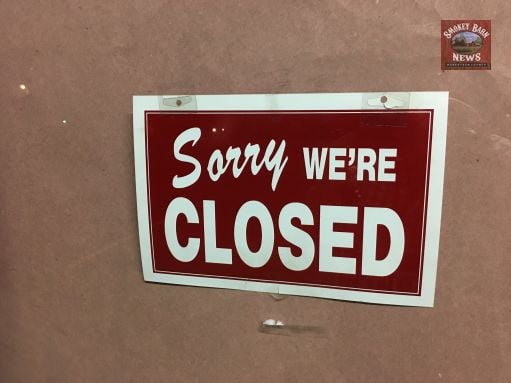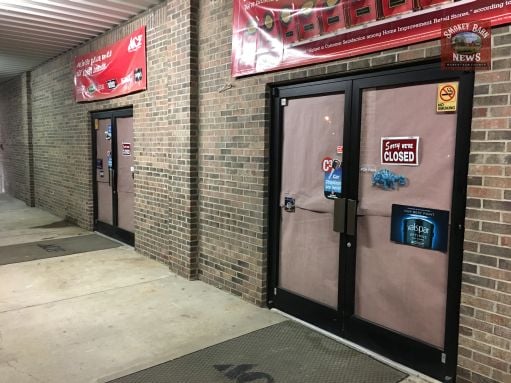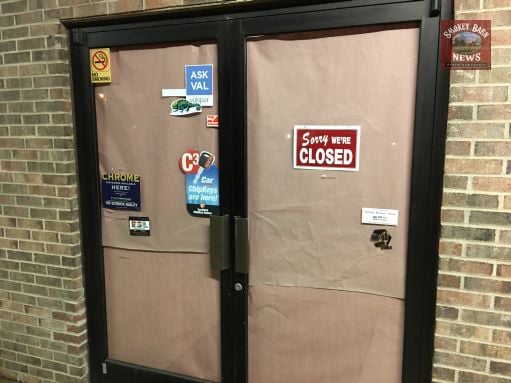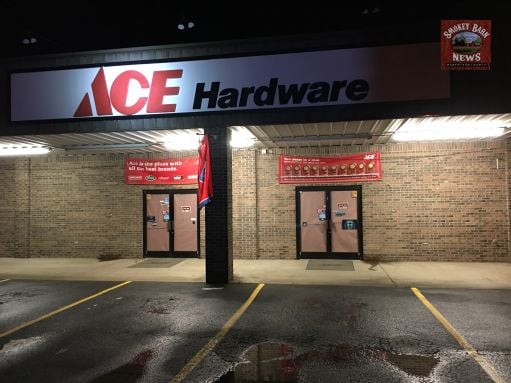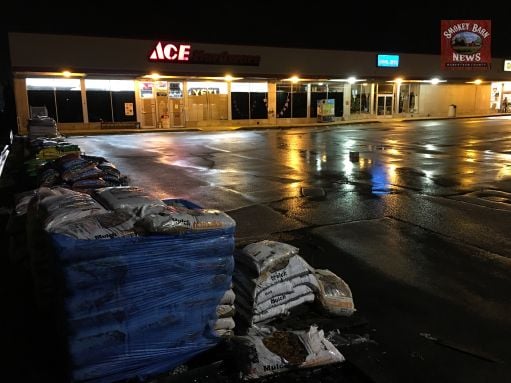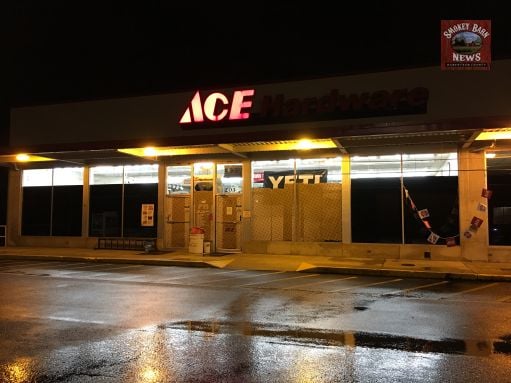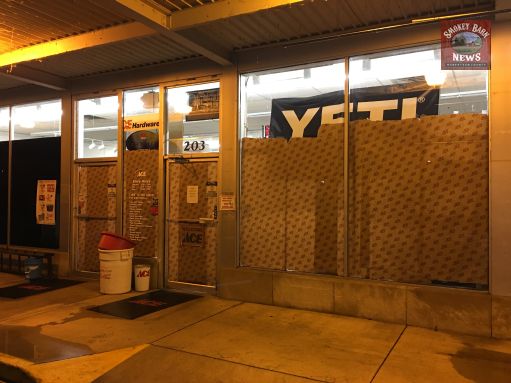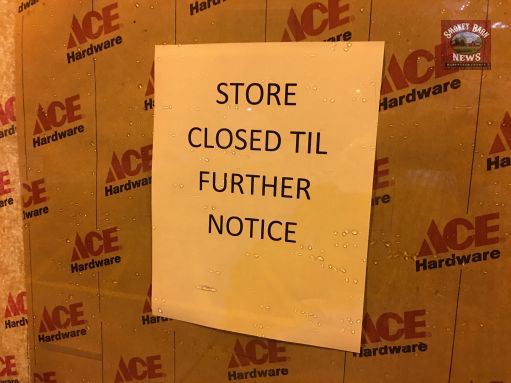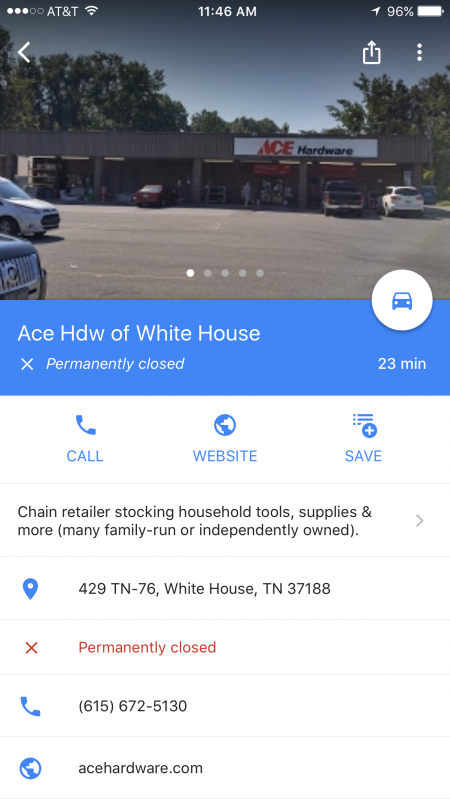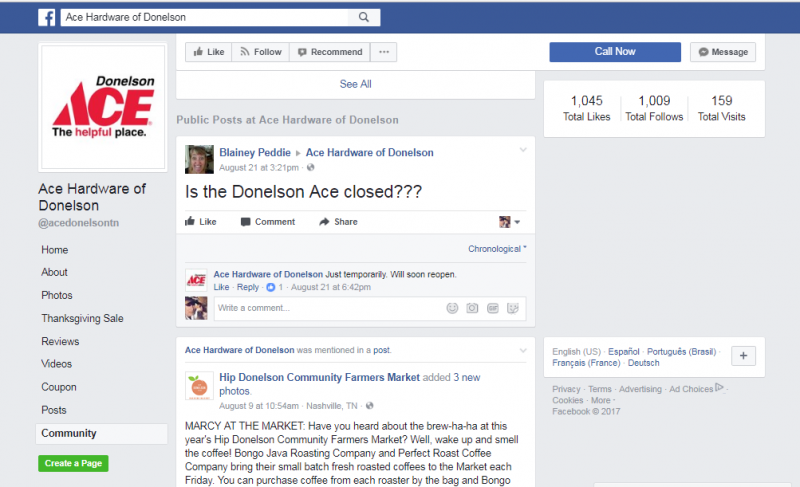 We bring you ALL the News in and surrounding Robertson County, Tennessee.