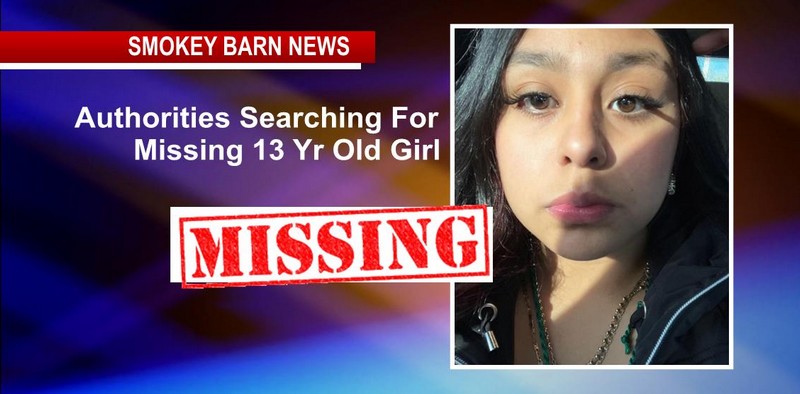 Authorities Searching For Missing 13 Yr Old Girl
UPDATE: Jasthelyn has been found safe 4/23/22. 
ROBERTSON COUNTY TENNESSEE: (Smokey Barn News) –  13-year-old Jasthelyn Navarro, last seen Sunday, March 26 is still missing. Sunday will mark two weeks since her disappearance.
Jasthelyn's family reached out to Smokey Barn News in hopes that one of our readers may have seen her. They are distraught over Jasthelyn's disappearance and they're asking anyone that has seen her to call the authorities.
Jasthelyn was last seen early Sunday morning in Nashville on March 26. Smokey Barn News has a large following but she may be out of the area. The family is asking that the public share her info and photo with as many people, groups, and social media sites as possible.
Nashville Police are leading the investigation. Detectives are in contact with Jasthelyn's parents and are continuing to work leads to locate her. Officials told Smokey Barn News that Jasthelyn may be with a boyfriend.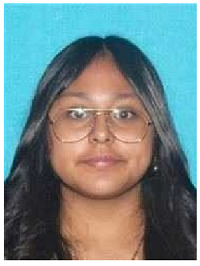 Jasthelyn Navarro
Age: 13
Sex: Female
Race: Hispanic
Hair: Black Eyes: Brown
Height: 5'5″
Weight: 140 lbs.
NCIC: M997270637
Missing From: Nashville, TN
Missing Since: 4/4/2023
If you have seen Jasthelyn or have information regarding her whereabouts, please contact the Metro Nashville Police Department at 615-862-8600 or TBI at 1-800-TBI-FIND or 911
Autoridades Buscan A Niña De 13 Años Desaparecida
ACTUALIZACIÓN: A medida que nos acercamos a la segunda semana de su desaparición, Jasthelyn sigue desaparecida.
CONDADO DE ROBERTSON TENNESSEE: (Smokey Barn News) – Jasthelyn Navarro, de 13 años, vista por última vez el domingo 26 de marzo, sigue desaparecida. El domingo se cumplirán dos semanas desde su desaparición.
La familia de Jasthelyn se acercó a Smokey Barn News con la esperanza de que uno de nuestros lectores la haya visto. Están angustiados por la desaparición de Jasthelyn y le piden a cualquiera que la haya visto que llame a las autoridades.
Jasthelyn fue vista por última vez el domingo por la mañana temprano en Nashville el 26 de marzo. Smokey Barn News tiene muchos seguidores, pero es posible que esté fuera del área. La familia pide que el público comparta su información y foto con tantas personas, grupos y sitios de redes sociales como sea posible.
La policía de Nashville está liderando la investigación. Los detectives están en contacto con los padres de Jasthelyn y continúan buscando pistas para localizarla. Los funcionarios le dijeron a Smokey Barn News que Jasthelyn podría estar con novio.
Edad: 13
Sexo: Femenino
Raza: Hispana
Cabello: Negro Ojos: Marrones
Altura: 5'5″
Peso: 140 libras.
NCIC: M997270637
Desaparecido de: Nashville, TN
Desaparecido desde: 4/4/2023
Si ha visto a Jasthelyn o tiene información sobre su paradero, comuníquese con el Departamento de Policía de Metro Nashville al 615-862-8600 o TBI al 1-800-TBI-FIND o al 911.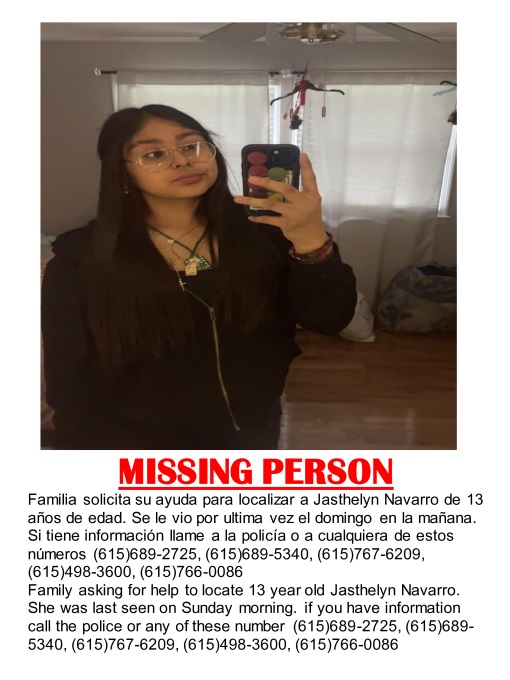 Mobile: To See The Latest Stories or to share this article, scroll below