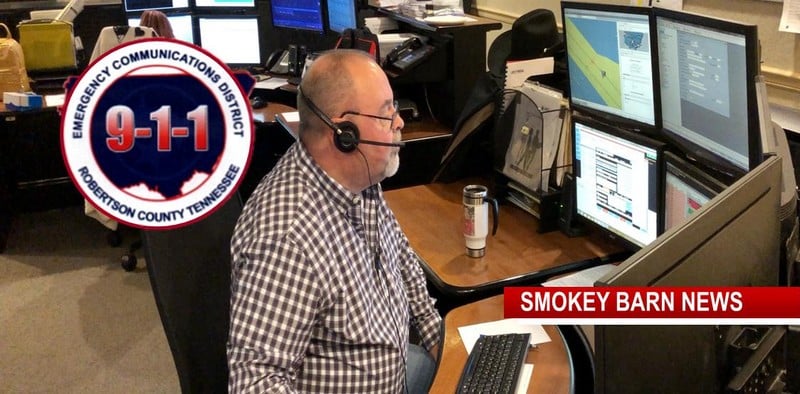 Become A Hero On-Call – RC 911 Is Hiring Dispatchers – Competitive Pay & Benefits
ROBERTSON COUNTY TENNESSEE: (Smokey Barn News) – There's little doubt, it's a critical job that sits between people in emergency situations and those trained to help. Robertson County 911 is inviting all interested and qualified persons to apply for the opportunity to become a Public Safety Telecommunicator (911 Dispatcher).
HOW TO APPLY
Go to Robertson911.com to fill out and submit an application.
Dispatchers are the vital link between the public and police officers, firefighters, and medics during emergency and non-emergency situations.
We offer competitive pay, starting at 16.97/hr., along with benefits such as health/dental/vision insurance, disability plans, retirement, and life insurance policies.
General summary of duties:
Receives and prioritizes emergency and non-emergency telephone calls from the public. Evaluates and dispatches appropriate emergency service agencies such as, police, fire, and emergency medical units. Processes information using a computer-aided dispatch (CAD) system.
This position maintains radio communications with public safety units in the field, retrieves and enters computer data, operates TDD/TTY and other related communications equipment. Work is performed under general supervision by the Dispatch Shift Supervisor and the Director.
Required knowledge, skills, abilities, and qualifications:
• Strong communication skills
• Ability to exercise judgment under pressure
• Ability to multi-task
• Ability to work any shift, holidays, and weekends. This is a 24/7/365 operation and coverage is required during all hours.
• Must be able to complete the training program within an allotted timeframe.
• Must be able to pass a drug screening, in-depth background check, physical, and hearing test.
• Must be at least 18 years of age
• Must have High School Diploma or GED
• Must be a citizen of the United States.
HOW TO APPLY
Go to Robertson911.com to fill out and submit an application.