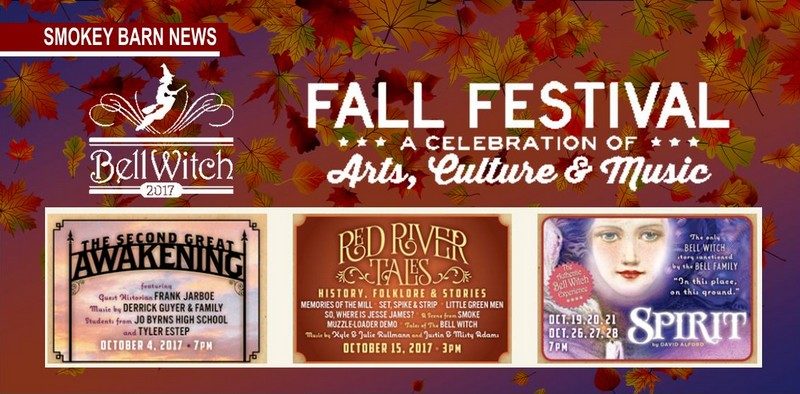 "Bell Witch Fall Festival" Features Three Exciting Events In October
ADAMS TENNESSEE: (Smokey Barn News) – Whether you live in Robertson County or across the state, take a trip to Adams for the Bell Witch Fall Festival. It's Worth the drive. Just 40 minutes from downtown Nashville and 30 minutes from Clarksville, it's worth the drive to witness the beauty of the back roads filled with rolling hills, picturesque foliage, smoking barns, and wildlife in its natural habitat. It's worth the drive to attend these three events filled with deep-rooted history and folklore, and unforgettable music and talent.
The three events featured this year are The Second Great Awakening on Oct. 4 at 7 p.m., Red River Tales on Oct. 15 at 3 p.m., and the 15th annual production of "Spirit: The Authentic Bell Witch Experience" on Oct. 19,20,21 and Oct. 26,27,28 at 7 p.m.
The Bell Witch Fall Festival will be held at the Bell School Community Complex in the Brooksher Outdoor Pavilion off Highway 41 in Adams. See (MAP)
THE SECOND GREAT AWAKENING, Oct. 4th at 7 p.m., FREE EVENT
History • Music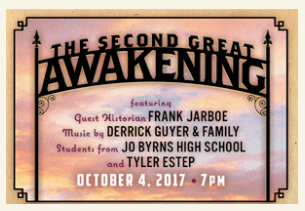 Only a few years after the John Bell family arrived in Robertson County in 1804, this area was central to a series of huge revival meetings that sparked a resurgence in religious zeal that exploded across the country. The Bells arrived at the height of the religious fervor, and could have been present at these "camp meetings," along with Kate Batts and other neighbors. Come experience a rousing evening centered in 1803 as we assemble at a Wednesday night camp meeting during the time of the Second Great Awakening (Revival), featuring guest historian Frank Jarboe, music by Derrick Guyer and family, students from Jo Byrns High School, and Tyler Estep.
RED RIVER TALES, Oct. 15th at 3 p.m., FREE EVENT
History • Folklore • Stories • Music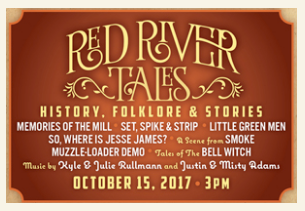 Take a walk down history lane with interesting conversations, never-heard-before stories and live music! Rich in history, this area known as the Red River Watershed, located in South Central Kentucky and Middle Tennessee, is famous for faith, fighting, and folklore. Montgomery Central High School students perform a scene from SMOKE and Clarksville Academy students tell Bell Witch Tales. Charlotte Reedy (Robertson County History Museum) shares "Memories of the Mill." Historian Mark Griffin explores outlaw Jesse James and his local ties in "So, Where is Jesse James?" William Turner relays the true story of "The Little Green Men of Kelly, Kentucky." Rick Gregory explains the hardships of raising a tobacco crop in 1905 in "Set, Spike and Strip." Kyle & Julie Alford Rullmann and Misty & Justin Adams provide music. Members of the Red River Meeting House will be on site with a Muzzle-Loader Demonstration as a special bonus!
SPIRIT: THE AUTHENTIC BELL WITCH EXPERIENCE, Oct. 19,20,21 & Oct. 26,27,28 at 7 p.m.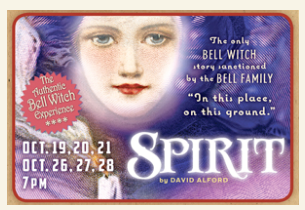 Ticket Prices are $10-Students and ($8 on Thursday night—which is "student night") $20-Adults. Group tickets are available.
As you sit on the grounds of the farm that once belonged to the Bell family, Spirit will take you on an eerie journey that began in 1804. That's when John Bell uprooted his family and moved to a beautiful area on the Red River, now known as Adams, unaware that the grounds were already occupied by the later-coined "Bell Witch." Tormenting the family for years, moving objects, and even pinching and slapping family members, the events culminated in John Bell's mysterious death in 1820. The mystery of the Bell Witch remains unsolved to this day. Come join us and experience how the legend began. Spirit is written by Adams native David Alford, now starring in TV's Nashville.
To purchase tickets for "Spirit", Click –> HERE
Community Spirit, Inc. is a non- profit community organization dedicated to bringing quality, educational theatrical productions to Robertson County, Tennessee, and the surrounding areas. We provide professional, historically accurate entertainment the whole family can enjoy. Community Spirit is operated entirely by volunteers who have a love for arts in the community. We are an organization that operates from grants, donations and fundraising. We are passionate about what we put forth to the community and it is our desire that you will return to see the same quality production year after year and make it part of your family tradition.

Smokey Barn News (Sponsor/Advertisement) 

We bring you ALL the News in and surrounding Robertson County, Tennessee.