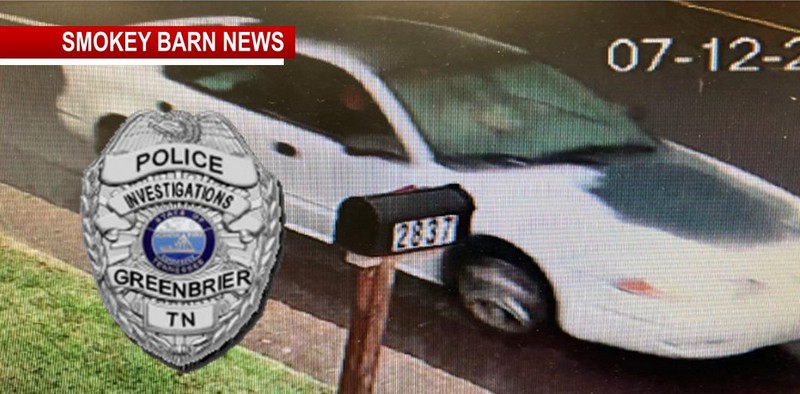 Catalytic Converter Bandits Strike Greenbrier Business
GREENBRIER TENNESSEE: (Smokey Barn News) – Greenbrier Police are investigating the theft of Catalytic Converters from a local auto dealer. This is a BOLO for suspects in this case as well as an alert for other auto dealers and repair shops in Robertson County.
Police are attempting to identify the occupants of the above-shown vehicle for the theft of Catalytic Converters from vehicles at Dunn Motor Co., located at 2837 HWY 41S, Greenbrier, TN. MAP
On Sunday, July 12, 2020, just before 6:00 am the unidentified individuals, driving what appeared to be an Oldsmobile Alero, removed the exhaust systems from vehicles parked on the front lot.
Investigators are asking that anyone who may have information related to the identity of these individuals, in this or related incidents to contact Detective B. Locklayer or Detective C. Allen at 615-643-4467.
According to the owner Matt Dunn, this is the 3rd time the bandits have struck his business.  The first time catalytic converters were stolen from his vehicles cost Dunn $1800. This time Dunn estimates it'll cost him about $5oo to $800.
B.O.L.O
This vehicle was on surveillance video at Dunn's Automotive in Greenbrier TN on 07/12/2020 just before 6:00am. The vehicle is believed to be a white Oldsmobile with a black hood and black roof. A passenger is seen in the video surveillance exiting the vehicle and cutting the catalytic converter off a vehicle.
Anyone with information regarding the identity or whereabouts of the above-depicted individual is asked to contact Detective B. Locklayer or Detective C. Allen, or the Greenbrier Police Department at (615) 643-4467.