Knowing which Medicare plan is right can be hard, Ken Duley With HealthMarkets Makes It Easy.
I can help find the right Medicare plan that is right for your needs and budget
My name is Ken Duley, your local agent for HealthMarkets Insurance Agency in White House, TN. I serve clients in the White House area and Serving all of Middle Tennessee.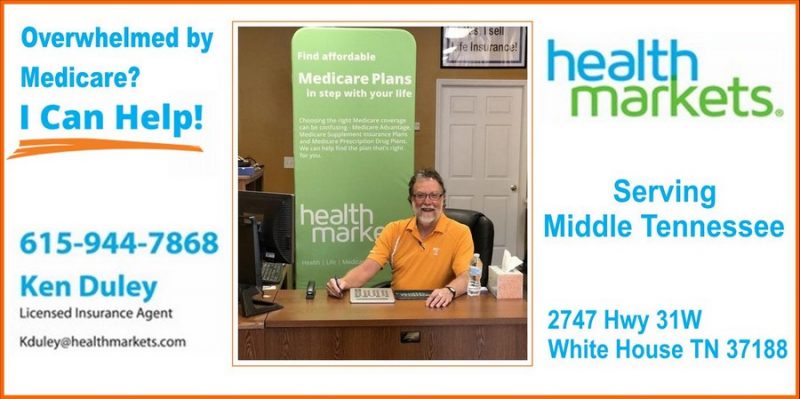 Ken Duley   2747 Hwy 31W White House, TN 37188
(next to the Colorado Grill in the Deer Crossing Shopping Center) (MAP)   
(615) 944-7868   kduley@healthmarkets.com
Communities I Serve
Serving all of Middle Tennessee
My Office Handles
Individual & Family Health Insurance, Medicare, Medicare Advantage Plans, Medicare Supplement, Medicare Prescription Drug Plans, Small Business Health Insurance, Life Insurance, Dental Insurance, Vision Insurance, Critical Illness Insurance, Disability Insurance, Accident Insurance, Long-Term Care Insurance, Wellness Products.
About Me
Hi I am called Ken Duley (first name is Harry). I have lived in Tennessee most of my life. Settled in Middle Tennessee after graduating from Tennessee Tech in 1982. Serving the public in the insurance industry for 28 years. I have a wonderful wife of 34 years & Our twins one finishing up their Masters and the other has a Masters in Education & And our son-in-law Storm. I am proud to represent HealthMarkets Insurance Agency in all of Middle Tennessee &amp and have a storefront location at 2747 US-31W, Suite 2, White House, TN 37188. I focus on helping individuals, families & small businesses with Health, Life, Medicare, Supplemental & Retirement needs. 
My wife & I worship regularly at the Madison Church of Christ serving as a deacon at another church congregation for 10 years. Alpha Kappa Psi professional business fraternity. Member of Chamber of Commerce. Serve as tutor for Begin Anew students pursuing their GED's. Please contact Ken today for a free insurance consultation 615-944-7868 today. www.HealthMarkets.com/kduley
I can help assist you with all your Medicare Insurance needs.
Choosing a Plan
Choosing the right Medicare plan can be difficult. I will help make it easy.
No-Cost Assistance
I work with nationally recognized insurance companies to give you the quality, affordable insurance you're looking for. We promise never to spam you or sell your information. Best of all, my assistance is no cost to you.
Ken Duley   2747 Hwy 31W White House, TN 37188
Call me today at
(615) 944-7868
and let me find the right insurance for you.
HealthMarkets Insurance Agency is the d/b/a, or assumed name, of Insphere Insurance Solutions, Inc. which is licensed to sell all products. Service and product availability varies by state. HMIA002410