Coopertown Shooting Leads To 1st Degree Attempted Murder Charge
COOPERTOWN TENNESSEE: (Smokey Barn News) – A Nashville man is facing a 1st Degree Attempted Murder charge in Coopertown following an incident on Monday.
According to Coopertown Police Chief Tyler Haley, on Monday around 5:30 pm officers were dispatched to a shooting located in Coopertown, TN. Officers arrived to find the suspect, 22-year-old Justin Webb of Nashville, lying on the ground being held at gunpoint by the homeowner.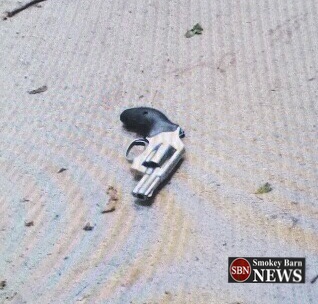 Victims told police that Webb allegedly came on their property and shot at a woman as she was exiting her vehicle. The woman ran away from the gunfire ducking between two vehicles trying to create distance between her and the shooter (Webb). According to police, Webb allegedly continued to shoot toward the direction of the victim which appeared that he was actively trying to injure or kill her.
The woman then ran toward the camper in the backyard to take cover. The victim's husband came outside and saw what was happening; therefore, grabbing his pistol and took two shots toward the subject. After the husband fired two rounds toward Webb, Webb threw the gun near the driveway and laid on the ground until police arrived.
The victim and Webb have known each other for years and their relationship is client-based. No injuries were reported; however, the victim did suffer a panic attack and was evaluated by medics. Webb is in custody and has been charged with Attempted First Degree Murder, Felony Reckless Endangerment, Possession of Stolen Property and Possession of a Firearm while in the act of committing a dangerous felony.
Webb is being held at the Robertson County Detention Facility with a no bond on the attempted first-degree murder, 25,000 bond on the possession of stolen property, 20,000 bond on the possession of a firearm while committing a dangerous felony, and 8,000 bond on the felony reckless endangerment.
It appears this was a targeted attack and the surrounding community is safe from this event. The responding agencies were the Coopertown Police Department, Robertson County Sheriff's Office, and Robertson County EMS. Chief Haley Coopertown Police Department.
According to Coopertown Police Chief Tyler Haley. Webb is also wanted for questioning for arson in Nashville.
Smokey's news partner WKRN News 2 indicates, two people were injured after they jumped from the second story of a burning duplex in the Bellshire area of Nashville early Monday morning. The Nashville Fire Department responded just before 4 a.m. to reports of a fire at a residence on Brick Church Pike at Westchester Drive.
When firefighters arrived, they said they observed flames on one side of the duplex. First responders said two people jumped from a rear, second-story window to escape the fire, according to News 2. One was transported to Vanderbilt University Medical Center for treatment of smoke inhalation, while the other was taken to TriStar Skyline Medical Center with a foot injury.
Investigators with the Nashville Fire Department determined the fire was set intentionally and issued an alert Monday evening for Justin Webb, 22, the third resident of the duplex unit, according to News 2. Fire investigators told News 2 that Webb, the suspected arsonist, had left the scene before firefighters arrived and they were unable to locate him at the time.