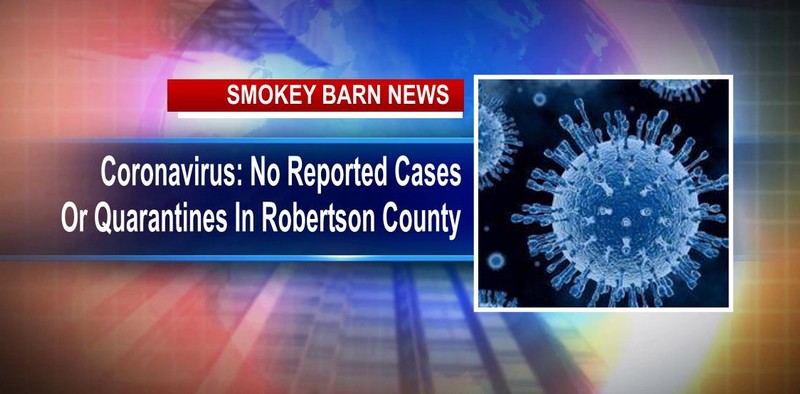 Coronavirus: No Reported Cases Or Quarantines In Robertson County
SPRINGFIELD TENNESSEE: (Smokey Barn News) – Reports that several people in Robertson County are under a Coronavirus quarantine are unsubstantiated.
According to the Robertson County Emergency Management Agency, there are no cases of Coronavirus and no reports of anyone under quarantine by an agency or voluntarily by any citizen in Robertson County at this time.
A report that, out of their global operation, several Electrolux Springfield employees were under a self-quarantine was also not substantiated.
According to the Director Of the Robertson County Emergency Management Agency Chance Holmes,  "We have communicated with Electrolux in Springfield and they have confirmed that no one from their facility has tested positive for the Coronavirus."
A spokesperson from Electrolux North America issued the following statement to Smokey Barn News:
"We have global operations and have implemented a travel ban to and from Italy. Employees who have visited one of the Italian towns currently under quarantine are working from home per public official guidance for 14 days following their return. We do not at this point have employees affected by the virus." Eloise Hale – Corporate Communications Executive with Electrolux North America
It's important to remember that Electrolux is a global company headquartered in Stockholm Sweden. Ms. Hale's statement should be read from a global perspective, not a regional one.
Is Robertson County prepared if we do see cases of Coronavirus?
In short, and according to Captain Josh Rice, Training Coordinator for Robertson County EMS, the answer is, yes, Robertson County is ready.
"Robertson County EMS is prepared for any potential virus patient and we are following guidelines that have been issued by the Tennessee Department Of Health the State EMS Office and the CDC. All of our ambulances are prepared should there be a Coronavirus patient," Rice said.