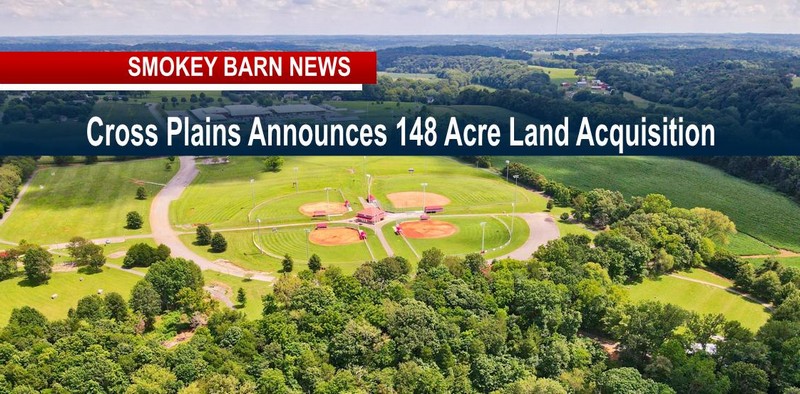 Cross Plains Announces 148 Acre Land Acquisition
CROSS PLAINS TENNESSEE: (Smokey Barn News) – The City of Cross Plains, Tennessee announced today the purchase of 148 acres on Highway 25 East from the Mary E. Sanders Family.
The property adjoins the City Park and Historic Kilgore Cemetery as well as providing additional growth property to the north of Highway 25.
"We are so pleased to be able to acquire this property from Ms. Sanders and her family," said Barry Faulkner, Mayor of Cross Plains. "This will give the City adequate space for the future needs of our community, including open space for walking trails, potential expansion of our City Park, and additional facilities as may be needed in the future. Its' central location is ideal for use by our residents and assures that the needs of future generations can be adequately addressed."
Many of the residents of Cross Plains enjoy the close community feel of the park which is consistently used by youth baseball and softball teams, soccer clubs, and exercise enthusiasts. The $1,080,000 acquisition of this additional property will allow for the possibility of park expansion in years to come and allows the City to centralize activities in the center of the community. It also provides additional land that could be made available to the County if more schools are needed.
City Manager Chip Hellmann stated, "I am so pleased that our Commissioners saw the importance of acquiring this land now even though we have no immediate needs for its' use. We know that someday those that follow us in these positions will be glad that we have additional property to accommodate our growth."
"Mrs. Sanders has been a wonderful friend to our community. Along with her daughter, Susan Gardiner, she has seen the importance of protecting our heritage and providing for our future," Added Mayor Faulkner. "They have been an absolute pleasure to work with and we are pleased to have reached such a wonderful conclusion to our discussions."
Mary Sanders and her family sold the original land to Cross Plains many years ago for the current park. Though she resides in Atlanta, Georgia she has always stayed keenly interested in the future of Cross Plains and wanted to make sure that her property could be enjoyed by the entire community.