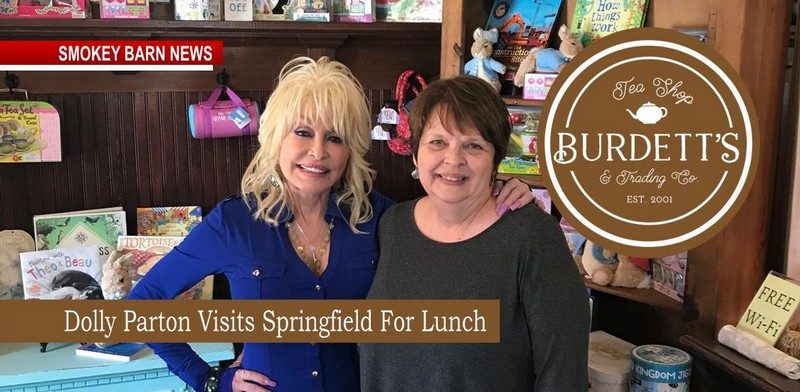 Dolly Parton Visits Burdett's Tea Shop In Springfield
SPRINGFIELD TENNESSEE: (Smokey Barn News) – If you have ever been to Burdett's Tea Shop in Springfield then you know it's a beautiful and elegant restaurant that attracts actors, song writers and singers whenever they're in town filming. Yesterday all three showed up in one person, it was Dolly Parton in the flesh.
In town visiting with her sister we're told, she came by because she read about Burdett's and wanted to come try it out.
Burdett's Tea Shop & Trading Company is located right off the Robertson County Court House Square in Downtown Springfield. Owner, Sandy Ramsey, told Smokey Barn News that it was a big and very pleasant surprise to look up and see her. "She was so elegant and gracious," Ramsey said. "It was such a surprise, I looked up and there she was, I almost couldn't believe it."
"After she finished eating, she asked how many people were back in the kitchen, I told her there were six or seven. She said -Would it be alright if I went back there and thanked them for my lunch?— So I escorted her back to the kitchen and she was so sweet, she talked to everybody and everyone was just thrilled.
"Gracious is just the word that epitomizes her to me, she and her sister both were just nice as can be."
"After she said she read about us,  I said it's odd for you to say that you read about us when it's usually us reading about you. She said 'We're all famous somehow'r nother.'"
News that Dolly was having lunch at Burdett's spread quickly. Fans began to gather at the door hoping to get a glimpse of the megastar.
Ramsey told Smokey Barn News that the photo below is all the more special because of the books in the background. Dolly Parton has been a long time advocate of getting books in the hands of children through her Imagination Library program.
Dolly told Sandy that her husband comes to Robertson County from time to time to buy farm equipment so she's apparently familiar with the area.
According to Sandy, Dolly sat at "Table Number 5" which just happens to be Sandy's favorite table in the shop.  From now on, Sandy said, "Table Number 5" will be known as the "Dolly Parton Table" for anyone that would like to sit in the same exact spot she did.
"It was a pleasure to see her, we hope she comes back again," Ramsey said.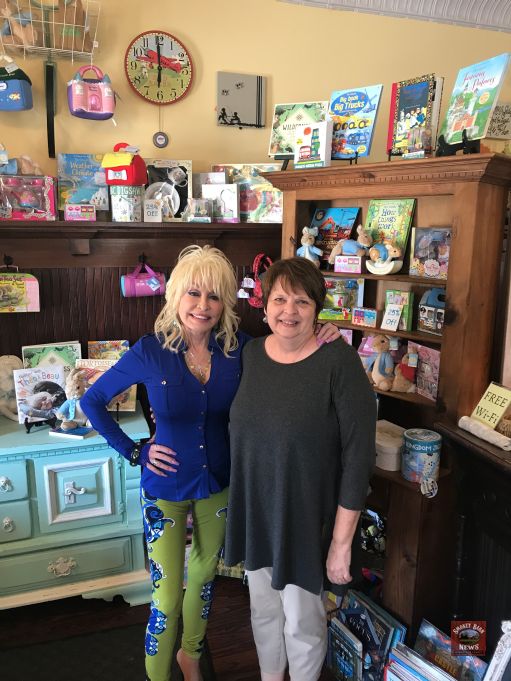 We bring you ALL the News in and surrounding Robertson County, Tennessee.