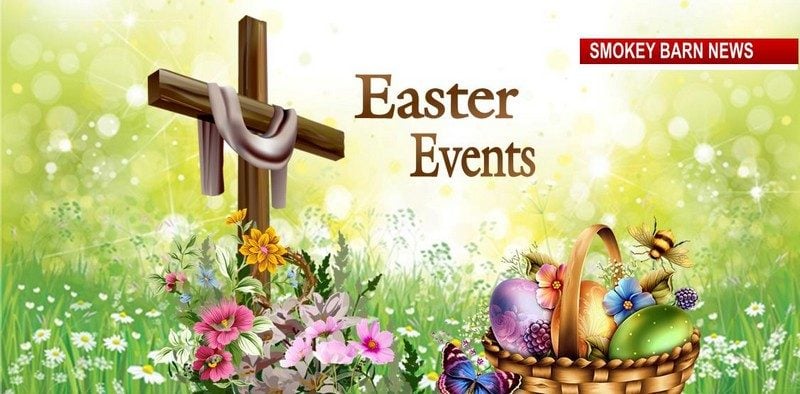 Easter Events 2018 In & Around Robertson County
ROBERTSON COUNTY (AREA) TENNESSEE: (Smokey Barn News) – Easter is right around the corner! Here's your list of where to find all the Easter events and activities in our area, from sunrise worship services, musical dramas of the Life of Christ, pancake breakfasts, egg hunts for the kids and more.
If you know of a local Easter event that you would like to share, please send to [email protected] or post in a comment.
————————————
March 29 – 30 First United Methodist Church of Springfield presents "The Living Last Supper"
Presentation starts at 7 p.m. at the First United Methodist Church of Springfield located at 511 Oak Street.
The musical/drama is based on Leonardo da Vinci's famous painting of the Last Supper. Attendance is free, and the nursery will be available.
For more info, call 615-384-4800.

Easter Bunny Photo Hours at the Rivergate Mall In Goodlettsville Thru March 31
Sundays, March 11-25, 2018 – 12:00 p.m. – 6:00 p.m. (Break 3:00 p.m. – 3:30 p.m.)*
Monday – Saturday, March 12 – 31, 2018 – 10:00 a.m. – 9:00 p.m. (Break 1:00 p.m. – 2:00 p.m. & 5:00 p.m. – 6:00 p.m.)*
Make a photo session reservation – Reserve now to skip long lines and last minute pressure. Reservations let you hop along the bunny trail faster, so book your session now. Click HERE 

March 30-April 1 Easter at Metro Baptist In Goodlettsville
Good Friday Service
March 30 | 6:30 PM
We will have a special service on Good Friday at 6:30 PM. We will have a special communion service and a time of remembrance of the death of Christ.
Easter Sunday Service
April 1 | 10:30 AM
Our main worship service begins at 10:30 AM. Join us as we worship our RISEN SAVIOR! We have classes for kids and nurseries available during all services.
Egg Hunt
April 1 | 10:30 AM
We will also have different Egg Hunts going on during and after our services for all age groups. More information will be available on locations once you arrive.
Metro Baptist Church – 322 E Cedar St, Goodlettsville, Tn (615) 859-1184

March 31 Springfield Baptist Church Easter egg hunt & Pancake Breakfast
Pancake breakfast at 9 AM, Egg hunt at 10 AM Join us for special activities and pictures with the Easter bunny . 400 N. Main St., Springfield 615-384-3581

March 31 Northridge Church Easter Egg hunt at the Orlinda City Park
Northridge Church – (White House, TN) will be hosting an Easter Egg hunt in Orlinda on Saturday March 31 located at the Orlinda City Park, 7501 Hwy 52.
The Egg hunt will start at 10:00 AM and is open to all elementary children K-5th grade. This is a FREE event!

March 31 & April 1 Resurrection Passion Play – South Haven Baptist in Springfield
Come and enjoy a wonderful presentation of Jesus' life, death and glorious resurrection in this year's Passion Play! There will be two showings; Saturday, March 31, at 6:00PM and Sunday, April 1, at 10:00AM.
The play is free of charge and will guaranteed be enjoyable for the entire family!

March 31 Community Easter egg hunt – Temple Baptist Church
Located at 117 Marlin Rd., White House TN. 9 AM – Noon hunt. Egg Hunt at 10 AM Resurrection story, inflatable's, face painting and carnival treats!

March 31 Pleasant View Community Easter Egg Hunt
Join the Pleasant View Volunteer Fire Department for the Pleasant View Community Easter Egg Hunt on March 31 at 2PM in the Pleasant View Community Park.
There will be prizes for the golden egg, face painting, games inflatable's and candy.
2PM -age three and under
2:15PM ages 4 to 6 years
2:30PM ages 7 to 9 years
2:45PM ages 10 to 12 years

March 31 @ 7PM April 1 @11AM – Orlinda Baptist Church – "The Lamb Has Overcome"
Join us for one of our special Easter worship services presented by the Worship Choir of Orlinda Baptist Church! We would love to have you with us as we share the story of the Risen King! 1124 W. Church St. Orlinda, Tn

April 1 Easter Egg Hunt Following Morning Worship Service – Calvary Baptist In Greenbrier
Over 3000 Eggs provided at the Easter Egg Hunt following the morning worship service on Ressurection Sunday

April 1 – SUNDAY HE IS RISEN! Celebrate Easter this year at Mt Carmel Baptist Church in Cross Plains!
9:00 AM – Family Breakfast, Photo Booth
10:00 AM – Worship for adults; Worship and Children's Church for children
The morning begins with a family breakfast and fellowship at 9:00.
The worship service at 10:00 will include a live worship band, an impactful message, and much more.
The Children's Ministry will celebrate the resurrection of Jesus with worship and learning the true meaning of Easter.
Mt Carmel Baptist Church – 7109 Highway 25 East Cross Plains, Tennessee 37049. (615) 654-3846

April 1 Easter Sunday at Temple Baptist Church in White House
Join us on Easter Sunday, April 1, to Celebrate! Services at 8:30AM & 10:00AM located 117 Marlin Rd, White House, Tn

April 1 Easter At The Church at Grace Park In White House – 506 Hester Dr, White House, Tennessee 37188
Traditional Service in the Village Chapel
8:00am
Morning Worship in the Worship Center
10:30am
BREAKFAST & Classes for All Ages
9:00 – 10:30am
Easter Celebration for the Kids
PARENTS: Please check-in your nursery, pre-K, & elementary-aged children! *Huge Egg Hunt during the 10:30 service

April 1 Easter at Revolution Church (White House)
Sunday, April 1 at 6 AM – 12:30 PM at Revolution Church – 3644 Highway 31 W, White House, Tn. Sunrise service 6 a.m. – Breakfast 7 a.m. – Early Worship – 9 a.m. – Family Worship – 10:15 a.m. – Egg Hunts and Childrens Events – 11:45 a.m. – The 9 a.m. and 10:15 a.m. worship services are identical and RevKids will be available for each service time.
*However, because of egg hunts following the second service, we anticipate a larger number of families to attend the later worship time.

Smokey Barn News (Sponsor/Advertisement)


We bring you ALL the News in and surrounding Robertson County, Tennessee.