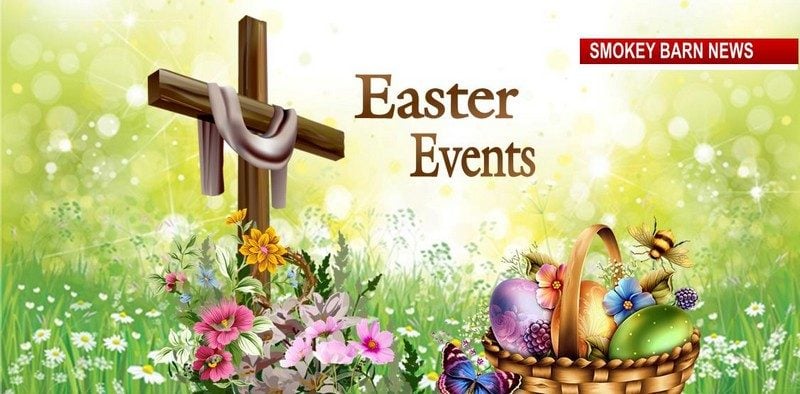 Easter Weekend Events: Egg Hunts, Pancakes, Music & Plays
ROBERTSON COUNTY (AREA) TENNESSEE: (Smokey Barn News) – Easter weekend has arrived! Here's your list of where to find Easter events and activities planned from Sunrise worship services, Musical dramas of the Life of Christ, Pancake breakfasts and lots of eggs hunts for the kids including "Glow In the Dark Easter Egg hunts"

April  20: FREE Pancake Breakfast & Easter Egg Hunt by Springfield Baptist Church (Photos with Easter Bunny)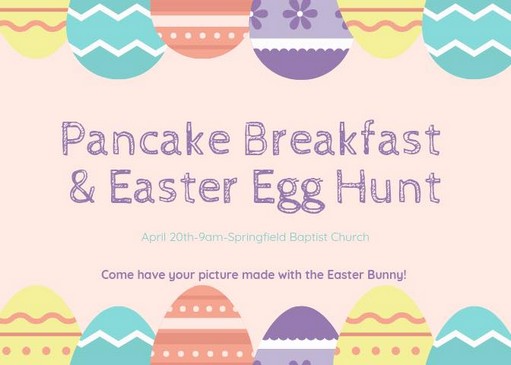 Saturday, April 20, 2019 at 9 AM
Location: Springfield Baptist Church 400 Main St N, Springfield, Tennessee 37172
FREE pancake breakfast and egg hunt for all children, toddlers-6th grade. Come join the activities as we have a balloon artist and Easter crafts!
We will also have a professional photographer to take a family picture of you with the Easter bunny. The fun starts at 9:00am at Springfield Baptist Church!

Smokey Barn News (Advertisement)

April 20: GLOW in the DARK Easter Egg Hunt-Children's Event by Solid Rock Baptist Church in Greenbrier
Saturday, April 20th at 6PM-8:30PM: GLOW in the DARK Easter Egg Hunt-Children's Event
Location: 2327 Old Greenbrier Hwy Greenbrier, TN 37073
We will start with a FREE dinner at 6PM and have everyone register their children for the hunt before it starts at 7:45PM. We will stagger the hunts by 5-10 minutes so parents of multiple children will be able to help each child. Within each group their will be a PRIZE egg. After each hunt we will have everyone come to our Sanctuary to empty their eggs and give out all PRIZES before ending the hunt.

Smokey Barn News (Advertisement)

April 20: Pleasant View Community Easter Egg Hunt by the Pleasant View Volunteer Fire Dept.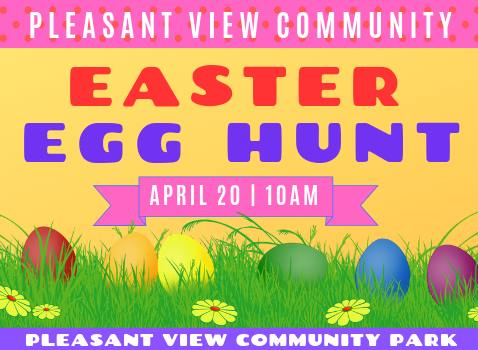 Location: Pleasant View Community Park
Schedule: Ages 3 & Under at 10AM, Ages 4 to 6 at 10:15, Ages 7 to 9 at 10:30, Ages 10 to 12 at 10:45.
Games, Face painting, Candy, Prizes, Inflatables!

Smokey Barn News (Advertisement)

April 20: Epiphany Baptist Church Annual Easter Egg Hunt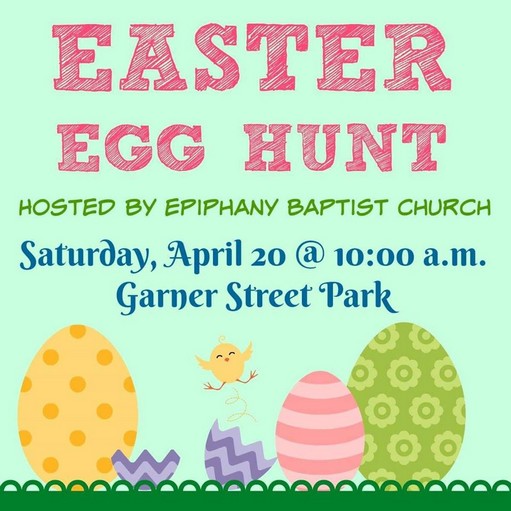 Saturday, April 20, 2019 at 10 AM – 12 PM
Location: Garner St Park 2 Goldcrest Ct, Springfield, Tennessee 37172
We're providing lots of eggs, music, candy, play, and fun! Come join us for a fun- filled morning of hunting down hundreds of eggs and playing with lots of friends at the park! All kids are welcome to participate. Come as you are and join us for a great time!

Smokey Barn News (Advertisement)

April  20: Community Easter Egg Hunt by Springfield TN First Free Will Baptist Church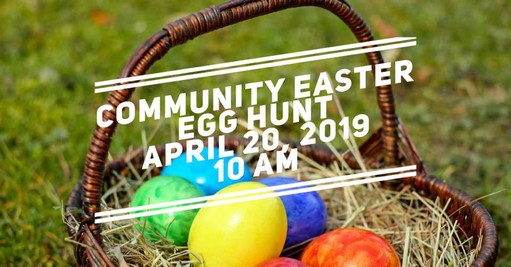 Saturday, April 20, 2019 at 10 AM
Location: Springfield TN First Free Will Baptist Church – 811 16th Ave East, Springfield, Tennessee 37172
Bring your kids and grandkids to this fun event! We will have aged based egg hunts for Infants through 12 year olds! We hope you will join us!

Smokey Barn News (Advertisement)

April  20: Community Wide Easter Egg Hunt by Temple Baptist Church in White House, TN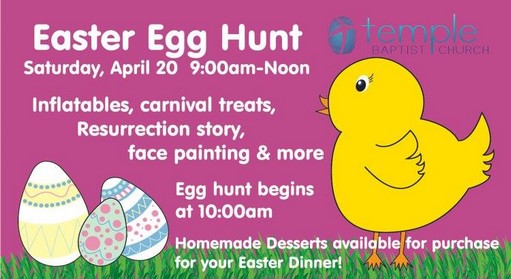 Saturday, April 20, 2019 at 9 AM – 12 PM
Location: Temple Baptist Church – 117 Marlin Rd, White House, Tennessee 37188
Free Inflatables, Carnival Treats, Resurrection Story, Face Painting & More! Egg Hunt Begins At 10am.
Need a great homemade dessert or pie for your Easter Dinner? Stop by and pick up one of many of the delicious desserts available for purchase.

Smokey Barn News (Advertisement)

April 20 Chain of Hope for Jennifer and Adrianna Wix by Justice for Jennifer and Adrianna Wix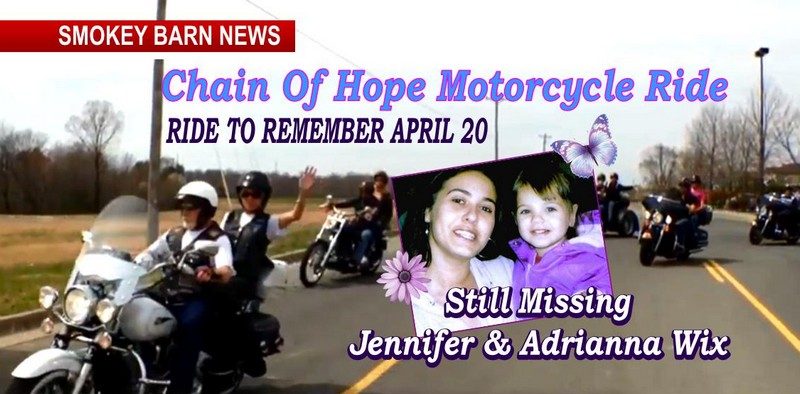 When: Saturday, April 20, 2019 at 12 PM
Location: (Old) Kmart parking lot- 230 Long Hollow Pike, Goodlettsville, Tennessee 37072
Jennifer & Adrianna Wix are still missing after 15 years. Reported missing by Jennifer's mother, Kathy Casey-Nale on March 27, 2004. The investigation led deputies to the Robertson County home of Jennifer's boyfriend, Joey Benton, where Jennifer and Adrianna had been living with Benton in an outbuilding on the property. The case was recently classified as a homicide due to newly discovered information by the Robertson County Sheriff's office.
The TBI is also assisting in this investigation and encourages anyone with information about Jennifer or Adrianna's whereabouts to call 1-800-TBI-FIND or the Center for Missing and Exploited Children at 1-800-THE-LOST.
Everyone is invited to participate in this annual chain of hope ride to help bring awareness to the case.
"There will be a balloon release there, then take our memory/awareness ride for the girls and end up at the Gallatin Elks Lodge for some great food, drink, music and great friends that ALWAYS help us raise the awareness back up again for our girls and hopefully meet new friends and supporters as well…….so bring EVERYBODY you know and come help make a little noise for Jennifer and Adrianna!" Kathy Casey-Nale.

Smokey Barn News (Advertisement)

April 21: Breakfast, Ressurection Worship service, Easter egg hunt following service at CrossLife Community Church in Hendersonville, Tn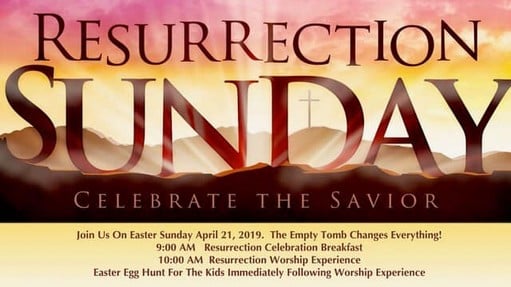 The Empty Tomb Changes Everything!
Come and join us at CrossLife Community Church on Easter Sunday. We'd love to have you there!
9AM Breakfast
10AM Ressurection Worship Experience
Easter Egg Hunt following Service
Location: 1410 Stop 30 Rd, Hendersonville, TN 37075

Smokey Barn News (Advertisement)

April 21: Easter at Flewellyn Baptist Church
Location: Flewellyn Baptist Church – 3557 Flewellyn Rd, Springfield, Tennessee 37172
April 21 Sun 6:06 AM – Sunrise Service & Breakfast – April 21, 6:06 am – Outdoor Gathering, Weather Permitting. AND Morning Worship – April 21, 11:00 am – Special Music & Drama Celebrating Life through Jesus!
You're invited to join us for our Easter Celebration:

April 21: Easter At Calvary Baptist In Greenbrier
Click Banner for full details…

April 21 Easter Sunday Service – An Easter Musical "The Borrowed Tomb" at 11AM
Egg Hunt after Easter Service with 3,500 eggs and 35 Golden Prize Eggs! Come and enjoy the fun!

Smokey Barn News (Advertisement) 

April 21: Easter Sunday Services by The Church at North Springfield Baptist TN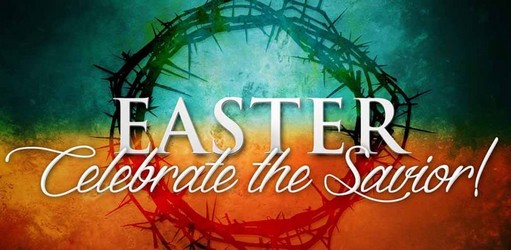 Sunday, April 21, 2019 at 6:30 AM – 11:30 AM
Location: The Church at North Springfield Baptist TN – 4732 Highway 41 North, Springfield, Tennessee 37172
Sunrise service 6:30 AM
Breakfast Following
Sunday School 9:15 AM
Easter Worship service 10:30 AM
No evening service

Jeremy's Egg (An Easter Story)
(Submitted)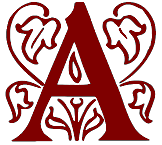 A third grader by the name of Jeremy was afflicted with Down's syndrome. He had a great deal of difficulty with instructions from his teacher and frequently did his assignments wrong and was often a distraction in class. The parents were called in and the teacher explained that Jeremy really needed to be in a special school.
The trouble was that it was hours away to such a school and Jeremy loved his teacher and his classmates. Near Easter time the students were each given a brightly colored and empty plastic egg. They were instructed to take them home and bring them back the next day with something in them that reminded them of the resurrection of the Lord Jesus and the new life that we are promised.
In turn each child shared their egg and its treasure hidden inside. On little girl had placed a small cross inside her egg and another had found a butterfly cocoon to put in her egg. One of the boys had put a picture of a newly born puppy in his. Lastly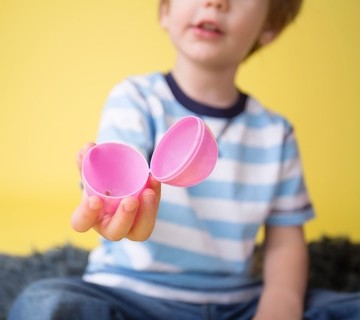 Jeremy was called upon to bring his egg up. The teacher held her breath at what he might have done with his assignment. When he clumsily opened his egg it was totally empty.
The teacher was embarrassed for him and she had known all along that he would make a mess of things. In a rather harsh tone, she exclaimed to Jeremy that his egg was empty and that it held nothing. How could an empty egg say anything about Easter? Jeremy's answer was devastating. He told the teacher and the class who were by now snickering in their sleeves; "My egg is empty because on Easter morning the Tomb of Jesus Christ was also empty."
A few weeks later Jeremy grew very sick and in a short time he passed away. The entire third-grade class came to the funeral and placed 19 plastic colored eggs on top of Jeremy's casket—-all of them empty.
– Author: Ida Mae Kempel

Letter To The Editor – (submitted)

Years ago, I thought that to get to heaven I just needed to believe in God and be a good person.
However, the definition of "good" is to be "morally excellent." The Bible says that God is good, and the Ten Commandments are his standard of goodness. Getting into heaven by good deeds demands absolute perfection.
When I honestly looked into the mirror of the Ten Commandments, God's law, I realized I was guilty of breaking them and had sinned against the Holy God. Breaking even one of the Ten Commandments makes us a sinner. On Judgment Day every sin we have ever committed (even secret sins) will come out as evidence of our guilt.
God originally, created a perfect world, without sin. But Adam and Eve disobeyed God and the world became a sin-cursed world. We all are descendants of Adam and Eve. The Bible says in Romans 3:23, "for all have sinned, and come short of the glory of God.
But God, motivated by love, became a man, as Jesus Christ, through a virgin birth. He later died on the cross to take our punishment and rose from the dead. He paid the penalty for our sins in full. All we have to do is confess and turn from sin and trust in Jesus Christ, and God will forgive our sins and grant eternal life with Him in Heaven.
My hope is that everyone will see the true significance of what God did on Easter.
– Ken, Portland, TN
Smokey Barn News (Advertisement)

We bring you ALL the News in and surrounding Robertson County, Tennessee.