VIDEO: Man Severely Burned & Fire Fighter Injured In Springfield Fire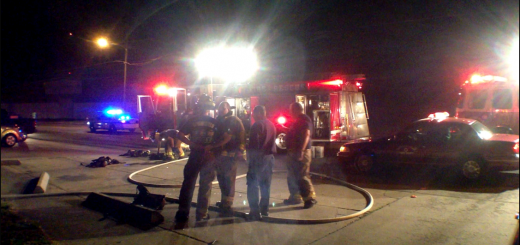 SEE UPDATES BELOW: A man was severely burned Saturday evening and a Springfield Fire Fighter injured in a home fire that broke out around 9:15pm Saturday evening. Location Of Fire:  iPhone/iPad users click on photo to play video. http://youtu.be/VKFdT5OwLv4 UPDATE  Sunday 8:30AM:  We have learned that Simon Kendricks passed away at 3:09AM Sunday from injuries he sustained in the fire, according to Springfiel Fire Chief Jimmy Hamill
We have a revision from list nights video report. Capt. Yates of the Springfield Fire Department contacted Smokey this morning to indicate that the two men referred to in the home were actually neighbors.  They saw the smoke and kicked the door open to try to rescue Mr. Kendricks but the flames, heat and smoke were just too powerful. Moments later Springfield fire crews arrived, entered the home and found Kendricks on the floor. The fire fighters quickly pulled Kendricks from the burning structure.
Smokey Would like to convey our  sympathy to the family and friends of Simon Kendricks..
Jim Ball reporting
UPDATE Sunday 2:00AM: The fire fighter Kevin Dickerson of the Springfield Fire Department has been released from Northcrest Medical Center with a back injury. He is expected to be back on the job in a day or so according to a representative with the Springfield Fire Department.  He and another Fire Fighter were trying to quickly remove the resident from the burning home when the injury to Dickerson's back occurred.
Comments
comments