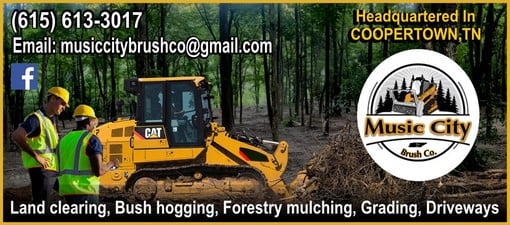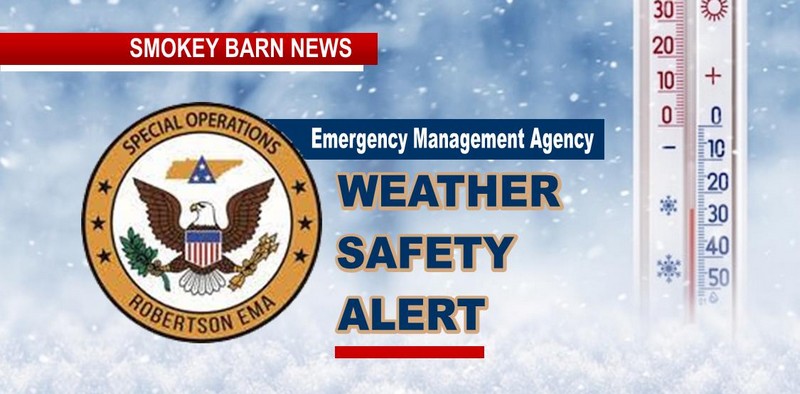 Emergency Management Agency Weather Safety Alert
SEE WEATHER UPDATE BELOW
ROBERTSON COUNTY TENNESSEE: (Smokey Barn News) – The Robertson County Emergency Management Agency has issued an alert regarding the approaching winter storm. In short, take it seriously.
The frigid temperatures coupled with wind chill factors and snowfall will produce dangerous conditions for people outside or on our roadways. If you must go out, dress appropriately. Only vehicles equipped for snow and sub-zero temperatures should consider being on our roadways. First responders will be on standby but their ability to reach you following an accident or equipment failure will be affected by weather conditions as well.
POWER OUTAGES: Should we lose power, citizens should take great care if using gas-powered generators. They must be well-ventilated and never operated inside garages, especially ones attached to homes or other structures.
PORTABLE HEATERS: If you plan to supplement your HVAC system with portable heaters, make sure heaters are kept far from any combustible items. Never use portable heaters near drapes, beds, furniture, or chemicals.  If a power failure occurs, take great care using gas-powered heaters due to the risk of carbon monoxide poisoning that can cause death.
ANIMALS: The weather over the next few days will likely be too much for most family pets so be sure to bring them indoors. The frigid temps could stress farm animals as well. Cows will need plenty of hay and a windbreak if possible. For smaller animals, you may consider putting them inside sheltered areas like barns.
Here's a look at what's coming. WEATHER BREAKDOWN
Wind Chill Warning – dangerously cold wind chills are expected. Expect wind chill factors 15 to 25 below zero.
Winter Storm Warning, heavy snow expected. Total snow accumulations of up to two inches, with pockets of up to 4 inches. Winds gusting as high as 40 mph. For the Wind Chill Warning, dangerously cold wind chills expected. Wind chills as low as 25 below zero.
WHERE…Portions of Middle Tennessee along and north of I-40.
WHEN…For the Winter Storm Warning, from 6 PM this evening to 6 AM CST Friday. For the Wind Chill Warning, from 10 PM this evening to noon CST Friday.
IMPACTS…Plan on slippery road conditions. The hazardous conditions could impact the morning commute. The cold wind chills could cause frostbite on exposed skin in as little as 30 minutes.
ADDITIONAL IMPACTS…While falling precipitation will end before sunrise Friday, travel impacts are likely to last into the weekend. Please plan for slow travel as icy conditions on secondary roadways could be possible through the holiday weekend.
The hazardous conditions could impact the morning commute.
The cold wind chills could cause frostbite on exposed skin in as little as 30 minutes.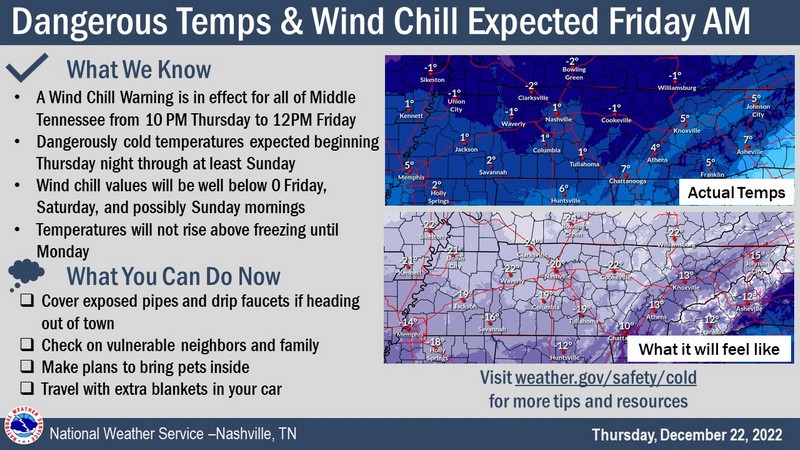 Be Prepared:
Create an emergency car kit. It is best to avoid traveling, but if travel is necessary, keep the following in your car:
• Cell phone, portable charger, and extra batteries
• Items to stay warm such as extra hats, coats, mittens, and blankets
• Windshield scraper
• Shovel
• Battery-powered radio with extra batteries
• Flashlight with extra batteries
• Water and snack food
• First aid kit with any necessary medications and a pocket knife
• Tow chains or rope
• Tire chains
• Canned compressed air with sealant for emergency tire repair
• Cat litter or sand to help tires get traction, or road salt to melt ice
• Booster cables with fully charged battery or jumper cables
• Hazard or other reflectors
• Bright colored flag or help signs, emergency distress flag, and/or emergency flares
• Road maps
• Waterproof matches and a can to melt snow for water
Bring your pets indoors
If you have pets, bring them indoors. If you cannot bring them inside, provide adequate shelter to keep them warm and make sure they have access to unfrozen water.
Prevent Frozen Pipes:
• Insulate Pipes. The best way to keep your pipes from freezing is to purchase specifically designed pipe insulation.
• Keep Garage Doors Closed.
• Open Cabinets.
• Let Faucets Drip.
• Keep the Thermostat Consistent.
• Seal Cracks and Openings.
• Leave the Heat On.
• Open Interior Doors.
Space Heaters
Many Home fires start every winter due to space heaters. Keep your home and family safe! Here is what you need to know:
• Keep space heaters at least three feet away from EVERYTHING! Space heaters placed too close to bedding and furniture are a major cause of house fires. THREE FEET!!!!
• Plug a space heater directly into a wall outlet. An extension cord can overheat and cause a fire. If you absolutely must use an extension chord, it must be able to sufficiently handle the wattage of the heater.
• Keep your space heaters out of high-traffic areas where a child or pet could knock them over.
• Turn off a space heater when you leave the room or go to bed.
Check On Older Neighbors
*Remember the harsh cold weather can be tough on our older neighbors, be sure to check up on them when you have an opportunity
IT'S THE LAST NIGHT FOR WINTER WONDERLAND OF LIGHTS
Due to dangerously cold weather, tonight will be the last night for Springfield's Drive-thru Winter Wonderland Of Lights. Hours: Tonight from 5:30-8:00 with a possibility of closing earlier. All parks will be closed Friday, Saturday and Sunday. Merry Christmas from the Springfield Parks Department.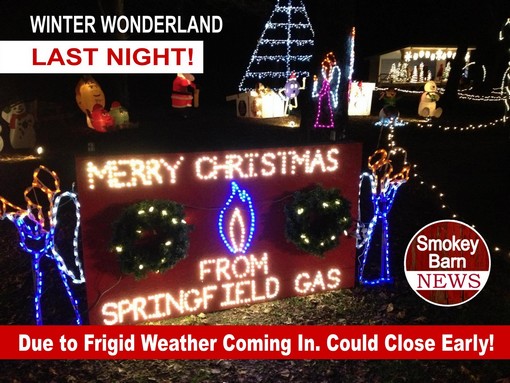 Mobile: To See The Latest Stories or to share this article, scroll below