Fourth Annual Willow Oak Gumbo Supper & Entertainment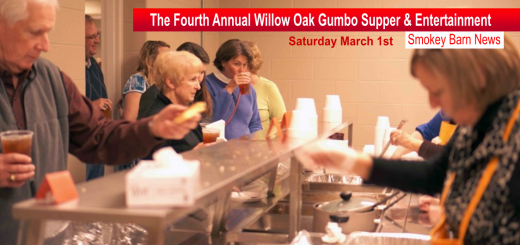 This year as in years past you can have your choice of three kinds of Gumbo…
Smokey Barn News Springfield, Tenn.
The Fourth Annual Willow Oak Gumbo Supper
…..will be held on Saturday, March 1 in the Springfield Baptist Church Fellowship Hall from 5 – 7 pm. Then enjoy performances by the Willow Oak Singers, the Robertson County Players and surprise musical guests.
This year as in years past you can have your choice of three kinds of Gumbo, Louisiana, Tennessee or Shrimp. Plus we have added to the menu authentic North Carolina Brunswick Stew.
All of it served with cornbread, tea and pie. Tickets for dinner & concert are $15 for adults and $8 for children. All proceeds go to the Willow Oak Center for Arts and Learning. Call 615-384-1802 for more information.
Smokey Barn News (Sponsor/Advertisement)
We bring you ALL the News in Robertson County, Tennessee.
Comments
comments