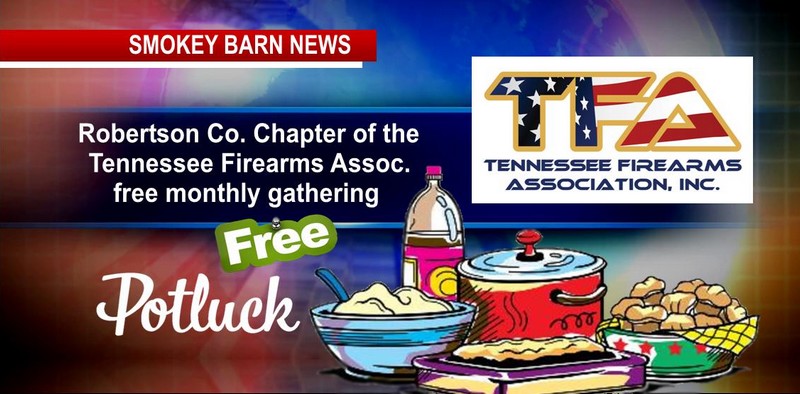 Free: Rob. Co. Chapter – TN Firearms Assoc.  Potluck/Monthly Gathering 
ROBERTSON COUNTY TENNESSEE: (Smokey Barn News) –The community is invited this Monday night, March 14 for the Robertson County Chapter of the Tennessee Firearms Association free monthly gathering.
Our speaker will be Founder and Executive Director of the TFA, John Harris. The TFA seeks to protect the right to bear arms, to restore the government to citizen control, and maintain the original intent of both the Bill of Rights and the Tennessee Constitution. John Harris has worked tirelessly in these efforts and we are looking forward to hearing from our leader!
Patriot Potluck begins at 6:00 P.M. (this month's theme is St. Patrick's Day).
Program begins promptly at 6:30 P.M.
Location: American Legion in Greenbrier, 2730 US-41, Greenbrier, TN 37073
REMINDER: This Wednesday, March 16, is the 2022 Gun Owners Lobby Day at the Cordell Hull Building, 425 Rep. John Lewis Way N., Nashville, TN.
Don't miss this opportunity to connect with fellow Second Amendment supporters and lawmakers as we hear from representatives across the state and meet personally with our representatives. The GOA-TN/TFA Facebook event page will share lobby tools and talking points to help us prepare for this day.
We look forward to seeing all of you this Monday night! Please bring at least one new guest!
Chapter Leaders:
Chris Orndorff and
Stephen Astier