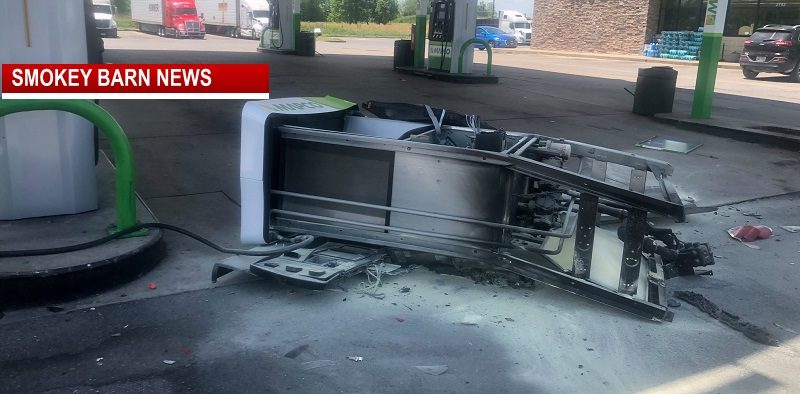 Gas Pump Ignites After Parking Accident In Coopertown
COOPERTOWN TENNESSEE: (Smokey Barn News) – A 75-year-old Georgia man somehow escaped injury after crashing his vehicle into an ice machine and a gas pump at the Mapco Gas station at Hwy 49 and York Rd Tuesday. MAP
The driver told police that he had been driving for a while and his foot fell asleep. When he pulled into the station he mistakenly pressed the accelerator instead of the brake causing his vehicle to crash into an ice machine outside the store.
After crashing into the ice machine the gentleman placed the vehicle in reverse and struck one of the fuel pumps causing it to ignite. The incident occurred around 12:48 pm.
A MAPCO employee advised authorities that the vehicle (a pick-up truck) had backed into the pump causing it to explode. The call came into 911 as an explosion.
The Pleasant View Volunteer Fire Department responded. Before firefighters arrived the fire had been extinguished by a bystander using a fire extinguisher.
Officials taped off the area until the pump can be repaired.
No injuries were reported for either the occupants of the vehicle or bystanders.
The Coopertown Police Department, Robertson County EMS, and the Robertson Co Sheriff's Office all responded to the scene.
According to the Coopertown Police, the driver was cited for due care.