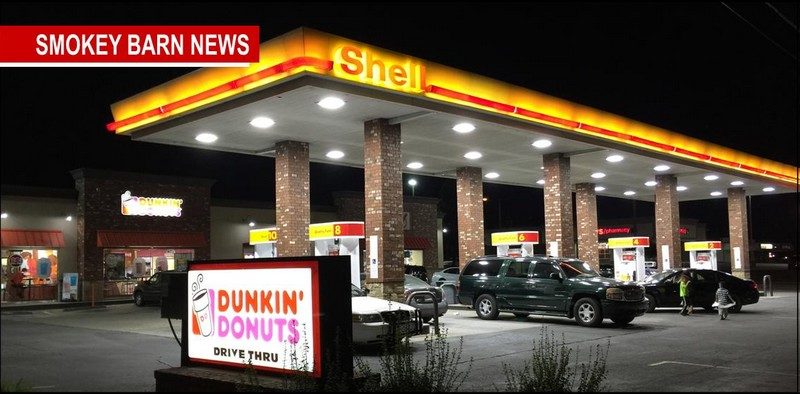 Gas Supply In Robertson County Runs Low As Fears Build
UPDATE: Saturday 17 2016
Robertson County Gas Supply Update
ROBERTSON COUNTY TENNESSEE: (Smokey Barn News) – This will be an update to our report on the gas supply situation in Robertson County. Though no real gas shortage has been confirmed by state officials, fuel supplies continue to dwindle in Robertson County, the cause, the belief that there is a shortage.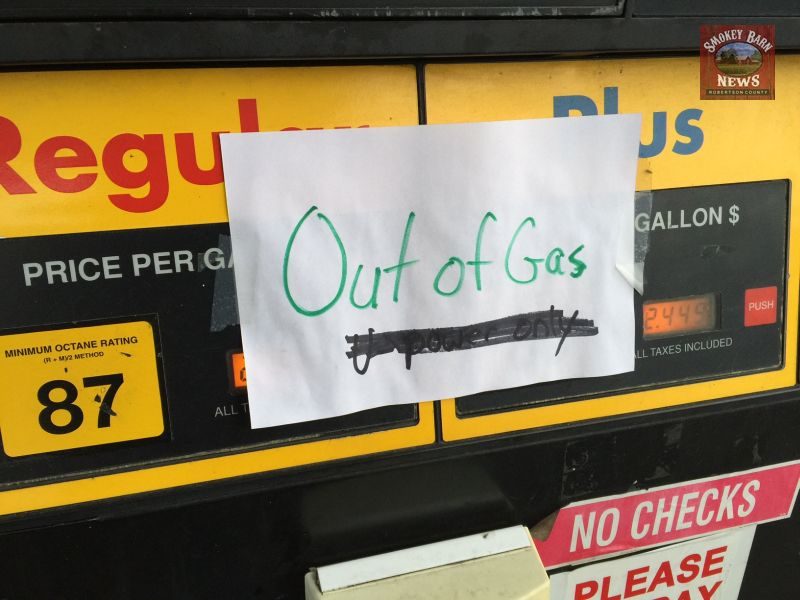 The good news is that if you do need gas you will be able to find it. It may not be the first station, it may not be your preferred station but you will be able to put gas in the tank if you so desire.
People lined up today to fill their tanks, even though worst case estimates indicate the broken fuel transport line (read below) will be up and running within a few days. Tankers are rushing to fill the demand and Gov Haslam has taken a few steps to help transport companies move gas but several stations told Smokey Barn News that they are out of gas and they have no idea when a tanker will arrive.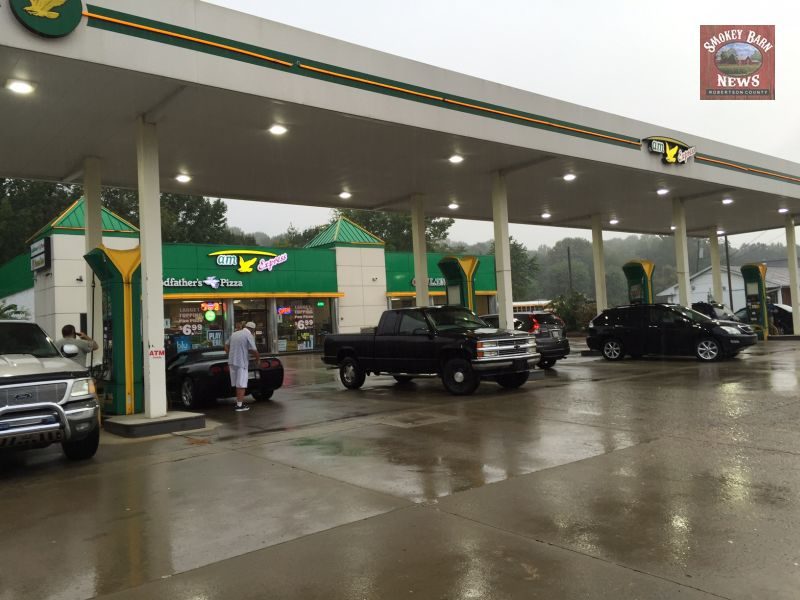 One expert told Smokey Barn News that the irony is that unless everyone drives more then they do normally the spike in sales will fall back on itself. In other words, people are buying gas sooner than they would have but if they don't drive more the spike in demand is false. It means that next week, as supply returns to normal, there will be a dip in demand and we could end up temporarily over stocked with gas.
As pumps opened up this morning, employees received call after call all day, "You got any gas?" More than one employee indicated they were getting tired of the calls.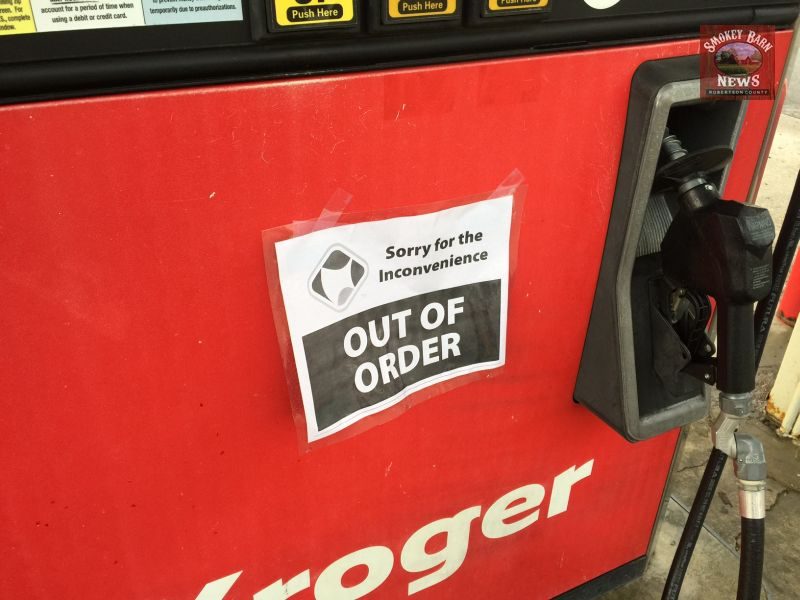 STOCK: Smokey Barn News did another soft survey this evening. We found that, in Springfield, about half the stations did have gas. Greenbrier, however, did not have gas and Ridgetop was running low, about 1000 gallons we were told. In addition, all the stations that were out of fuel, had no idea when the next shipment would arrive for sure.
According to officials, we should be back to normal by the end of next week but gas is available, you may have to buy regular instead of premium or vice versa but gas is available. It's important to remember that this is more of a spike-in-demand then it is a shortage.
If you are wondering how the gas situation is (or could) effect emergency services, officials tell Smokey Barn News that police, fire and ambulance vehicles operate on separate fuel supplies and are unaffected by the spike in demand.
REPORTED EARLIER: Friday September 16
ROBERTSON COUNTY TENNESSEE: (Smokey Barn News) – As you have probably heard, Governor Haslam has issued a "State-Of-Emergency" following the temporary shutdown of a major gas pipeline that feeds Tennessee.
The shutdown is due to a ruptured pipeline that feeds the Southeast and East Coast. A State-Of-Emergency has been declared in Alabama, Tennessee and Georgia but only to help transport companies move fuel.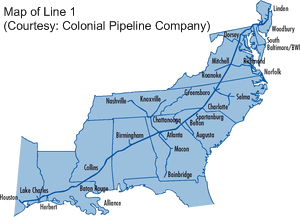 The leak was reported after someone noticed the smell of gas last Friday in Shelby County, Alabama, according to Colonial Pipeline Company. After the rupture was discovered, the line was shut down to make repairs.
Referring to a possible gas shortage, officials have only used the word "potential." So why are gas stations in Robertson County running out of gas? The answer is simple, a mild panic.
People are afraid that they will not be able to buy gas in the next few days. The irony is that that belief is making their fears a reality. In other words, the shortage we are experiencing here in Robertson County is being caused (at least today) by the belief that there is a shortage, not an actual supply problem.
Smokey Barn News surveyed gas stations across Robertson County this evening. With the exception of Speedy Café located on Hwy 76 in White House, all of the stations we surveyed indicated that they were dealing with some kind of gas shortage.
Several stations in Springfield said they were out of everything except Premium. One station said they have a good supply at the moment that at the current demand they would be out of fuel by tomorrow. A station in Greenbrier said they were completely out of gas and were not expecting a shipment until Sunday.
As we drove around the County this evening surveying stations, it looked more like 11:00am than 11:00pm. The top photo was taken at 11:02pm.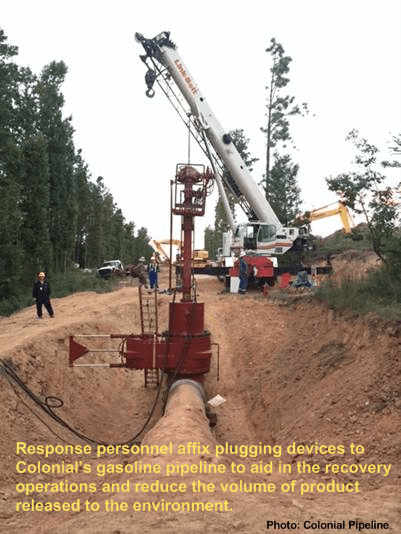 So if there really is nothing to worry about why did Governor Bill Haslam issue a State-Of-Emergency? What he really issued was a "Waiver to Avoid Petroleum Supply Disruptions in Tennessee"
Friday, September 16,  Gov. Haslam issued Executive Order #56 waiving federal hours of service requirements for petroleum transporters to prevent any fuel supply disruptions for Tennesseans from the Colonial pipeline leak in Shelby County, Ala.
That just means that the rules governing how gas is moved around the state are being loosened up.  That will make it easier for transport companies to move or transport gas quicker to compensate for the down line.
Governor Haslam put it this way, "This is a precautionary measure as we are not currently seeing any widespread unavailability of petroleum in Tennessee," Haslam said. "We urge Tennesseans to maintain their normal fuel purchasing and driving patterns to help prevent any potential impacts on our fuel supply while the pipeline undergoes repairs."
Gov. Haslam's executive order only relates to fuel transportation for this state of emergency.
The emergency declaration will allow drivers to work longer hours to ensure petroleum is available to convenience stores, fuel retailers, and fuel wholesalers in Tennessee.
All that means is that truckers hauling fuel can work longer hours so more fuel can be moved.
"On Wednesday, Sept. 14, 2016, the Tennessee Department of Environment and Conservation requested, and received, a fuel blend waiver from U.S. Environmental Protection Agency (EPA), covering five counties in Middle Tennessee. The Tennessee Department of Agriculture then issued its own emergency waiver for fuel quality standards consistent with the EPA's."
Apparently backing off fuel quality helps suppliers move gas.
Advice for Consumers
Consumers should maintain their normal fuel purchasing and driving patterns to avoid straining the supply of gasoline.
Tennessee's price gouging laws make it unlawful for individuals and businesses to charge unreasonable prices for essential goods and services including gasoline, food, ice, fuel, generators, lodging, storage space, and other necessities in direct response to a disaster regardless of whether that emergency occurred in Tennessee or elsewhere. The price gouging law makes it unlawful to charge a price that is grossly in excess of the price charged prior to the emergency.
This price gouging act is triggered when a disaster is declared by the state or by the federal government.
No one seems to have a good estimate on how long it will take to repair the line other than they are not expecting it to be down for an excessive period.
What should you do? All  we can tell you is that a relatively high percentage of gas stations in Robertson County are dealing with some kind of fuel shortage caused by a belief by consumers that there is a shortage.
If you operate a fuel station in or around Robertson County, tell us in comments about any supply issues you are having. Have you purchased gas within the last 24 hours, what was your experience. Have you spotted high or low gas prices? Post a photo on our FB page.
We bring you ALL the News in and surrounding Robertson County, Tennessee.