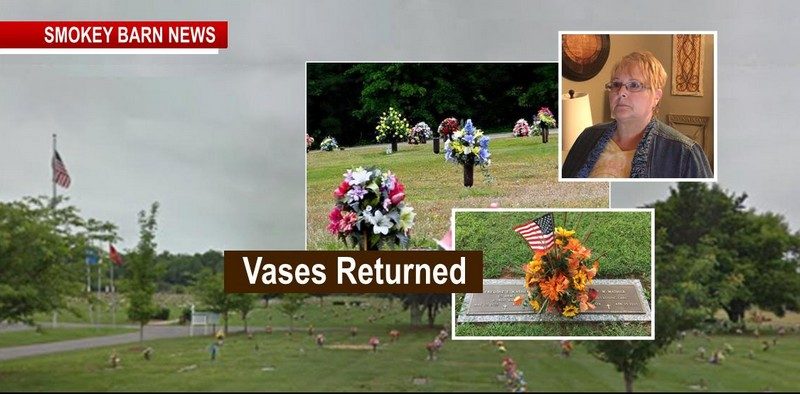 Graveyard Thieves Have Change Of Heart
SPRINGFIELD TENNESSEE (Smokey Barn News) – According to Springfield Police, $4,000 worth of vases that were taken from headstones at the Memorial Gardens Cemetery have returned as mysteriously as they disappeared.
After attending a service for a friend at Austin & Bell Funeral Home in Springfield, the Yunker family of White House decided to visit family graves at a local cemetery to pay their respects. To the Yunker's surprise, the vases had been taken from three of their family graves.
According to the Yunker's, the vases were chained to the markers. When the Yunker's informed the caretaker what had happened the Yunker's learned that they were not alone. In fact, 14 other vases were taken totaling $4,000, officials said.
Memorial Gardens Cemetery is located directly across from Rod's Tire in Springfield. MAP
According to Detective Chuck Consiglio with the Springfield Police department, scrap yards within a 50-mile radius were notified making the vases hard to get rid of. "There are not many places you can take bronze and the vases would be very recognizable," Consiglio said.
Apparently seeing the report on Smokey Barn News which was picked up by the networks was just too much for the thieves and last night, in the cover of darkness, they returned the vases.
Detective Charles Consiglio told Smokey Barn News that there is some video evidence that he believes captures the vases going and returning. If the thieves are caught they will still face charges for the theft and the damage done to remove the vases. "That's cold, you can't be that hard up for money that you're willing to steal from somebody's grave-site."
According to Detective Consiglio, the thefts did not likely occur all in one night, he believes they occurred over some period and it just took a while before the thefts were noticed.
Back on October 17th Mrs. Yunker spoke to Smokey Barn News from her home in White House. "People that do that have no heart, they have no conscience, they don't have anything to think about but stealing flowers from dead people and that's pretty sad," said Vicki Yunker. (See full interview with Mrs. Yunker below)
After learning that the vases had been returned Monday evening, Mrs' Yunker said she's going to go see for herself tomorrow.
"I'm proud that the vases have been turned over to the cemetery and there back where they need to be," Mrs' Yunker told Smokey Barn News Monday evening. "I wish whoever took the vases will leave them alone now. It's a place of rest, find something else to do besides rob graves!"
Anyone with any information concerning this crime is urged to contact the Springfield Police Department at (615) 384-8422.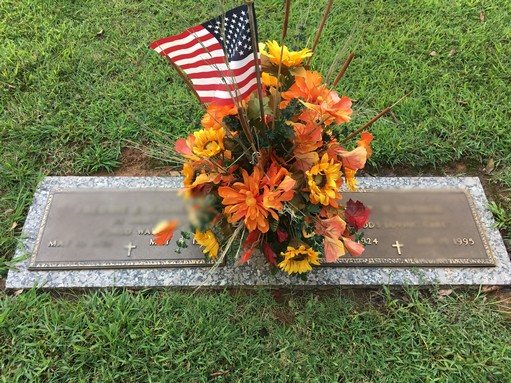 We bring you ALL the News in and surrounding Robertson County, Tennessee.