Sponsored Business Spotlight
Hughston Clinic Orthopaedics Expands Services In Springfield
The Springfield community now has local access to board-certified orthopaedic physicians who specialize in everything from fracture care to joint replacements
SPRINGFIELD TENNESSEE: (Smokey Barn News) – Hughston Clinic Orthopaedics, one of Middle Tennessee's leading providers of orthopaedic care, is excited to announce the expansion of orthopaedic services in Springfield.
Hughston Clinic Orthopaedics is accepting new patients in their NEW Springfield, Tennessee office.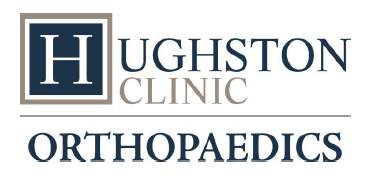 "With warmer weather approaching and community activities increasing, we recognize the importance of having orthopedic care readily available," said Sean Patterson, chief executive officer of TriStar NorthCrest. "Providing high-quality care for our patients remains a top priority at TriStar NorthCrest, and we are pleased to have Hughston Clinic Orthopaedics join our efforts as we continue to explore additional ways we can provide our community with the specialized care they need close to home."
Since October of 2022, their surgeons have provided 24/7 orthopaedic call at NorthCrest Medical Center. "Our premier orthopaedic surgeons are very excited to increase orthopedic services at TriStar NorthCrest Medical Center to serve patients in Springfield and surrounding communities. At Hughston Clinic Orthopaedics, we base our patient care on a platform of fellowship-trained, board-certified orthopaedic surgeons," states Lee Pearce, Chief Operating Officer, Hughston Clinic Orthopaedics.
Their physicians and staff are looking forward to the opportunity to provide further orthopaedic care to Robertson County. "We thank you for welcoming us to your community and plan to become active members."
Hughston Clinic Orthopaedics offers the Greater Nashville area and Middle Tennessee nine convenient locations to provide exemplary orthopaedic care to the surrounding communities. Our board-certified surgeons offer a range of orthopaedic specialties including sports medicine, hand, wrist, elbow, foot and ankle, as well as general orthopedics. 
Dr. Benjamin P. Debelak, Dr. Gregg A. Motz, and Chris Stone, PA will each hold clinics several times per month. Dr. Debelak specializes in general orthopaedics, sports medicine, and injuries of the hip, knee, and shoulder. He will see patients on Monday mornings and every other Friday Morning. Dr. Motz specializes in general orthopaedics, orthobiologics, sports medicine, and injuries of the hip, knee, and shoulder. He will see patients every other Wednesday afternoon. Chris Stone specializes in general orthopaedics and sports medicine. He will see patients on Tuesday mornings.
The Springfield office is located at TriStar NorthCrest Medical Center in Building 200, Suite 221B. Patients can schedule appointments on their website (tn.hughston.com) or via phone (629)263-1499. Online appointment scheduling is available.
About Hughston Clinic:
Since its founding in 1949 in Columbus, Georgia, Hughston Clinic has sought to provide the most advanced orthopaedic services available to men, women, and children of all ages, and all walks of life. Today, Hughston Clinic Orthopaedics comprises, a number of leading institutions for the diagnosis and treatment of orthopaedic conditions, as well as orthopaedic research, education, and training in Georgia, Alabama, Tennessee, and Florida.
For more information or to make an appointment, please visit tn.hughston.com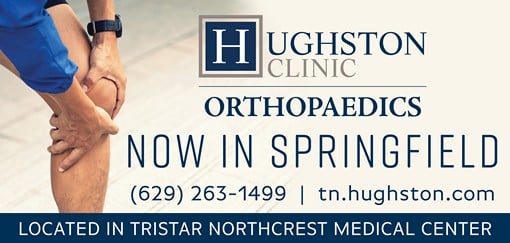 Mobile: To See The Latest Stories or to share this article, scroll below