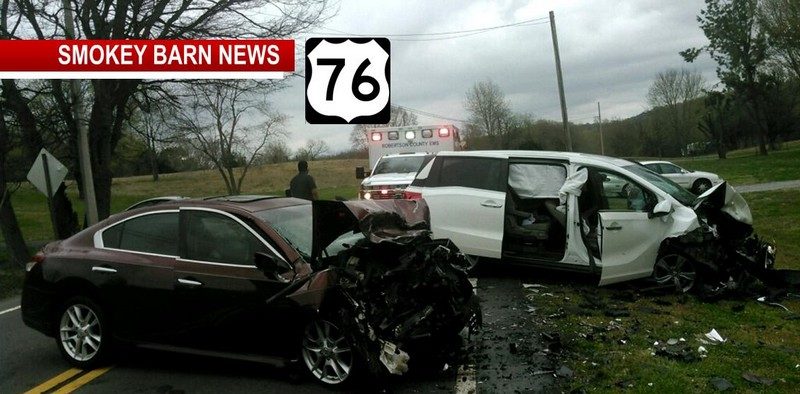 White House Woman Dies Following Deadly Hwy 76 Crash Friday

STORY UPDATED
ROBERTSON COUNTY TENNESSEE: (Smokey Barn News) – A head-on crash on Hwy 76 Friday afternoon has turned deadly following the death of one of the drivers.
The crash occurred between Springfield and White House near Bethlehem Rd just before 4 pm on Friday. (Location of crash)
Both drivers and one occupant were transported to local hospitals with serious injuries following the crash. According to the Tennessee Highway Patrol, one of the drivers, Selesia Case of White House, later died from her injuries.
According to the Tennessee Highway Patrol's preliminary report of the crash, 50-year-old Selesia Case of White House, driving the 2009 Nissan Maxima SV, was traveling East on Highway 76. The 2018 Honda Odyssey, driven by a 16-year-old male, also of White House, was traveling West on Highway 76. According to the THP's report, the Nissan crossed over the center line and into the Westbound lane. The Honda attempted to avoid the Nissan by going into the oncoming lane. The Honda corrected back into their lane of travel which caused the head-on collision. Both vehicles came to rest in the middle of highway 76.
A passenger in the Honda, Lisa Patel, 40, of White House, and the 16-year-old driver were both injured. The driver of the Nissan, Selesia Case of White House, did not survive. According to the THP, all three were wearing safety restraints.
Highway 76 was shut down and traffic diverted to Gum Station Rd while the THP conducted their investigation. On Saturday the THP returned to the scene to further investigate the crash.
The Cross Plains Fire Department, the Robertson County Emergency Management Agency, Robertson County EMS, the Tennessee High Way Patrol and the Robertson County Sheriff's Office all responded to the call.