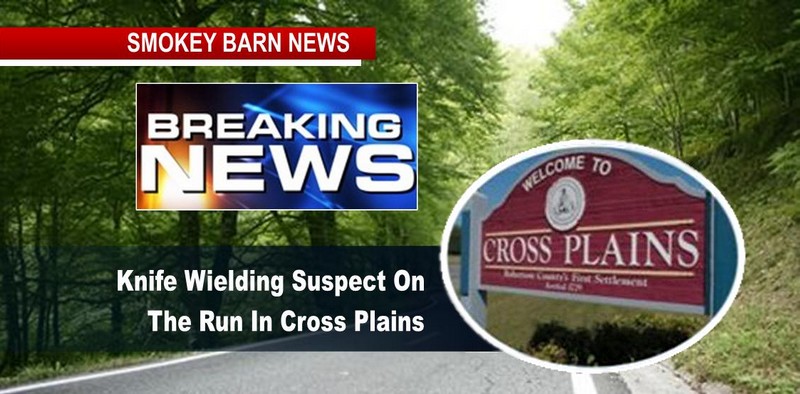 Knife-Wielding Suspect On The Run In Cross Plains
UPDATE ~~~~~~~SUSPECT IN CUSTODY ~~~~~~~~
CROSS PLAINS TENNESSEE: (Smokey Barn News) –Authorities in Cross Plains are on the hunt for a man who ran from Police after reports that he was allegedly displaying a knife at the Dollar General Store in Cross Plains.
According to authorities in Cross Plains, the suspect, identified as 21-year-old Dillon Nathan Kirby, is wearing black or dark blue sweatpants, shirtless and either shoeless or wearing just one shoe. He lost one shoe while being chased by Cross Plains Fire Chief Tommy Jackson who was assisting police. Tommy has his shoe. Kirby was also wearing a gold necklace.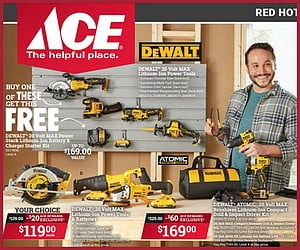 When police arrived at the Dollar General Store Kirby fled leaving a stolen car and a dog behind. The dog has been moved to animal control.
The Tennessee Highway Patrol has brought in a helicopter to aid in the search for Kirby and K9 (bloodhounds) units have been called to assist. Authorities said Kirby has outstanding felony warrants.
Police say Kirby did not hurt anyone and may or may not have a weapon. Authorities say the knife was found in his vehicle.
Police say Kirby might be impaired so if you encounter him call 911, do not approach him.
~~~~~~~SUSPECT IN CUSTODY ~~~~~~~~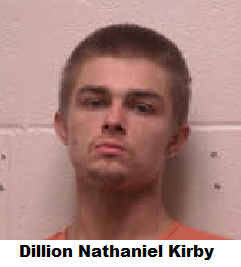 UPDATE: Kirby was taken into custody this morning following a search. After everyone had disbanded, Kirby was spotted by an unmarked police unit coming out of a cornfield and was taken into custody. According to officials in Cross Plains, when the stolen vehicle was taken into evidence, a 9 mm pistol was found inside the vehicle along with the knife and drug paraphernalia.
Kirby was transported to the Robertson County Detention Facility in Springfield under a $179,500 bond.
Listed charges for Kirby include; Evading Arrest, Unlawful Carrying Or Possession Of A Weapon, Drug, Mfg/del/sale/poss Sch Ii, Meth, Theft Of Property, Over $1000, Identity Theft, Unlawful Drug Paraphernalia, Resisting Stop, Arrest.
Refresh this page for updates.
Mobile: To See The Latest Stories or to share this article, scroll below