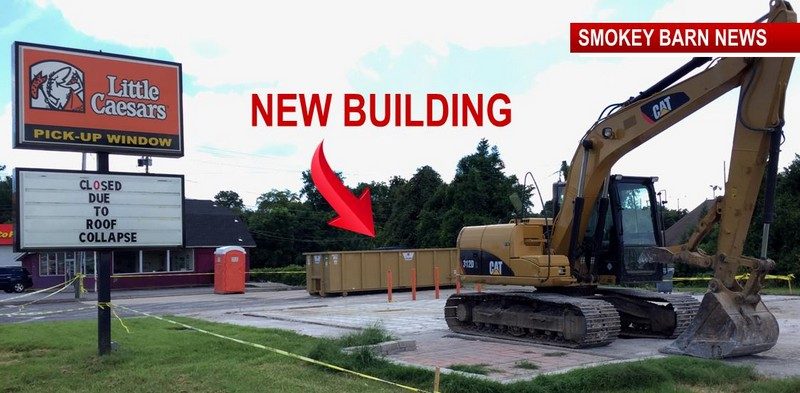 Little Caesars In Springfield To Rebuild After City Condemns Building
SPRINGFIELD TENNESSEE: (Smokey Barn News) – Back on July 7th the roof at Little Caesar's Pizza in Springfield MAP caved in due to the substantial amount of rain Robertson County had that night. The city condemned the building the next day and the entire building had to come down.
Heavy rains took their toll on Robertson County Roads, homes and business that night.
A family on Owens Chapel Rd in Springfield was forced to evacuate after the creek behind their home came up over its banks and swallowed their house. Smokey was there as the family was escorted out by officials. FULL STORY
All that rain proved to be too much for the Little Caesars Pizza on Memorial Blvd too and sometime during the night the roof caved in causing heavy damage to the business.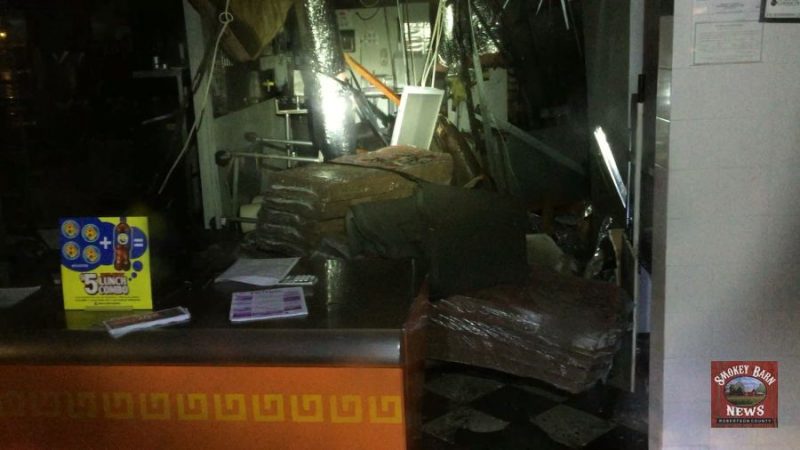 According to the Little Caesars franchise owner in Springfield Mark Ross, they have decided to stay at there location on Memorial Blvd. and are working with the landlord on a new site plan. "The new plan will be more convenient for our customers," Ross said. "Parking will be more accessible and the drive thru (if approved by codes) will go around the back (eliminating that tight turn to access the window) We are really focusing on the drive thru experience." Ross said about 60 to 65% of customers utilize the drive through. "It a very high volume store." Ross said.
According to Ross, Little Caesar's has a new interior model. "The old model is about 10-15 years old," Ross said. "It looks completely different than what you are used to seeing." Since the building had to come down, they will incorporate the new design in the rebuild. "The building will be a little bit bigger," Ross said. The drive-thru going around the back will be a great improvement and the new lobby will have new LED screens.
The building and property is owned by Hollingworth. Though the dimensions of the building will be about the same, Hollingworth has been very accommodating, according to Ross. "They were very nice." – "They said, 'What do you guys need?"
Ross said that early on there was some thought of moving up the street but everyone was on board with getting this store re-built as fast as possible, so they decided to stay.
"It's a bit unfortunate but we're excited to start all over again and have a new grand opening here shortly," Ross said.
Ross said he expects to re-open in early winter.
Follow this story on Facebook…
RELATED:
Family Escapes Flooding On Attic Steps And Little Caesars Roof Collapses
Smokey Barn News (Sponsor/Advertisement)
We bring you ALL the News in and surrounding Robertson County, Tennessee.