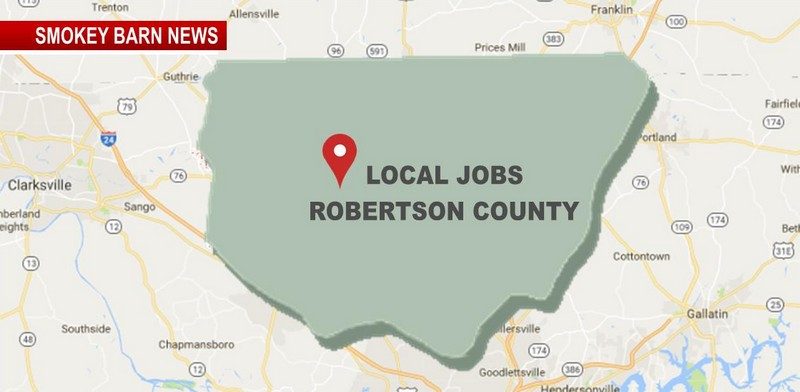 Local Companies Now Hiring In Robertson County
Is your company hiring? Fill your job fast on Smokey!
Email us for prices–> [email protected]
ROBERTSON COUNTY TENNESSEE: (Smokey Barn News) – How far do you drive to work? Many in Robertson County travel outside the county for work but that is starting to change as more companies expand their facilities here and new ones move into the area to capitalize on the high caliber talent available in Robertson County.
Take a look at the jobs below and continue to follow Smokey's jobs page to get the 411 on great local career opportunities and think of a day without the headache of traffic.
Take a look at the jobs below and feel free to reach out to the companies with whatever questions you have, and good luck.
CAREER FAIR ON August 13th from 9AM-1PM
Lowe's Millwork is hiring for Millwork Specialist positions:
Exterior, Interior, Cabinets, Pre-finish departments for all shifts.
CLICK BANNER FOR MORE INFO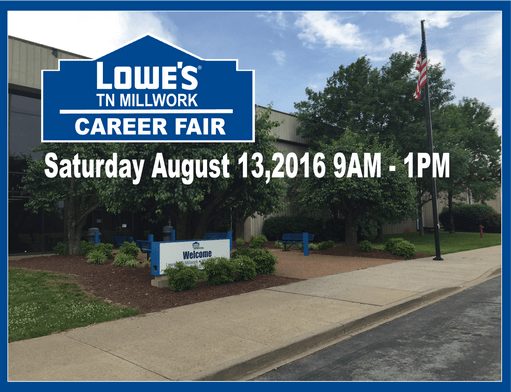 Custodian: Volunteer State Community College
Position Summary:
Assists with the operations and functions of the Department of Plant Operations primarily to keep buildings and surrounding areas clean.
Typical Duties and Responsibilities:
Performs routine cleaning tasks, such as mopping, vacuuming carpets, dusting, assists in moving and arranging of furniture and equipment. Cleans interior glass, wall partitions and interior and exterior windows.
Removes disposable waste materials from buildings and premises; recycles per VSCC Recycling Guidelines.
Performs primary daily functions of cleaning and restocking supplies in classrooms, restrooms, offices, public areas and supply areas.
Other duties as assigned.
Required Qualifications:
One (1) year verifiable custodial or janitorial experience in a business or education environment.
Knowledge, Skills, Abilities and Work Characteristics:
•Ability to properly operate and maintain custodial equipment.
•Ability to correctly use/administer chemicals and supplies.
•Ability to understand written and verbal communications.
•Ability to understand, follow, and enforce safety procedures to include disposal procedures of hazardous materials.
Pay Rate: $22,050 – $23,000 annual salary depending on experience
Posting Date: 06/16/2016
Open until Filled: Yes
Work hours: 4:00am – 12:30pm or 1:00pm – 9:30pm Monday-Friday.
For more information, CLICK HERE
Applicants may be subject to a background check
EOE

CLICK FLYER TO APPLY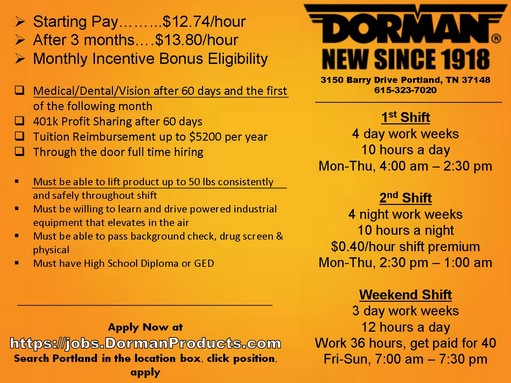 CLICK FLYER TO APPLY

Crown Paving  seeking a full-time, DUMP TRUCK DRIVER for projects  in the Nashville area.

Crown Paving is a family-owned asphalt paving contractor seeking a full-time, DUMP TRUCK DRIVER for projects in the Nashville area. Home every night.
• Responsible for safety checks, including equipment in accordance with CDL pre-trip guidelines.
• Inspect loads to ensure that secured and apron in appropriate position.
• Hauling materials including asphalt, gravel and aggregate.
• Unload material at site and pick up material and asphalt plant.
• Loading, hauling and unloading of paving equipment (paver, roller, skid steer, backhoe, etc.)
Must have a Valid Class A CDL with clean driving record.
Call (615) 642-5686 or (615) 429-1393 for competitive pay BOE.

Director of Preschool Ministries
at Bethlehem Baptist Church
Bethlehem Baptist Church is looking for a part-time Director of Preschool Ministries. This position includes our Mother's Day Out program on Tuesdays and Thursdays.
Contact Diane at [email protected] or at 615-643-0333 for a copy of the job description.
The church is located at 5081 Bethlehem Rd. Springfield, TN 37172.

Secretary III – 50%- Highland Crest
Volunteer State Community College
Position Summary:
The primary function of this position is to provide support to the Director of the Springfield Site and to oversee the general operations of the office and the site for efficiency and effectiveness in serving students and faculty.
Typical Duties and Responsibilities:
Assists the Director in the day-to-day operation of the site.
Answers student and community inquiries in person and on the phone; greets and directs visitors; distributes site information, assists students with registration and directs them to academic advisors.
Assists all faculty (adjunct and full-time) and staff who serve at the site as they provide service to the students and the community.
Manages incoming and outgoing mail, including courier material to/from Gallatin Campus.
Other duties as assigned.
Required Qualifications:
High School diploma or GED equivalent.
Three years of related experience.
Knowledge, Skills, Abilities and Work Characteristics:
Ability to multi-task in fast-paced environment.
Be committed to a positive customer service philosophy.
Must be detail oriented, highly organized and self-motivated.
Pay Rate: $12,950 – $15,540.50 annual salary (50% position) depending on experience
Open until Filled: Yes
For full description, Click Here
EOE

Could This Be Your Next Boss? – Payne Chevrolet (NEW OPENINGS!!!)
Sales Representative
Springfield, TN
Come be a part of the Payne family. Family owned business for over 88 years.
Job Responsibilities
Assist customers in every aspect of the dealership.
Track and monitor all advertising provided by the dealership.
Work with phone and internet customers to answer any and all questions.
Help maintain all aspects of merchandising including the lot.
Help to meet and exceed all goals set by manufacturer and management.
We offer
40 hour work week
Salary plus aggressive bonus plan based on performance
Health, Dental and Vision insurance
Company matching 401k
A very extensive training program
Modern and Professional work environment
Email your resume to [email protected], no phone calls please.

SPRINGFIELD CINEMA
Now Hiring Assistant Manager Position
We are now hiring for the Assistant Manager position. If interested, please feel free to come by the theater to talk to the Managing Director. General applications are online at Carmike.com. Please keep in mind that you must be able to work nights, weekends and holidays, including Christmas Day as we are open every day of the year.

Firefighter – Two Full Time Positions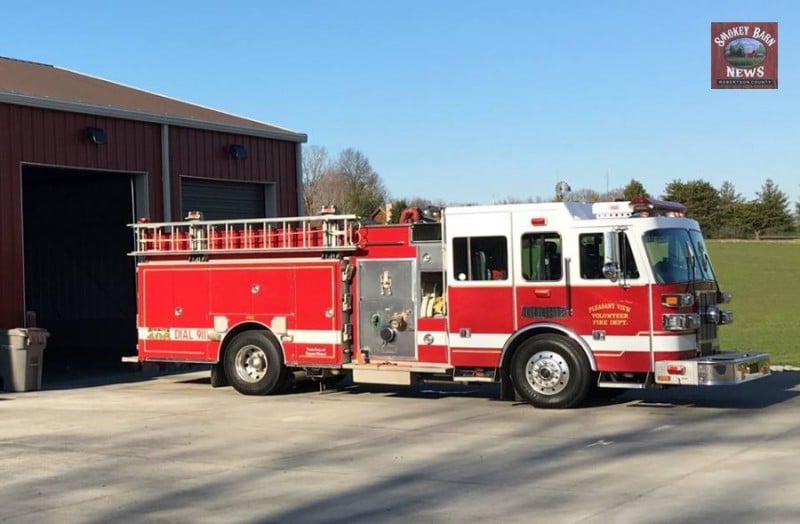 The Pleasant View Volunteer Fire Department has recently opened our doors to a new station. Our Station 6, found at the corner of Thomasville Rd and Mosley Ferry Rd, has two full time positions Monday-Friday from 6am-6pm. These positions are filled with part-time personnel and we are looking for qualified people to help fill these spots. The qualifications we are looking for are: – 18 years of age or above – High School Diploma or equivalent – Valid Tennessee Driver's License – State Certified Firefighter I or higher – State Certified Emergency Medical Responder or higher The pay scale ranges from $11.00 – $15.00/hour depending on your qualifications. If you are interested in a position please fill out an application online at www.pvvfd.org. The PVVFD will contact you after receiving your application and it has been reviewed. If you have any questions or would like more information please contact us – [email protected]
Smokey Barn News (Sponsor/Advertisement)
We bring you ALL the News in Robertson County, Tennessee.