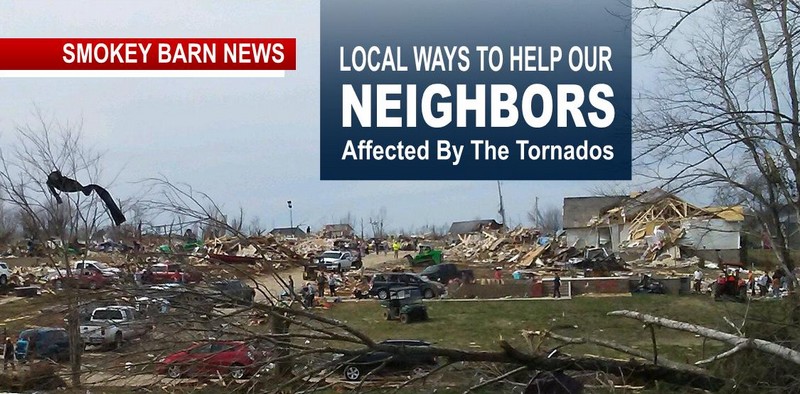 Local Safe Ways To Help Those Affected By Recent Tornadoes
ROBERTSON COUNTY TENNESSEE: (Smokey Barn News) – One of Monday's deadly tornados reportedly stayed on the ground for fifty miles leaving a path of destruction and death in its wake, over 20 people lost their lives.
Anyone in the path of Monday's twisters are trying to pick up the pieces. Many Robertson Countians have expressed a desire to reach out to those in need. To be sure your donations make it to the affected areas, know who you are giving your money and relief items to.
Smokey Barn News has put together a list of organizations and donation channels that will offer a degree of assuredness for those that would like to help. Though it is tempting to drive directly to the affected areas it is always better to allow agencies like the Red Cross that already have the infrastructure, experience, and boots on the ground to best help those that need it.
Below is a list of agencies, local schools and events in the Robertson County area that are collecting money or personal items for tornado relief.
Please help Coopertown Middle School pack the stands with supplies for the tornado relief drive on March 7th at the Coopertown VS Jo Byrns game from 12-2pm at the Coopertown Middle School. (Accepting bottled water and personal hygiene items)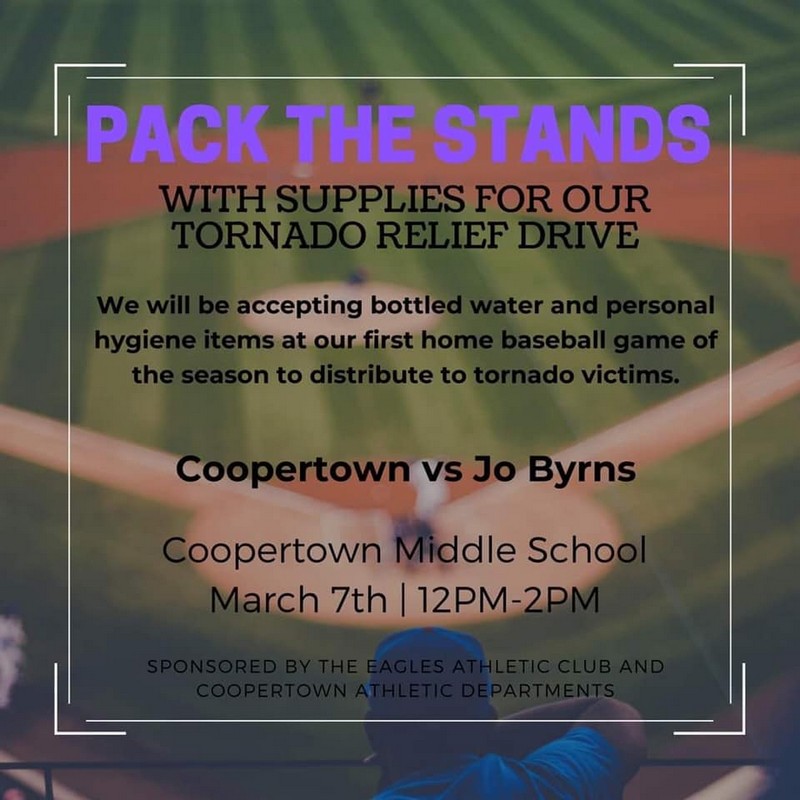 Please help Springfield High School pack our stands with supplies for the tornado relief drive on March 9th at 4:30pm for the Springfield High School VS Rossview game! (Accepting bottled water and personal hygiene items)
#WeAreRCSTN #AllGritNoQuit #ExcellenceInAllWeDo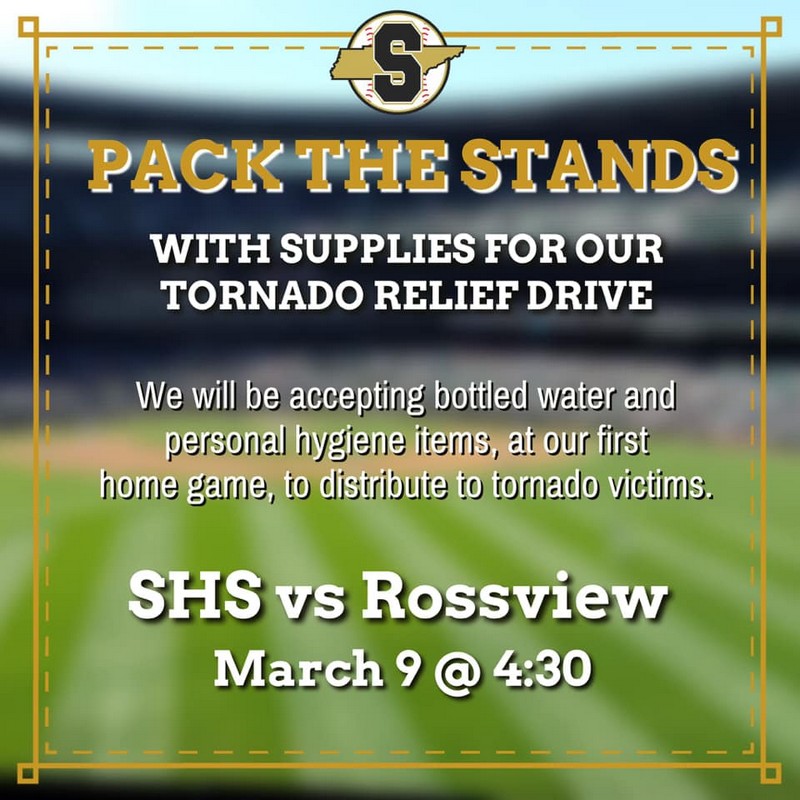 Portland High School will be hosting a blood drive on Monday, March 9th, from 9:30 AM- 1:30 PM, in the gymnasium. Members of the community who wish to donate blood, are encouraged to come between those times. A donation goal has been set of 40-45 units. This is a great way to assist the tornado victims, as many are still undergoing treatment for injuries. Please come out on the 9th and help a worthy cause!


Greenbrier Middle School is collecting donations for the families affected by the tornado
Suggested items to donate:
Hygiene items, blankets, bedding, pillows, non-perishable food and drinks, snacks, diapers, wipes, formula, baby items, clothing, bottled water, garbage bags, toilet paper, gloves, individual servings of chips and fruit sups.
All donations are welcome.  Please drop off items at Greenbrier Middle School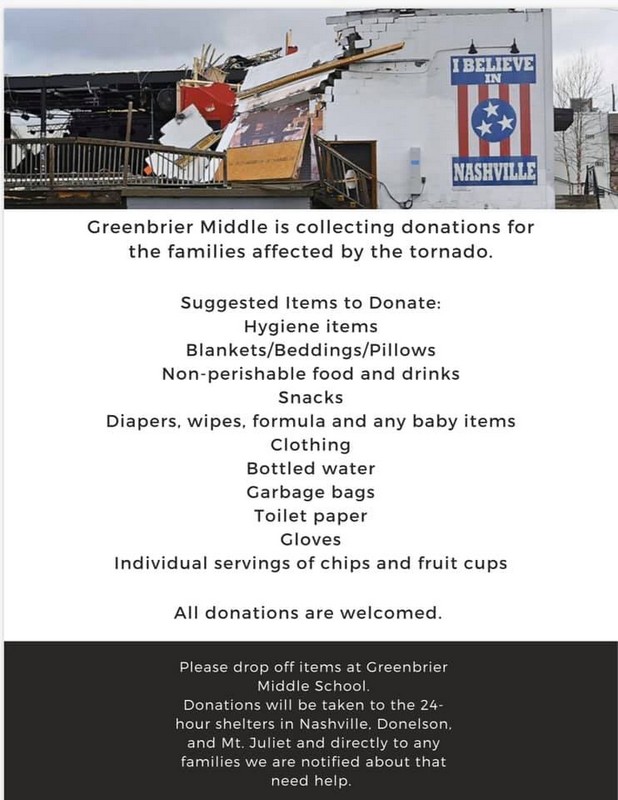 Give to Tornado Relief Hosted by Revolution Church
Wednesday, March 11, 2020 at 6 AM – 8 PM – Revolution Church –  3644 Highway 31 W, White House, Tennessee 37188
Revolution Church is making a donation to tornado relief efforts in Nashville through partner organizations. Follow this link to give now and 100 percent will be donated to this cause.
Online giving for Revolution Church is managed securely and safely by Subsplash Inc. in cooperation with The Church App. If you have the Revolution Church mobile app, this is the same account. To give,  click here Give through March 11th. Thanks for making a difference!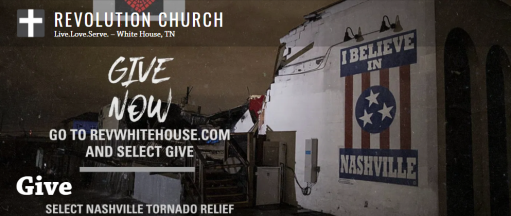 Important information from our local Emergency Management Association regarding VOLUNTEERING to help Tornado victims in Middle Tennessee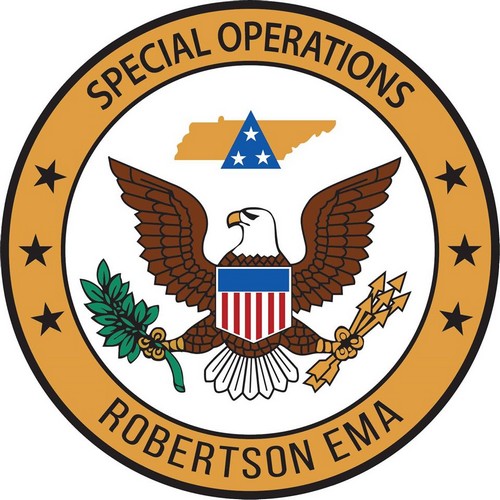 "Robertson County Special Operations team is preparing equipment and members for deployment to Putnam county. Members will be assisting with search and rescue operations of the missing 77 people. Safe travels to our men and women!"
* If you live in Tennessee and want to volunteer to help tornado survivors in Davidson County, please visit Hands On Nashville
* If you live in Tennessee and want to volunteer to help tornado survivors in other counties, please visit the Tennessee Voluntary Organizations Active in Disasters (TN VOAD)
* If you'd like to volunteer and you live outside of Tennessee, please visit the national site for the Voluntary Organizations Active in Disasters
Financial donations are the best way to aid those in need after an emergency. Cash can be used immediately in response to a crisis and allows disaster relief organizations to purchase exactly what is needed, when it's needed.
* The Tennessee Region of the American Red Cross is directly supporting flooding relief efforts in the State.

The Community Foundation of Middle Tennessee
Middle Tennessee Emergency Response Fund Activated by CFMT Due to Destructive Tornados and Severe Storms
In the wake of destructive tornados, power outages, road closures and rescues throughout Davidson and surrounding counties, The Community Foundation of Middle Tennessee has activated the Middle Tennessee Emergency Response Fund to support the affected communities and nonprofits helping victims address their ongoing needs.
Grants from the Fund will be made to nonprofits providing vital services both immediate and long term. Our work helps free nonprofits up to concentrate on delivering vital services while we "connect generosity with need" and our community sets out to rebuild lives.
"We know when disasters strike, there are no quick fixes," said Ellen Lehman, president of The Community Foundation of Middle Tennessee. "We need to support the affected communities and the nonprofits on the ground helping victims and addressing their needs."
To donate – click here