Millersville Officer Fired Over Social Media Posts
MILLERSVILLE TENNESSEE: (Smokey Barn News) – A Millersville Officer has been terminated following allegations he made false and defamatory postings on social media.
In a letter (copied below) obtained by Smokey Barn News, Millersville City manager Holly Murphy addresses the terminated officer. Stating that the City had; "determined that (he was) the person responsible for false and defamatory postings on social media in which he encouraged members of the public to attend a protest in Millersville on September 17, 2020," the letter stated.
The letter, dated September 14, went on to say, "These posts on Facebook have been shared multiple times, and there is no way we can know at this point whether a large crowd will, in fact, show up at City Hall this coming Thursday evening.
"As a result of your actions, the city has been forced to incur expenses and devote resources to prepare for a potentially large and unruly mob of angry protesters. Your contact has put the lives and property of our citizens in jeopardy," the letter said.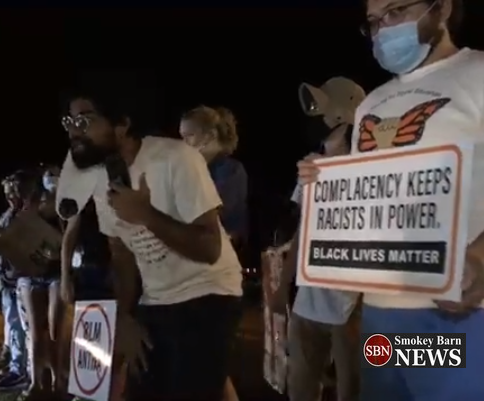 A medium-sized crowd (about 100 total) did in fact show up at Millersville City Hall Thursday night. The crowd included demonstrators and counter-demonstrators. Smokey Barn News broadcast the entire demonstration live, all three hours of it. Millersville Mayor Tim Lassiter spoke to Smokey Barn News on camera before the event. The mayor made it clear that the city was hoping for a peaceful protest but the city was prepared for the worst.
About halfway through the evening, demonstrators moved onto the roadway in front of Millersville City hall as they verbally engaged counter-demonstrators. That's when the city made the decision to close Louisville Hwy for the safety of the demonstrators.
The night was mostly peaceful. There was some yelling, some anger, and some peaceful discussion as the two sides divided up into several groups. At least 6 small groups developed as the two sides presented their case. Smokey Barn News captured a good portion of their conversations. You can watch a recording of the live feed here.