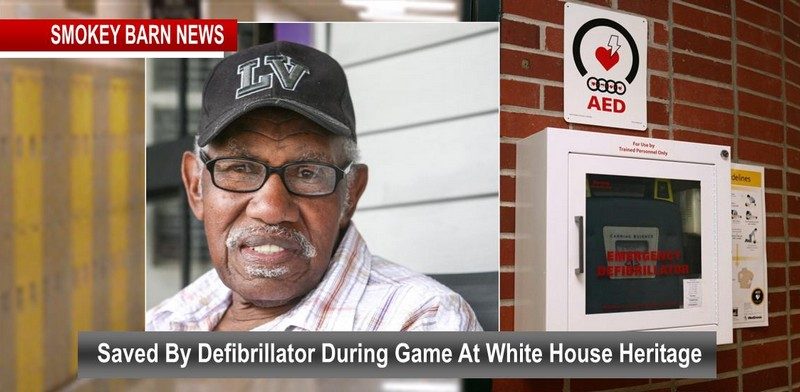 New Defibrillators Save First Life In Robertson County School
WHITE HOUSE TENNESSEE: (Smokey Barn News) – Back in 2013 Robertson County Schools announced that all schools in the county were going to be equipped with AED's or Automatic External Defibrillators. (full story) Now that decision has saved a life.
Nashville resident Thomas Hobson says he owes his life to the presence of one of the new AED's  while he was at the White House Heritage sports complex.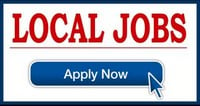 Hobson was watching his grandson's team as they played against White House Heritage when he experienced a coronary arrest, which rendered him unresponsive on the sidewalk in front of the ballfield concession stand, according to Robertson County Schools officials.
"I remember it looked like the sidewalk was coming up to me," Hobson said, "and then I don't remember anything else. I don't even remember hitting the ground."
That's when preparation and training took over, ultimately resulting in Hobson's resuscitation and transport to Vanderbilt Medical Center.
Athletic Trainer Andrea Gowan was present, though not in the immediate vicinity when the incident occurred.
"I was at the soccer game, being a higher risk sport," she said, "when I got a call from one of my parents saying it appeared someone had fallen from the bleachers." Gowan said she was also being paged over the PA system, and then got a second call, this time from high school baseball coach Chris Logsdon.
"I asked if the patient was responsive and he said, 'No, you need to get here quick.' When I got there, they had already retrieved the AED and one of the mothers, Michelle Gunter, had already done four sets of chest compressions on him.
Gowan said at that point, she connected the AED, which checked heart rhythm and audibly advised that shock was needed. After administering the shock, she and Gunter continued with Gowan doing chest compressions and Gunter providing rescue breathing. Gowan said that Hobson responded during the second set of compressions by breathing deeply and then opening his eyes.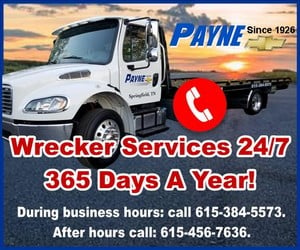 Paramedics arrived a bit later, at which time Gowan said she disconnected the AED and let them go to work. Once they stabilized Hobson, they immediately transported him to Vanderbilt.
Hobson is now convalescing at home after receiving a pacemaker during his stay at Vanderbilt. He credits Gowan's immediate use of the AED with his survival from his ordeal.
"I don't know that girl, but I'm here because of her," he said. "The Lord sent her, and I'm alive because she had that machine and knew what to do with it."
All Robertson County Schools now have Automated External Defibrillators.  North Crest Medical Center has partnered with communities and community members of Robertson County to financially assist in a program to make this possible.
Hobson's treatment and survival was the first instance of AED usage by Robertson County Schools.
Each district facility has at least one unit, with some utilizing as many as three. Director Mike Davis counts that as a benefit to the entire community.
"We're fortunate to have these devices available in case they're needed to assist an individual that experiences a sudden cardiac event like this one," he said.
All parties involved agreed that the existence and timely use of the AED in this instance was the major contributor to Mr. Hobson's survival. The continuing knowledge that RCS schools are specifically equipped for this type of an emergency is a major reassurance to all of the district's personnel, students and visitors.

Smokey Barn News (Sponsor/Advertisement)


We bring you ALL the News in and surrounding Robertson County, Tennessee.