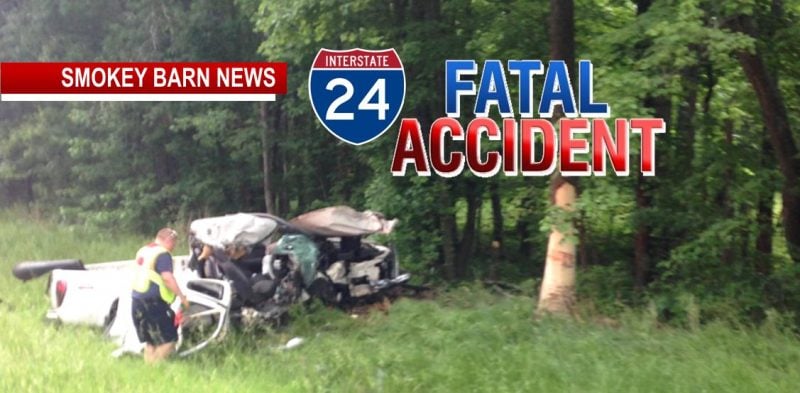 One Adult, One Toddler Die In Fatal I-24 Rollover Crash
ROBERTSON COUNTY TENNESSEE: (Smokey Barn News) – According to county officials, two people, including a toddler, have died following a fatal single-vehicle rollover crash on I-24 Sunday.
According to Assistant Fire Chief Allen Nicholson with the Pleasant View Volunteer Fire Department, the crash occurred just after 4 pm at mile-marker 23 on the Westbound side of I-24. The vehicle, a 2004 GMC Canyon, left the roadway and rolled before impacting a tree on its passenger side.
According to the THP, there were three occupants in the vehicle. The driver, identified as Brandon Kelly, 19, of Pleasant View and according to Assistant Chief Nicholson, two passengers, an adult female as well as a female toddler.
According to the THP, the two passengers did not survive. The adult female was pronounced deceased at the scene. The toddler later succumbing to injuries sustained in the crash at Vanderbilt Medical Center in Nashville.
Brandon Kelly was transported to Skyline Medical Center and was listed in critical condition. According to the Tennesee Highway Patrol, Kelly sustained serious injuries to his legs.
Tennessee Highway Patrol is leading the investigation, according to their preliminary investigation of the crash, the GMC Canyon was traveling westbound on I-24 when it left the interstate and struck a tree. The force of the impact caused the truck to overturn ejecting one passenger from the vehicle. Both passengers of the vehicle were later pronounced deceased.
According to the THP, a toxicology report has been requested for Brandon Kelly, standard procedure with a crash involving loss of life.
The identity of the adult female who died in the crash is expected to be released within the next few days.
The Interstate was closed for a short time after the crash which was far enough off the roadway that officials were able to reopen the Interstate while the investigation continued.
The Pleasant View Volunteer Fire Department, Robertson County EMS, the Coopertown Police Department and the Tennessee Highway Patrol all responded to the crash.