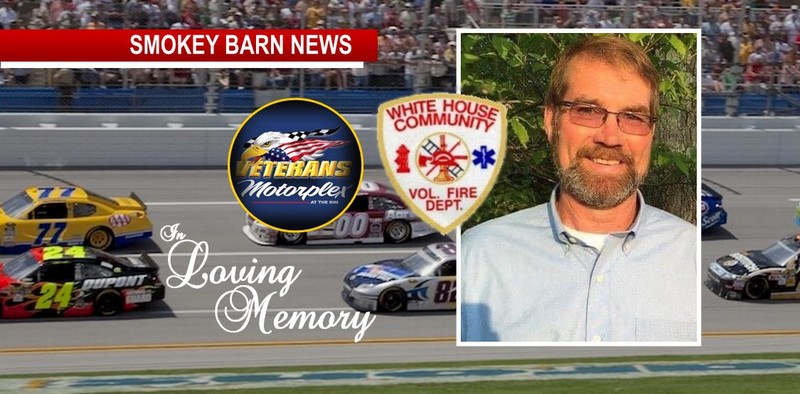 Racecar Driver, Firefighter, Entrepreneur, Charlie Dickens Of Greenbrier Has Died. He Was 61
ROBERTSON COUNTY TENNESSEE: (Smokey Barn News) – Racecar Driver, Volunteer Firefighter, entrepreneur, inventor, and Bee Gee's lover, Charlie Dickens of Greenbrier has died. He was 61.
On March 8th Charlie Dickens was taken to the hospital and placed in CCU. Two days later he passed away.
"As much as it hurts my heart to type this out…my perfect, hard-working, selfless father went to be in the arms of Jesus this morning around 9:45 am. He fought so hard, but his body just couldn't handle it any longer. Heaven gained one heck of a man today, a one-of-a-kind human being who would give anyone the shirt off his back. Life will never be the same, but it's good to know that he'll be watching over us. I'm sure he'll be up in Heaven, fixing something or driving a race car. We will let everyone know the arrangements as soon as possible. Please pray for us as we navigate through this life without our D, our superhero." daughter, Kaitlin VanDervort said.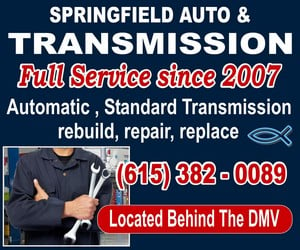 Charles Douglas "Charlie" Dickens, 61, of Greenbrier, passed on Wednesday, March 10, 2021. Funeral services will be conducted Wednesday, March 17th at 2:00 p.m. in the Oakhurst Chapel of the Robertson County Funeral Home. Interment will follow in Springfield Memorial Gardens with Dr.
Charlie was born March 25, 1959 in Ft. Pierce, FL. He lived up to his great name. He may have never written a book, or maybe even read a book, but a novel could be written about all the good things he did for others. Whether it was fixing a lawnmower, changing brakes, shingling a roof, replacing a floor, or building something…Charlie would do just about anything for anyone. He was loved by many and liked by all.
Charlie had no enemies and he never met a stranger. Charlie loved racing cars at Highland Rim Speedway and running demo derbies, but mostly he loved watching his sons race cars and demo derby. Charlie was married to the love of his life, Maresa, for 39 years. He also loved and cherished his 4 siblings and grandmother.
Charlie worked for Hollingsworth Oil Co for over 35 years, as well as owning several businesses. He was always coming up with new ideas and inventions. Charlie loved the Bee-Gees and Sanford and Son. Charlie could make someone laugh in just about any situation, and he was a role model and an inspiration to so many. He was a member of South Haven Baptist Church, and was a volunteer with the White House Community Fire Department Station 52.  Charlie was the owner of the former Charlie's Red Barn. He loved woodworking and building furniture.
Pallbearers will be Emery "Pop" Binkley, Steve Dickens, Webb Morrison, Daniel Pope, Brandon Landrum, Gary Rastelli, Tim Smith, Mike Vaden, Alan "Beans" Castle, and Randy Aldridge. Honorary pallbearers will be the members of the White House Community Fire Department Station 52, Ronnie Hollingsworth and the Maintenance Crew at Hollingsworth Oil Company (Eliot Bradley, Jeremy Henderson, Andy Arms, Ted Cohea, Ronnie Hyde, Matt Groves, Kenny "K.P." Perry, Tommy Reeves, Buddy Grant, Clint Sweatt, R.J. Woody, Jeff Benton, Billy Corbin, and Ross Weatherbie), all of the Hollingsworth Oil Company work family, the racing community at Highland Rim Speedway, Roger Cunningham, David Fields, John Cohea, and Dr. Don Brescia.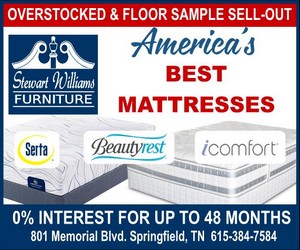 The family will receive friends on Tuesday from 4:00 p.m. until 8:00 p.m. and on Wednesday from 11:00 a.m. until service time at the funeral home.
If so desired, memorial contributions may be made to Memorial Foundation Hope Lodge in Nashville and may be sent c/o Robertson County Funeral Home
The family wishes to thank Dr. Jeremy Pantin, the doctors, nurses, and staff at Sarah Cannon Cancer Center and Centennial Medical Center for all their tireless care and efforts in Charlie's long battle with Myelofibrosis.
Robertson County Funeral Home in charge of arrangements.
Message from The Highland Rim/Veterans Motorplex Speedway 
Attn: Racers and fans…
"Most of you know the sad news with Charlie. They've decided to give him one last ride around the high banks of the Rim Tues afternoon at about 1:30 pm. If anyone wants or would care to come be a part of that, you are more than welcome to come and bring a race car if you want. I encourage anyone that would like to be there to come by and share a Charlie story or 2 and bring your car . He loved racing and loved being at the track with you guys, and this would be a great way for us to give him that race track experience one last time. I know a lot of you are scrambling to get ready for the season, and myself, ill bring mine on the trailer missing a few crucial pieces. If you could be there by 1 or 1:30 that would be awesome. If anyone has any questions, feel free to PM Matt Fuqua."
"One of the good ones. Always there and never said no just asked what do you need me to do. We will take it from here rest in peace." White House Community Volunteer Fire Dept.
For Charlie's full obituary CLICK HERE.
Mobile: To See The Latest Stories or to share this article, scroll below