(Sponsored ad)
RC Schools Seek Diesel School Bus Mechanic And Bus Drivers
ROBERTSON COUNTY TENNESSEE: (Smokey Barn News) – Robertson County Schools are seeking an experienced Diesel School Bus Mechanic. The ideal candidate will need to be 25 years of age so they can operate a school bus. The purpose of this position is to repair and maintain the school district's buses and cars in top condition while minimizing vehicle downtime.
The transportation department of Robertson County Schools is also seeking responsible, qualified individuals for bus driving positions. If you are interested in this possibility, Scroll down below for more information or call the Transportation Department at (615) 384-4555. Become a School Bus Driver for Robertson County Schools!
ESSENTIAL FUNCTIONS
• Diagnoses vehicle problems and performs repairs as needed in accordance with manufacturers' instructions and State and Federal regulations; road tests vehicles.
• Inspects and repairs electrical system from front to rear.
• Performs engine tune-ups; troubleshoots and repairs engines; rebuilds if necessary; must be able to perform complete engine rebuilding for both gasoline and diesel engines without hands-on supervision.
• Inspects and repairs brake systems, air and hydraulic; inspects and repairs drive train from transmission to rear axle.
• Inspects and repairs front suspension.
• Inspects and repairs wiper motors, switches, arms, and blades.
• Checks body damage and handle some repairs.
• Inspects and repairs cooling systems, radiator, hoses, pump, and block.
• Answers service calls and break-downs; conducts on-site repairs when possible.
• Repairs carburetors and fuel problems; inspects and repairs exhaust systems.
• Repairs hydraulic wheelchair lifts and hydraulic lift gates; installs seat belts and harness on Special Needs buses.
• Installs accessories such as radios, strobe lights, camera boxes, etc.
• Prepares Vehicle maintenance reports and submits to Supervisor.
• Reviews technical reports, vehicle maintenance manuals, electrical diagrams and meter readings to evaluate, diagnose and repair; consults with inventory specialist concerning ordering or use of parts.
• Consults with bus drivers regarding maintenance problems/needs and advises or assists as necessary.
• Cleans shop floor, drain pan, buckets, etc.; disposes of unusable replacement parts such as batteries, brake drums, etc.; disposes of used motor oil, transmission fluid, and antifreeze.
• May change oil and repair or replace tires.
• Attends work regularly and is punctual.
SUPERVISORY RESPONSIBILITIES: No employees directly supervised. May provide technical advice and/or training to others in the department that do same, similar or related work.
QUALIFICATION REQUIREMENTS: To perform this job successfully, an individual must be able to perform each essential duty satisfactorily. The requirements listed below are representative of the knowledge, skill, and or ability required. Reasonable accommodations may be made to enable individuals with disabilities to perform essential functions.
EDUCATION AND EXPERIENCE: High school diploma or general education degree (GED) and a minimum of three years related experience and/or training.
LANGUAGE SKILLS: Ability to read and interpret documents such as technical manuals, school district policies, and procedures.
MATHEMATICAL SKILLS: Ability to add, subtract, multiply, and divide in all units of measure.
REASONING ABILITY: Ability to apply common sense understanding to carry out instructions furnished in written, oral, or diagram form. Ability to deal with problems involving several concrete variables in standardized situations.
CERTIFICATES, LICENSES, REGISTRATIONS: Must maintain a CDL – Class B with Passenger and School Bus endorsement drivers license. No other special certificate, license or registration is required.
PHYSICAL DEMANDS: The physical demands described here are representative of those that must be met by an employee to successfully perform the essential functions of this job. Reasonable accommodations may be made to enable individuals with disabilities to perform the essential functions.
While performing the duties of this job, the employee is regularly required to stand; walk; hands to finger and handle office equipment; reach with hands and arms; climb or balance; stoop, kneel, crouch, or crawl; and talk or hear.
The employee must regularly lift and/or move up to 50 pounds and occasionally lift and/or move up to 100 pounds. Specific vision abilities required by this job include close vision, distance vision, color vision, peripheral vision, depth perception, and the ability to adjust focus.
WORK ENVIRONMENT: The work environment characteristics described here are representative of those an employee encounters while performing the essential functions of the job. Reasonable accommodations may be made to enable individuals with disabilities to perform essential functions.
While performing the duties of this job, the employee regularly works near moving mechanical parts. The employee is frequently exposed to fumes or airborne particles. The employee occasionally works in high, precarious places and in outside weather conditions and is occasionally exposed to wet and/or humid conditions, toxic or caustic chemicals, extreme heat, and risk of electrical shock. The noise level in the work environment is usually loud.
ADDITIONAL FUNCTIONS
Provides assistance to other employees or departments as needed.
Performs other related duties as required.
PERFORMANCE APTITUDES
Data Utilization: Requires the ability to compile, assemble, copy, record and/or transcribe data according to a prescribed schema or plan. Includes judging whether readily observable functional, structural or compositional characteristics are similar to or divergent from prescribed standards, procedures or routines.
Human Interaction: Requires the ability to provide guidance, assistance, and/or interpretation to others regarding the application of procedures and standards to specific situations.
Equipment, Machinery, Tools, and Materials Utilization: Requires the ability to start, stop, operate and monitor the functioning of equipment, machinery, tools, and/or materials used in performing essential functions.
Verbal Aptitude: Requires the ability to utilize a variety of reference data and information.
Mathematical Aptitude: Requires the ability to perform addition and subtraction. May include counting, recording of counts, and basic measuring.
Functional Reasoning: Requires the ability to apply principles of rational systems; to interpret instructions furnished in written, oral, diagrammatic, or schedule form; and to exercise independent judgment to adopt or modify methods and standards to meet variations in assigned objectives.
Situational Reasoning: Requires the ability to exercise judgment, decisiveness and creativity in situations involving the evaluation of information against sensory, judgmental, or subjective criteria, as opposed to that which is clearly measurable or verifiable.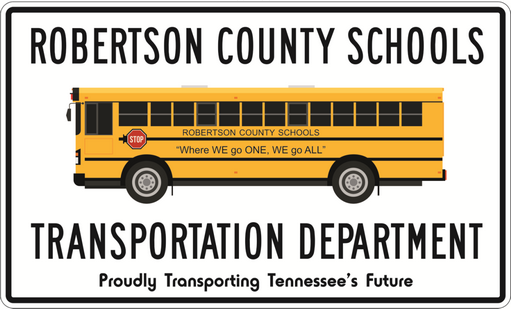 To Apply For Diesel School Bus Mechanic – Click Here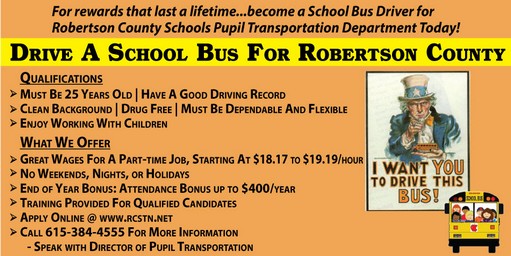 Drive A School Bus For Robertson County
For rewards that last a lifetime… become a school bus driver for Robertson County schools pupil transportation department today!
QUALIFICATIONS
• Must be 25 years old. have a good driving record
• Clean background, drug-free must be dependable and flexible
• Enjoy working with children
WHAT WE OFFER
• Great wages for a part-time job, starting at $18.17 to $19.19 an hour
• No weekends, nights, or holidays
• End of year bonus: attendance bonus up to $400 a year
• Training provided for qualified candidates
• Apply online – Click Here
• Call 615-384-4555 for more information – speak with the director of pupil transportation
Robertson County Board of Education, Tennessee, is an Equal Opportunity Employer. In compliance with the Americans with Disabilities Act, the Board of Education will provide reasonable accommodations to qualified individuals with disabilities and encourages both prospective and current employees to discuss potential accommodations with the employer.


Smokey Barn News (Advertisement)



We bring you ALL the News in and surrounding Robertson County, Tennessee.