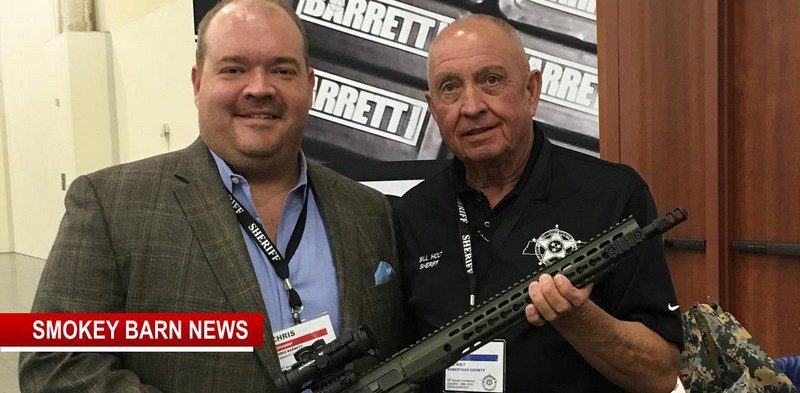 RC Sheriff Holt Receives Free Rifle From Barrett Firearms
SPRINGFIELD TENNESSEE: (Smokey Barn News) – Robertson County Sheriff Bill Holt is getting a brand new REC7 DI Barrett rifle, the cost to tax payers? zero.
Barrett Firearms donated rifles to every Tennessee County Sheriff Office or Department yesterday in Sevierville, TN at the Tennessee Sheriffs' Association Annual Conference & Exhibition.
Barrett Firearms President Chris Barrett, shown photographed with Robertson County Sheriff Bill Holt, announced that his company is donating 95 Barrett REC7 DI rifles, one to each Tennessee county sheriff's office or department.

"When the Barrett story is told, folks usually talk about the civilian shooters and militaries around the world that have chosen Barrett long-range precision rifles for more than three decades. Less-often mentioned is my father's background as a county sheriff's deputy, our 5.56 carbines and rifles, and the countless law enforcement agencies that choose Barrett. We want to highlight that legacy and show our strong support for law enforcement by donating these Barrett REC7 DI rifles to the sheriffs in our state," Mr. Barrett said during remarks at the conference.
"As lifelong Tennesseans and builders of the Barrett Model 82A1/M107, the 'Official State Rifle of the State of Tennessee,' we are proud to build every one of these rifles in Tennessee. We believe that the sheriffs can use these rifles as they enforce the laws around this great state."
About Barrett Firearms Manufacturing, Inc.
Barrett is a family-owned and -operated company and the world leader in large-caliber rifle design and manufacturing. Barrett products are used by civilian sport shooters, law enforcement agencies, the United States military, and more than 70 U.S. Department of State-approved countries across the world. http://barrett.net/
About the Tennessee Sheriffs' Association
The Tennessee Sheriffs' Association promotes better and more effective law enforcement; maintains a high level of ethical conduct on the part of all sheriffs, their deputies and their jail administrators; provides a forum for the exchange of knowledge and experience among all sheriffs; establishes the highest degree of cooperation among the law-enforcing agencies in the State of Tennessee; brings the sheriffs of the various counties into close association and to promote cooperation in the conduct of the laws of Tennessee pertaining to the apprehension and prosecution of persons violating the laws of Tennessee; improves and encourages greater efficiency in the administration of sheriffs' offices and to protect the welfare and interest of the members of the association. www.TNSherrifs.com
We bring you ALL the News in and surrounding Robertson County, Tennessee.