Robertson County: 2015 Christmas Parades & Holiday Events
ROBERTSON COUNTY TENNESSEE: (Smokey Barn News) – Smokey has listed all the local Christmas Events and Parades for this year below for your convenience. Simply scroll down to find your city, or if you're like Smokey Barn News, go to them all! Community Events are added regularly to our events page, be sure to bookmark the page and never miss a thing!
Did we miss your community event? Email it to [email protected]
Toys For Tots – "Assistance for Families In Need"
Kiwanis Toys For Tots Applications for Families in need this holiday season are available at the office of WIC, DCS, DHS, and the Health Dept.
November 21 "Christmas On The Square"
The Kids Fun Run at 9:30 a.m. and 5/10k start at 10:00 a.m.
Vendors On the square
Christmas Parade begins at 2:00 pm at 10th Ave proceeding down North Main Street and will then turn left onto 5th Ave and end at the Springfield Middle School.
—>>>Click to see photo album of last year <<<—
December 2-16 "Willow Oak Arts – Classes
MOMMY & ME ART, Dec. 2, 9 & 16, 9-10 am
Explore creativity with your toddler, age 2 and up, using simple materials as guided by the art teacher. Make ornaments with your toddler to give as holiday gifts or hang on the tree. Willow Oak Center for Arts & Learning, 726 S. Main St., Springfield, just off the square.
$40 includes all supplies. Call 615/380.8071 or www.willowoakarts.org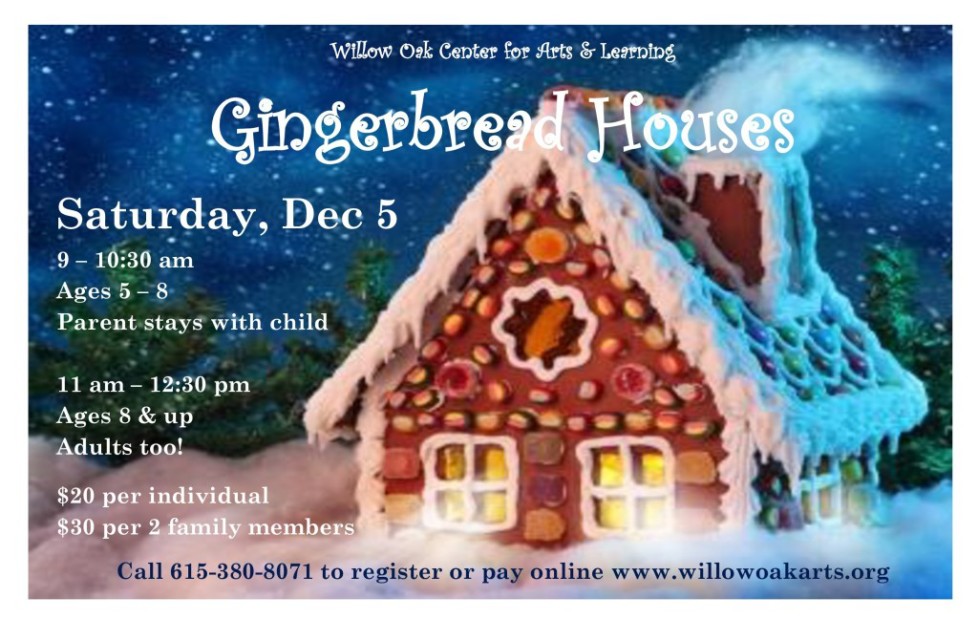 GINGERBREAD HOUSES, Dec. 5
Come decorate & share in the holiday delight! Ages 5-8, parent stays w/ child, 9-10:30 am.  Ages 8-adult, 11 am – 12:30 pm
Cost $20/individual; $30/ 2 family members.
Call 615/380.8071 or www.willowoakarts.org
December 4 RIDGETOP: "Christmas Under The Lights"
Ridgetop Natural Gas Christmas Parade December 4 2015 7:00 Pm
"Christmas Under The Lights" (rain Date: December 5, 2015)
Refreshments to follow parade at Ridgetop Station Park
Come out & have hot chocolate and cookies with Santa.
Live Music
All float entries are FREE!! Have you registered your float?? Registration is FREE!! You do not have to be an organization, group or business to have a float. Any household is welcome to enter one. Anyone wanting to enter your float will need to contact Ridgetop City Hall 615-859-0596. Float Registration Papers & Waivers will also be accepted the night of the parade (Fri Dec 4th)!
—>>>Click to see photo album of last year<<<—
December 5 White House "Miracle On Main St. Festival"
Saturday, December 5at 12:00pm – 6:00pm White House Civic Center, 105 College St, White House, Tennessee 37188. Join us for the annual Miracle on Main Street Celebration! Santa's Marketplace opens at noon in the gym with lots of great vendors offerings jewelry, crafts, decor, makeup, children's books, gifts & more! There's also a great selection of food to be had and chili and hotdogs from the White House Fire and Police Explorers! After the parade, Santa will join us in the Marketplace for Free Photos! At 1 pm the parade will begin at City Park and travel past the festivities at the Civic Center and Miracle on Main Street. New this year is a Gingerbread Decorating Contest! Our entertainment will begin around 2 and feature lots of great talent that you won't want to miss!
—>>>Click to see an archive photo album<<<—
WHITE HOUSE  Parade Begins at 1:00pm
– Santa's Marketplace
Full of Crafts, Merchandise, Food & Fun
–  Lots of Sweet Treats, Tasty Drinks & Firemen's Chili
– FREE pictures with Santa after the parade
– Gingerbread decorating contest
– Live entertainment begins at 2:10pm
– All activities indoors at the White House City Hall
December 5 Cross Plains
Make plans for Saturday, December 5 for a "Cross Plains Small Town Christmas!" The parade starts at 10am. Big prizes for the best floats. Want to participate? Get signed up by Nov 28. Email [email protected] for details.
—>>>Click to see a video archive<<<—
—>>>Click to see an archive photo album<<<—
December 5 Portland Christmas Parade Magical Memories On Main
Festivities 3pm – 5pm. Come see Santa At Strawberry Station, Cookie Decorating in the chamber, Christmas craft time and seniors will be selling hot chocolate, coffee and desserts. 
Parade will start promptly at 5:30 p.m., rain or shine. This is a lighted Christmas parade. Line-up will be along Freedom Drive, and the parade will turn left onto TN109. For details and registration, please contact the Portland Chamber of Commerce at (615) 325-9032.
December 12 Greenbrier: "Annual Christmas In The Brier"
Parade, Tree lighting, music, refreshments etc.
*If you would like to participate in the parade contact the Greenbrier Police at (615) 643-4467 to register by December 4, 2015
—>>>Click to see photo album of last year<<<—
December 12 ADAMS: Christmas In The Park
The theme for this years Christmas Parade is "The Magic and Music of Christmas". The parade will be December 12 at 4:00pm. NEW ROUTE: Line up on Main Street. Travel up Commerce. Turn right onto Cedar Hill Rd. Turn left into WhiteHaven. Circle the drive and come back out onto Church St. Travel down Church to Hwy 41. Turn right and end at Omer Gene Brooksher Pavilion on the Bell School grounds. There the awards will be given for the floats/parade entries. Also cookies and hot chocolate! Get those parade entries ready and let's make it a great way to begin the Christmas season in Adams.
– Mary Mantooth
—>>>Click to see photo album of last year<<<—
December 11,12 & 18,19 "Winter Wonderland"
TWO WEEKENDS – Spectacular lighted displays, Hot Cocoa and Santa
at the Springfield Parks and Recreation "Winter Wonderland" at Travis Price Park in Springfield! Watch A Video Archive
December 11- 13 Millersville Christmas Festivities
Friday December 11 – at 6:30pm lighting of the Christmas Tree, Bluegrass Jam, & Community Light awards
Saturday December 12 – at 3pm Parade and Chili Cookoff
Sunday December 13 – at 2pm Millersville Mighty Fun run & walk, pet parade, international food festival and gospel music at the Millersville Community Center
December 13 "Orlinda Christmas Parade"
Refreshments and fellowship afterwards at the Byrum Porter Center
—>>>Click to see photo album of last year<<<—
December 13 "Christmas Tour Of Homes"
CHRISTMAS TOUR OF HOMES, Dec. 13, 1-5 pm Advance tickets available at the Robertson Co. Historical Museum on the square, $15 before Dec. 8; otherwise available day of tour, $20. 615/382.7173
Community Events are added regularly to our events page, be sure to bookmark the page and never miss a thing!
School events, church events, community fundraiser events, community gatherings and rallies in Springfield, Greenbrier, Adams, Ridgetop, White House, Cross Plains, Millersville, Cedar Hill, Coopertown & Orlinda in Robertson County Tn, Tennessee!