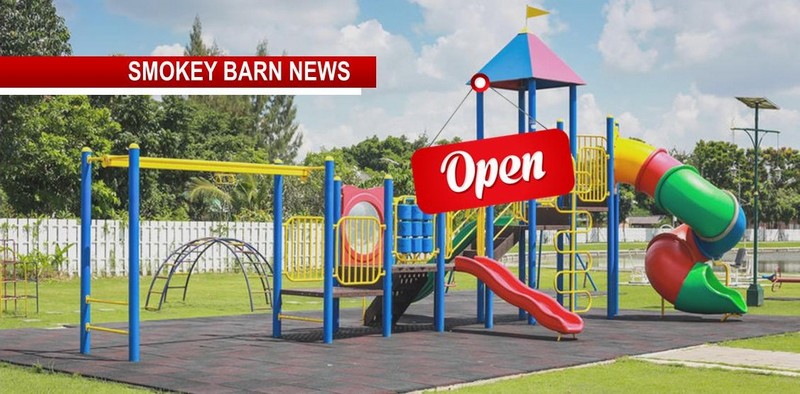 Robertson Parks, What's Open-What's Closed
ROBERTSON COUNTY TENNESSEE: (Smokey Barn News) – There are many beautiful parks in Robertson County but with COVID-19, what's open?
For your convenience, we have added park information for each city, listed alphabetically. Rules vary from park to park.
Whatever park you decide to visit, you will likely be asked to maintain social distancing, and at some locations, you might be asked to wear a mask. Some parks sanitize, some do not.
Be sure to check each park's guidelines and, as always, use your own judgment for your family.
If you have any questions or corrections regarding the park information below, email Smokey Barn News at [email protected]

Adams, Tn – OPEN
Park: 7617 Highway 41N Adams, TN 37010 (Behind The Bell School Building)
Omer Gene Brooksher Covered pavilion -The Omer Gene Brooksher Pavilion and Kitchen is available for rental through the City of Adams. The rental fee is $100, plus $50 refundable key deposit.
Reservations can be made by calling the number below. A facilities usage agreement must be signed prior to using the pavilion.
PLEASE NOTE: If inflatables are used for your function, a separate liability policy, listing the City of Adams, as additional insured must be on file in Adams City Hall PRIOR TO THE DATE OF THE EVENT. City Hall 615-696-2593
Playground
Softball, baseball fields 

Cross Plains, Tn – OPEN
Kilgore Park – 150 Kilgore Trace, Cross Plains, TN
Two football fields, one softball and baseball field, shelter/pavilion are all open.

Greenbrier, Tn – OPENING SOON
The Playground is located behind City Hall – 790 W. College Street Greenbrier, TN. The city is updating some of the safety features and installing signs. The park should be open within the week or so, according to city officials.
Louise Martin Park
Call City Hall to reserve pavilions at Louise Martin Park. The ball field schedule is coordinated between youth leagues and the City. Call Rory at (615) 642-8611 for any questions relating to the City's Baseball/Softball program.

Millersville, Tn – OPEN
Millersville Community Center & Playground – 1181 Louisville Hwy Millersville, TN.
The park is open daily from daylight to dusk. The Community Center is open for public and private events. To book your party, meeting, reception, or event, please call the Millersville Public Library at 615-448-6959 and speak to the Community Center Coordinator.

Pleasant View, Tn –
Balthrop Park is conveniently located across from Pleasant View Elementary School in Pleasant View, TN.
The Park hosts a beautifully manicured baseball/softball diamond, a modern play system equipped with safety features & swings, a pavilion picnic area and public restrooms with a water fountain.
This iconic small-town America at it's best. Come play with the whole family!
Pleasant View Community Park – 2501 Pleasant View Road
The Pleasant View Community Park is located across from the West Ridge Subdivision on Pleasant View Road in Pleasant View, TN. It has a long, clean walking track along with a beautiful nature trail. The Park is immaculately maintained and hosts multiple team sports. From Football to Soccer to Cheerleading, the Pleasant View Community Park is the place to join in on the fun.

Portland, Tn – OPEN
Meadowbrook Park –  playground area
Basketball Courts – Meadowbrook Park
1 Lighted Basketball Court
Richland Park
1 Lighted Basketball Court
Meadowbark Dog Park – Meadowbrook Park
Facility includes separate area for small dogs (25 pounds and less)
Hours 7 AM – Dusk
Dogwood Hills Municipal Course : Facility Only
This facility is now available to rent Monday-Sunday 5:00 pm-10:00 pm and requires a $100 deposit and has a $40 per hour fee, Reservation is only available through the parks office. Call 615-325-6464 for more information.
Picnic Shelters – Meadowbrook Park
1 shelter = 1500 (30×50) square feet
30 seats approx.
5 Picnic tables
1 Electrical Outlet
1 Grill
1 shelter = 1000 (20×50) square feet
6 Picnic tables
5 Electrical Outlets
1 Grill
Skate Park – Meadowbrook Park
6000 square foot modular facility
8 obstacles (skate table, round grind rail, quarter pipe, bank to bank with grind ledge, bank, grind box, and 2 skate benches)
Bikes allowed Tuesdays and Fridays (all day) and Saturdays 2-6 PM
Mountain Bike Pump Track
Walking Trail – Meadowbrook Park
Lighted for walkers, runners, & bikes
0.46 mile track
Richland Park
1.4 miles for walkers and bikes
0.61 miles lighted
0.79 miles unlit
NO MOTORIZED VEHICLES OR DEVICES ON TRAILS OR IN PUBLIC AREAS EXCEPT:WHEELCHAIRS or OTHER POWER DRIVEN MOBILITY DEVICES with a maximum speed of 12.5 MPH and a maximum weight of 500 LBS (but limited to motorized power chairs and 2-wheel electronic personal assistance mobility devices) – as defined by Department of Justice ADA Title II 28 CFR §35.104 – are allowed (but only when used by an individual with a mobility disability). WHEELCHAIRS allowed at pool and gym – no motorized vehicles or devices at pool or gym.
Tennis Courts – Meadowbrook Park
2 Lighted Courts
Richland Park has a small play area near baseball fields 1-4 and a slide near shelter #1 and the pool. Richland Park is also the site of our largest and most popular playground area.
1 shelter = 1000 (20×50) square feet
30 seats approx.
5 Picnic tables
0 Electrical Outlets (1 within 75 feet)
1 Grill
1 shelter = 1749 (33×53) square feet
60 seats approx.
10 Picnic tables
4 Electrical Outlets
2 Grills
Richland Gym – Richland Park
Open during the fall and winter months for passive exercise and open gym. Walking the inner walls 17 times will equal one mile (1 lap is roughly 315 feet).
Wanda Collins Amphitheatre – Richland Park
2200 Sq Ft Covered Stage Area
1200 Sq Ft Indoors (hospitality area, refrigerator, microwave, sink)
2 Restrooms
Soccer Fields – Richland Park
4 fully lite fields
4 lite fields for practice only
Football Fields – Richland Park
1 Lighted Field
2 non lighted fields
No goalposts
Baseball / Softball Fields – Richland Park
8 baseball / softball fields
7 lighted (two 300′ and one 200′) FIELDS 1-7
1 unlighted (three 200′, one 220′, one 250′) FIELDS 10
All infields are dirt
Robert Coleman Community Center – Richland Park
1300 Sq Ft Meeting Room
300 Sq Ft Kitchen (refrigerator, stove/oven, microwave, sink)
2 Bathrooms
WiFi is available at the facility
Bandstand – Downtown
625 (25×25) Covered Square feet
15 Seats Approx
4 Electrical Outlets

Ridgetop, Tn – OPEN
Ridgetop Station Park, 1954 Woodruff Avenue, Greenbrier, TN
Park facilities include:
Pavilion #1: 32′ Octagon Pavilion
Pavilion #2: 20×24 Pavilion with a 4′ wrap-around overhang
6/10 Mile Walking Trail
Children's Playground
Smoke House
Garden House
Caboose
Restroom Facilities
Parking Facilities

Springfield, Tn – Parks
*Social distancing and a mask is required in all areas if it's not immediate family gatherings or you can't social distance. Children 12 and under are not required to wear a mask.
Travis Price Park -4155 Wilks Road Springfield, TN 37172
Soccer fields and playgrounds are currently closed to the public.
Post 48 Community Bldg. which accommodates up to 50 guests rents for $50.00 for the first two hours plus $15.00 each additional hour. 8 six-foot rectangle tables are available for dining with a serving counter. Cooking appliances are not available. Full payment (cash, check, card) and complete contract are required at time of reservation.
Springfield Greenway – Open -The multi-purpose and scenic, 4-mile Springfield Greenway connects parks, the historic and business districts. Access the trail at N. Garner Street & W. 2nd Ave, Wilks Road, and Blackwood Dr. Motorized vehicles are prohibited.
Garner St Park
Playground – Closed. The greenway, shelters, post 48, track, tennis courts, dog park, the center is open for walking and exercise room.
Tennis Courts – Open
Central Dog Park – Open – 200 N Garner Street Springfield, TN
Martin Luther King Jr. Park – 2623 S. Main Street Springfield, TN
Track is open. Splash Pad is closed.
American Legion Park – features sports fields and is conveniently located near the Springfield Greenway.
Baseball / Softball – Open (No contact sports)
Picnic Areas
Restrooms

White House, Tn – OPEN
Facilities:
Farris H. Bibb, Jr. Municipal Recreation Complex – 105C College Street, White House. TN General
The Farris H. Bibb, Jr. Municipal Recreation Complex is a brand new recreation complex that will be built out in phases. Currently it includes a Splash Pad, Pavilion & Restroom Facility, and shaded pavilion for use by the general public only. In 2017 an auditorium and playground will be added to this complex. The complex will be finished out with additional parking and a brand new Recreation Center.
Splash Pad Pavilion – OPEN – 105C College Street, White House. TN Pavilion
Monday 9AM-8PM
Tuesday CLOSED
Wednesday 9AM-8PM
Thursday 9AM-8PM
Friday 9AM-8PM
Saturday 9AM-8PM
Sunday 9AM-8PM
Open Only on Weekends during Month of September.
CLOSES October 1st
Fran Hutson Amphitheater – 105C College Street, White House. TN Auditorium
The Fran Hutson Amphitheater is WHPR's newest addition to the Farris H. Bibb Recreational Complex. With the ability to comfortably seat 200+ people. This venue will be a prime site for various special events (outdoor concerts, presentations, weddings, etc.)
ATTENTION: FOR SPECIAL EVENT INQUIRIES, PLEASE CONTACT THE WHITE HOUSE PARKS DEPT. 615-672-4350 EXT 2114. There will be a different process for reservations of this nature. Special events include: concerts, plays, exhibits, etc.
* ABSOLUTELY NO ALCOHOL will be allowed inside City of White House facilities or on the premises.
Pavilion 1
420 Highway 76, White House. TN Pavilion
Pavilion 2
420 Highway 76, White House. TN Pavilion
Pavilion 3
420 Highway 76, White House. TN Pavilion
Rover's Ridge Dog Park – Monday – Sunday 8:00 AM – 10:00 PM
420 Highway 76, White House. TN