RV Ignites At Gas Pump Minutes After Purchase In Springfield
SPRINGFIELD TENNESSEE: (Smokey Barn News) – Minutes after buying an RV the new owner pulled into a service station in Springfield to fill up. Minutes later the RV was on fire just feet from the pump.
The incident occurred at the Shell station on the corner of Central Ave and 5th Ave just before 11 pm.
The owner, from Kentucky, told Smokey Barn News that after purchasing the RV, about 4 miles from the station, he pulled into the station to fill up. As he prepared to start the refueling process, a young lady with him noticed the front of the cab was on fire. By this point, the front of the RV was already engulfed, preventing the owner from getting in and moving it away from the pumps. "The fire went so fast, I guess because it's old," the owner said.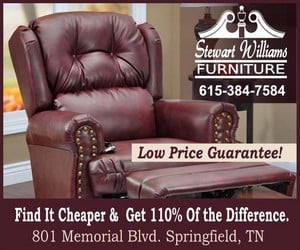 The Springfield Fire Department responded quickly and prevented the fire from igniting the gas pumps or the large awning above. Springfield Police closed 5th Ave due to the obvious danger of the fire being so close to the gas pumps. According to the Springfield Fire Department, the vehicle (that by his account was in good shape) is now a total loss.
The owner told Smokey Barn News that he had insured the vehicle yesterday before coming up to collect it. He's going to let us know how it goes with his Insurance company.
Reload this page for updates.
Mobile: To See The Latest Stories or to share this article, scroll below