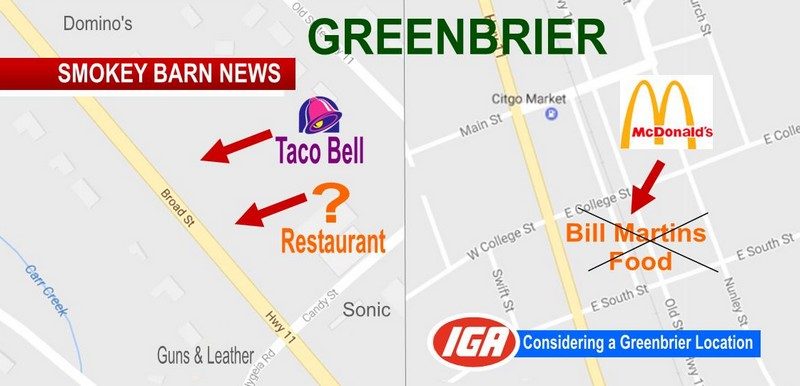 Several Food Chains Consider Greenbrier (City Officials Hopeful)
GREENBRIER TENNESSEE: (Smokey Barn News) – There's a lot of chatter about food in Greenbrier these days. Hardly a day passes without some kind of social media chatter about a potential new restaurant or grocery store coming to Greenbrier.
Smokey Barn News reached out to Greenbrier City Superintendent Tommy Maitland who took some time to help us understand what's really going on.
"We know Taco Bell bought the lot several months back but we have not received any plans, Maitland  said.  So Taco Bell has acquired property in Greenbrier but they have not spoken to anyone at city hall. The property is located on Hwy 41 near Candy St. MAP
Maitland said, as he understands it Taco Bell uses one firm to build all their restaurants and they are tied up on other projects at the moment. According to Maitland, the location is good and codes appropriate for a restaurant like Taco Bell.  "I hope they will be coming to our town this summer, that's what we're hoping," Maitland said.
According to Maitland,  Codes Director Alex West, Mayor Dawson and the Alderman are excited about it and hope Taco Bell does come to Greenbrier.
According to Maitland, McDonald's is also taking a hard look at Greenbrier. They made several inquiries and an offer on a property located on the corner of Hwy 41 and College St. (the site of former Bill Martin Foods grocery store.) MAP A temporary site plan has been submitted, according to Maitland. "It would be a great fit for that corner with a stoplight for in and out traffic,"Maitland said.
Maitland told Smokey Barn News that based on all the data and facts he has, he's about 99% sure McDonalds is coming to Greenbrier. "It would be a great fit for that corner and I think they realize that," Maitland said.
Anything else on the radar?
"We heard of one more commercial lot in which two other fast food companies were making bids on. It would be the property to the right of  Taco Bell next to the Church of Christ on Candy Lane and across from the Guns N Leather," Maitland said.
Maitland also said that Crossroads IGA has made two visits to area properties but have not reached out to the city in any official capacity at this point.
Smokey Barn News will stay in contact with Greenbrier officials for any updates on new developments.
Below is a look at some achievements and changes Greenbrier has made in the past couple of years under Greenbrier Mayor Bonnette Dawson.
• Drive-thru Window at City Hall
• Addition of an archive room
• Veterans Service Office addition
• New Audit firm
• Annual Christmas Parade
• Implemented 2nd shift in Fire Department – 12 hour shifts, 7 days a week
• Paved 27,799 feet or 5.2 miles within city
• Have $3.2 million for sewer plant at .04% interest with $300,000 forgiven in
interest
• Have spent approximately $2 million in house money for sewer rehab
• Started the first Newsletter
• Appointed a new Park Committee
• Purchased new park playground equipment delivered July 11 – Graham Park
• Construction on Hygeia curve underway – big safety enhancement
• By managing the existing revenue and cutting unnecessary expenses we have
had NO TAX INCREASES and have had a $1.1 million increase in the fund
balance of the City.
BREAKING: Smokey Barn News has also learned that Greenbrier Mayor Bonnette Dawson has been recently been inducted into the Tennessee Credit Union Hall of Fame. FULL STORY

Smokey Barn News (Sponsor/Advertisement)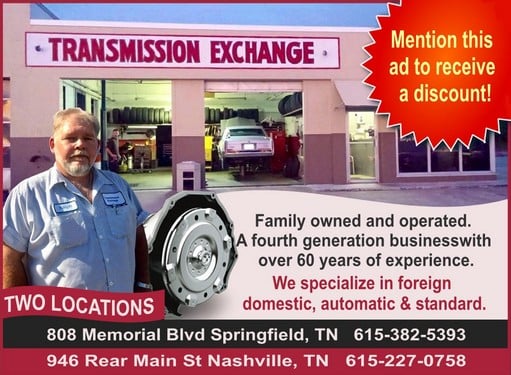 We bring you ALL the News in and surrounding Robertson County, Tennessee.