Smokey Barns 3D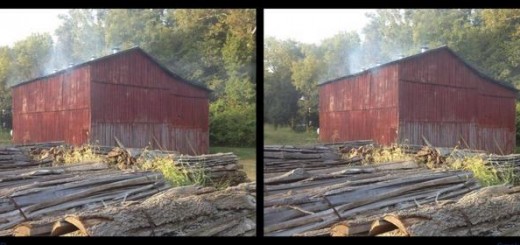 For full 3D INSTRUCTIONS, read below..
To see this photo in 3d requires NO glasses or equipment. For your first try, – Sit 3 OR 4 feet back from your screen (the closer you are the harder it is to do), then extend your arm out straight and point at the bottom of the center black
line in the middle of the 2 pics. Then (looking at your fingertip) slowly slowly move your finger towards you but keep your mind on the pic. As your finger gets closer to your face you will see a 3rd image starting to appear in the middle. keep moving your finger closer to your face until the 3rd image becomes the same size as the outer two. Your brain will naturally try to lock the center image. When the center image locks (voila) it becomes 3D.. You also need to keep your eyes level with the photo.It can be a little tricky the first time so be patient.
When you are successful say "I got it!"If you like this 3D photo and you would like to have it done to you, your pet, home, or anything that can be photographed, send an email to 3Dpics@SmokeyBarn.com If you have old movies or photos of family members or friends, we can pull 3D images from them too, Imagine seeing your long lost friends in 3D. WOW!3D Photo Taken by
Jim Ball Sept. 22, 2012
"WOW 3D, no special glasses needed….Don't Miss Our Beautiful 3D Smokey Barn Photos
Click Here
Comments
comments