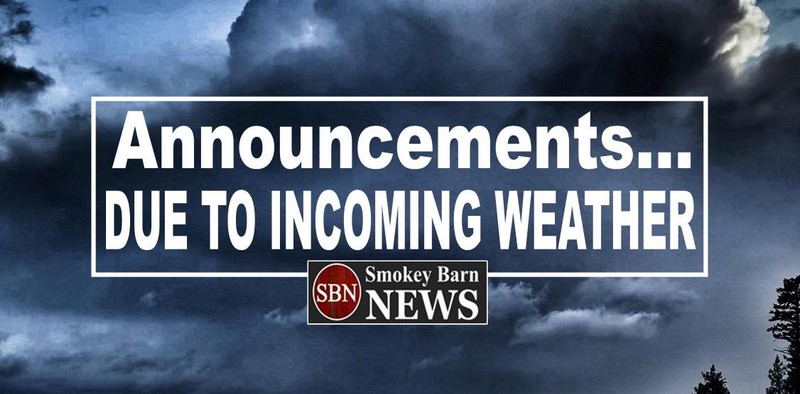 Special Notices & Alerts, Delays, Cancellations
ROBERTSON COUNTY TENNESSEE: (Smokey Barn News) – Due to the incoming severe storms, some local agencies, groups and businesses have released public announcements and may be adjusting their hours and services.
If your business, group or government office is closing or changing hours, email the info to [email protected] Announcements must come from a corresponding business/company email address. This will help us as each notice will need to be confirmed by Smokey Barn News staffers. New info will be added to this report.
REFRESH THIS PAGE FOR UPDATES.

US National Weather Service Nashville Tennessee Update
A TORNADO WATCH has been issued for the far southern counties of Middle Tennessee until 8 PM CDT. "This is a PARTICULARLY DANGEROUS SITUATION with potential for VIOLENT LONG TRACK TORNADOES. Additional watches are expected this afternoon and evening across Middle Tennessee."
"As of now, we are between rounds of weather. The earlier showers and storms have obviously moved out of the area and we are left with some partial sunshine and relatively mild air. This is helping to destabilize the atmosphere for additional storms later on. At this time, the short-range models are showing storms moving northeastward into Middle Tennessee from northern Mississippi and Alabama after 3 p.m. and then spreading across the remainder of the mid state during the next several hours. So be on the lookout for an additional Tornado Watch for Middle Tennessee should one be forthcoming." US National Weather Service Nashville Tennessee

Cumberland Electric Membership Corporation
With the potential for strong storms in the forecast today, CEMC is ready to respond if outages occur. Here are a few things to keep in mind:
Please report outages through the SmartHub app or by calling 1-800-987-2362.
Please do not report outages via social media. CEMC's pages are NOT monitored 24/7 and are not tied to the outage management system.
ALWAYS assume downed power lines are energized and stay away! Call 911 and CEMC immediately.
Make sure you have plenty of batteries and flashlights available.
Charge all electronic devices now.
Make sure you have multiple ways to get storm warnings.
Stay safe everyone!

RC Health Dept – Vaccination services
"Due to inclement weather, the Robertson County Health Department has closed its COVID-19 vaccination site at Vol State/Highland Crest College in Springfield this afternoon. Those scheduled to receive their vaccination today are scheduled for tomorrow at the same time and location. If you need to reschedule for another date and time, please call 1-866-442-5301." Rachel Ellis Robertson County Health Department

Byrum Porter Senior Center Dance Canceled
"Due to the weather forecast, we will not have a Dance tonight. March 25th." Joy George, Executive Director Byrum-Porter Senior Center.

RC Schools Close Early
Robertson County Schools to close early due to the threat of incoming weather this afternoon, Robertson County Schools will be closing two hours early.

Robertson County Emergency Management
Please stay weather aware as severe storms head our way this afternoon. Also, have more than one way to receive weather alerts. "It is strongly encouraged to have a plan in place." Robertson County Emergency Management.
Refresh this page for updates