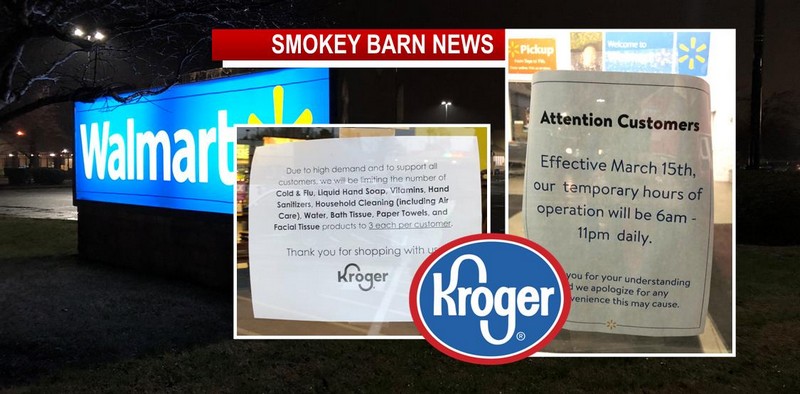 SPFD Walmart Cuts Hours/Kroger Limits Some Items
SPRINGFIELD TENNESSEE: (Smokey Barn News) – The heavy demand for some products in the wake of the Coronavirus outbreak is putting pressure on businesses to keep shelves stocked.
To cope with demand stores are making adjustments while they wait for shipments to arrive.
The Walmart in Springfield has announced that they will be cutting back their hours of operation to allow for restocking.
The new (temporary) hours will be OPEN from 6 am and CLOSING at 11 pm. The new hours will start Saturday.
Additionally, Kroger in Springfield is limiting some items. Cold & Flu, Liquid Hand Soap, Hand Sanitizer, Household Cleaning (Including Air Care) as well as Water, Vitamins, Bath Tissue and paper towels products are all being limited to three per customer.
One local grocery store employee told Smokey Barn News that the demand is like Christmas, Thanksgiving and a snow day all piled into one.
The demand has made it hard to find some items. Medical alcohol, hand sanitizer, toilet paper are almost impossible to find.  Smokey Barn News has had reports of a mother that was unable to find formula for her child.
Not everybody is short on supplies though. According to NBC News, a Hixson Tennessee man tried to corner the market on hand sanitizer but after Amazon shut down his account, he's looking for ways to give it away. See the video below.