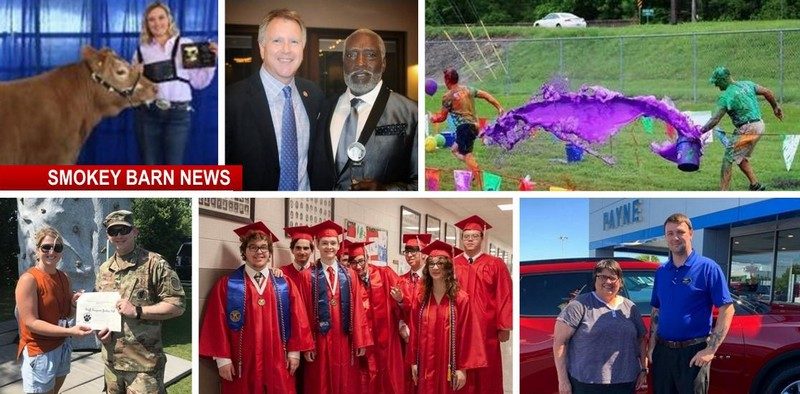 Smokey's People & Community News Across The County May 21, 2019
ROBERTSON COUNTY TENNESSEE: (Smokey Barn News) – Lots of good things happening in Robertson County and surrounding cities again this week! Smokey Barn News has pulled it all together for you including some fun upcoming events you don't want to miss!
Smokey Barn News welcomes your community news and photos. Submit your story to [email protected]

Robertson County 4-H members took 3 of the top five awards in the Sr. High Showmanship today at the Clarksville Better Beef Show. They were Riley Cook 2nd; Alyssa Jackson 3rd; and Bobby Ogg III 5th.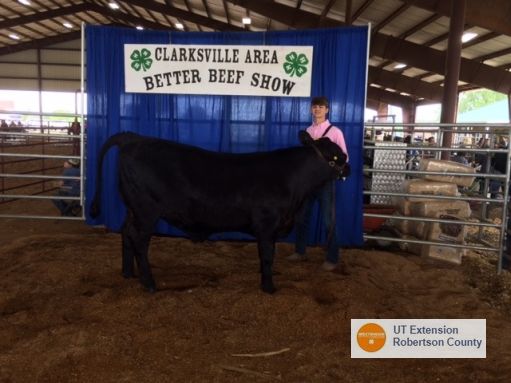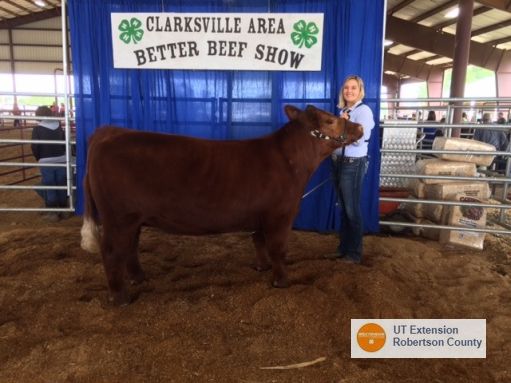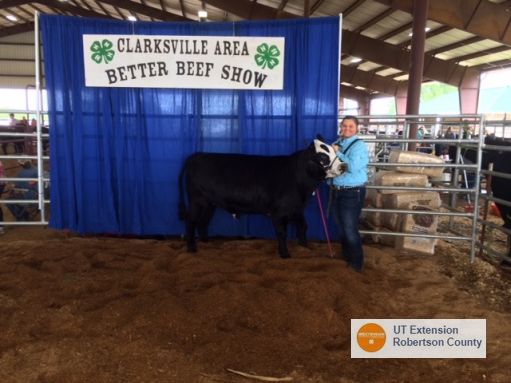 Robertson County Exhibitors. Abby Newberry Farm Bred Reserve Champion; Class Winners Collin Cook, Blake Spicer, Riley Cook, and Ben Hansen.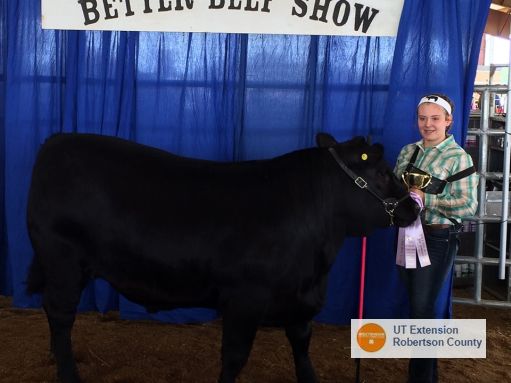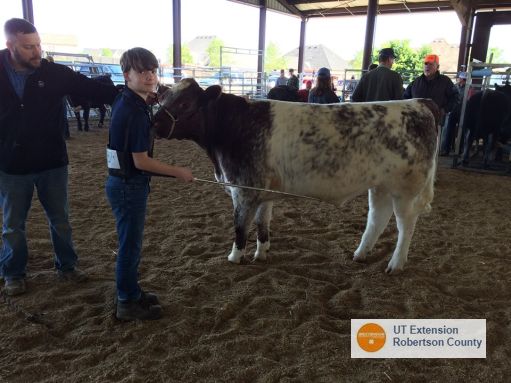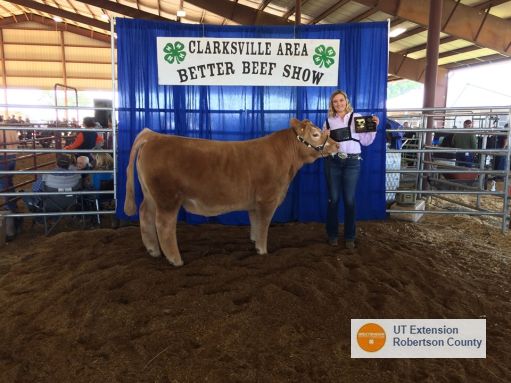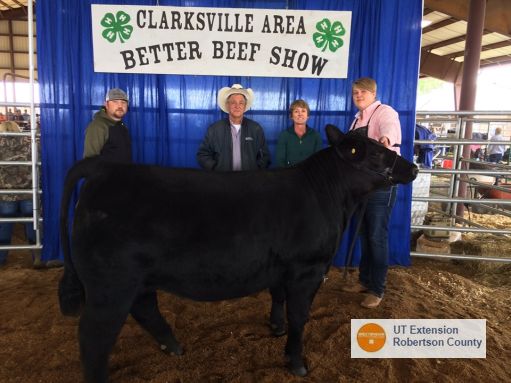 Robertson County had 18 4-H Exhibitors at the 69th Annual Clarksville Area Steer Show. There were (5) Counties represented Cheatham, Houston, Montgomery, Robertson, and Todd. Highlights included 4 class winners, a Reserve Champion Farm Bred, and 6 that placed in the top five in their showmanship division. Also five of the top 10 Average Daily Gain Steers were shown by Robertson County Exhibitors.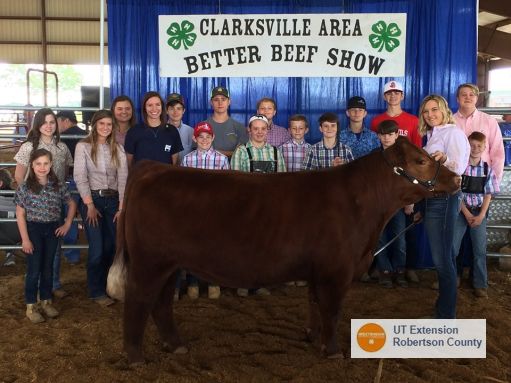 White House Area Chamber of Commerce Representing White house at Vegas Conference
At the ICSC Recon Conference to recruit retail and restaurants for the City of White House. #DiscoverWhiteHouse #ICSCRecon

SAVE THE DATES…
June 16 – June 20 – VBS To Mars and Beyond 
Greenbrier United Methodist Church To Mars and Beyond VBS
Blast-Off Registration Sunday June 16 from 5 -6pm
Day and Evening Classes for Pre-K – Completed 5 Grade
Classes Held Monday June 17 – Thursday June 20
Mornings from 9am – 11:30am and Evenings from 6pm – 8:30pm
204 W. Main Street in Greenbrier.
For more info please contact us at [email protected] or (615) 643-0464.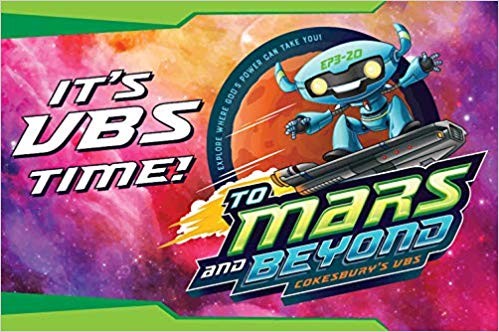 The Springfield High School Lady Jackets are Region Champions!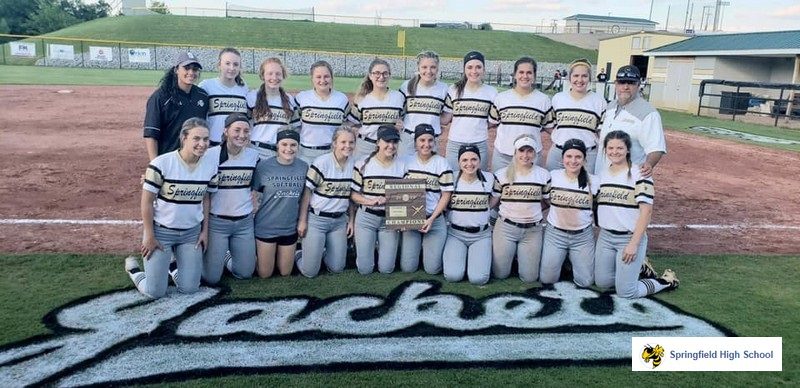 The Springfield High School Lady Jackets Softball Team is going to state!!! Final score Springfield 7-Summit 0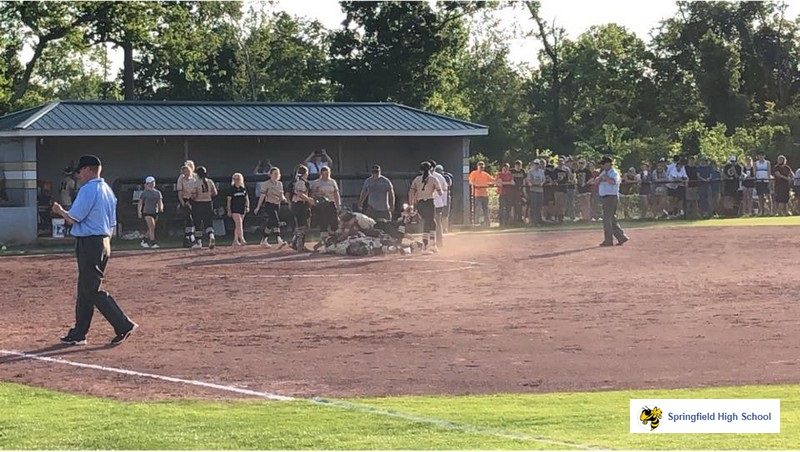 BIG SEND OFF
Send Off Tuesday For SHS Lady Jackets Softball Head To State 1st time
For the first time in school history, the Springfield High School Lady Jackets Softball program is headed to the state tournament.
Be sure to wave shout, yell, scream and honk as they head out of town to the state tournament this Tuesday morning. (See map below)
On May 21st, 2019 at 11:00 AM, the Lady Jackets will depart from Springfield High School on the way to Murfreesboro (see route below) to bring the state championship back to Springfield.
"Get your black and gold on, make signs, and cheer on the Lady Jackets as we go to compete for the state championship." Holly Taylor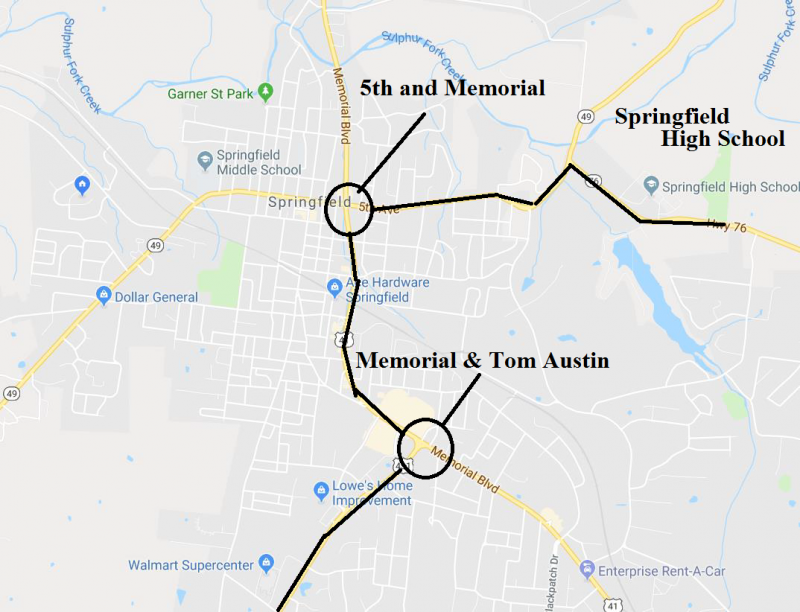 Senator Kerry Roberts
Congratulations to my friend, Bobby Trotter, upon his induction to the Robertson County Education Hall of Fame! A 1968 graduate of Bransford High School, he has enjoyed a distinguished career in law enforcement as a State Trooper, in the Executive Protection Unit, and now as Sergeant of Arms for the Tennessee House of Representatives. I'm honored to have him as a constituent but most of all as a friend! Congratulations, Bobby! — with Bobby Trotter at Paradise Ranch and Retreat.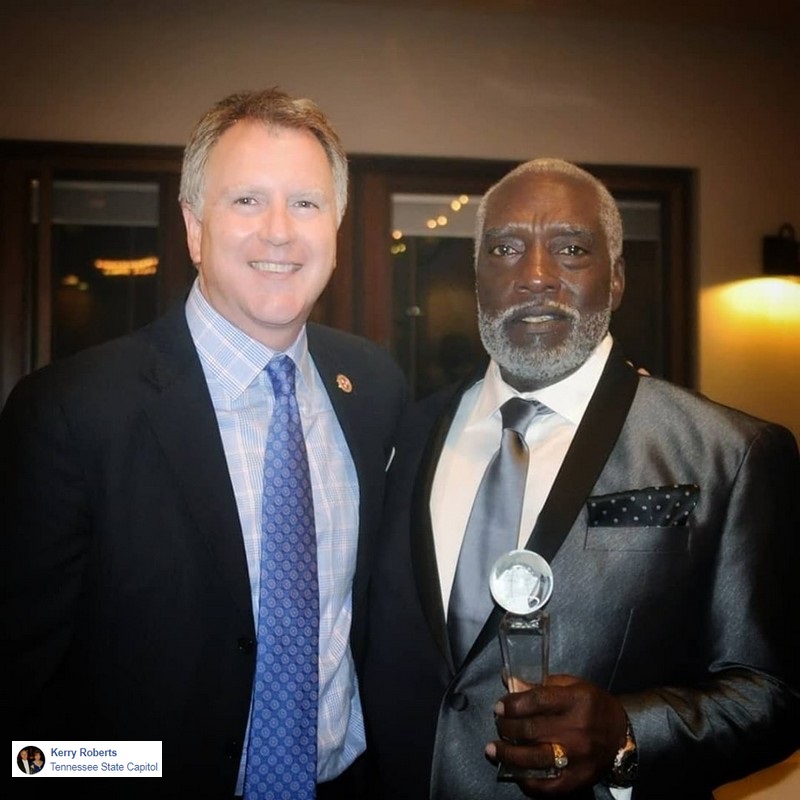 SAVE THE DATE!…
May 30: Music Under the Stars: Jeff Allen and AC Drive – Hosted by White House Area Chamber of Commerce

Thursday, May 30, 2019 at 6:30 PM – 9 PM – 105 College St, White House, TN
Kick off the summer with our first Music Under the Stars presented by NorthCrest Medical Center! Join us at the new Fran Hutson Amphitheater on Thursday, May 30th to enjoy free live music performed by Jeff Allen and AC Drive, delicious food, inflatables for kids and good summer fun. We hope you join us. #DiscoverWhiteHouse


Greenbrier High School Field Day 2019 was a huge success!
Here is a highlight video of today's activities!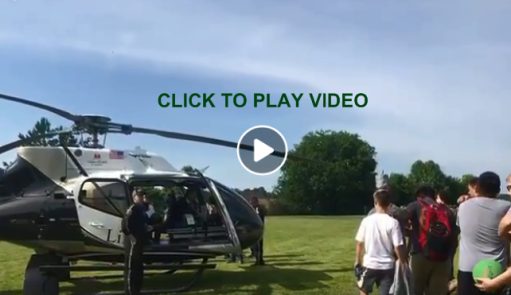 SAVE THE DATE…
The RC Senior Center BBQ Lunch! Thursday, May 23 at 11 am.
Sign up deadline Tuesday, May 21st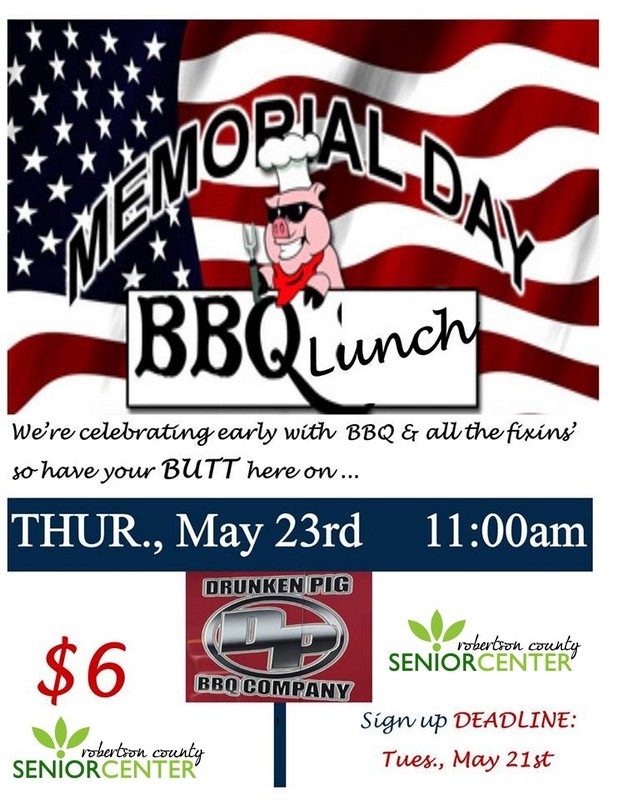 Robertson County Emergency Medical Services
This week is National EMS Week. This week we celebrate the hard work that the EMS practitioners do everyday in our communities. We are ready to answer the call for help day 24/7, rain or shine. Thank you to all of our crews for the hard work and dedication to serving the community.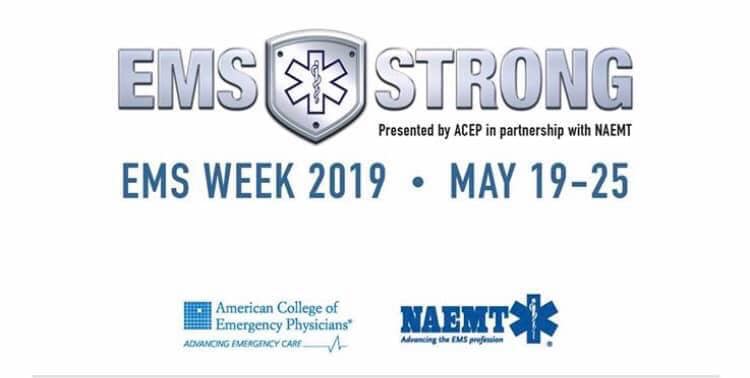 White House Library: Teen Karaoke Night, Adult Book Club & Garden Club. Check out more upcoming events…click here



Greenbrier High School…
Introducing your District 9AA and Regional Champions!!!!!!!!!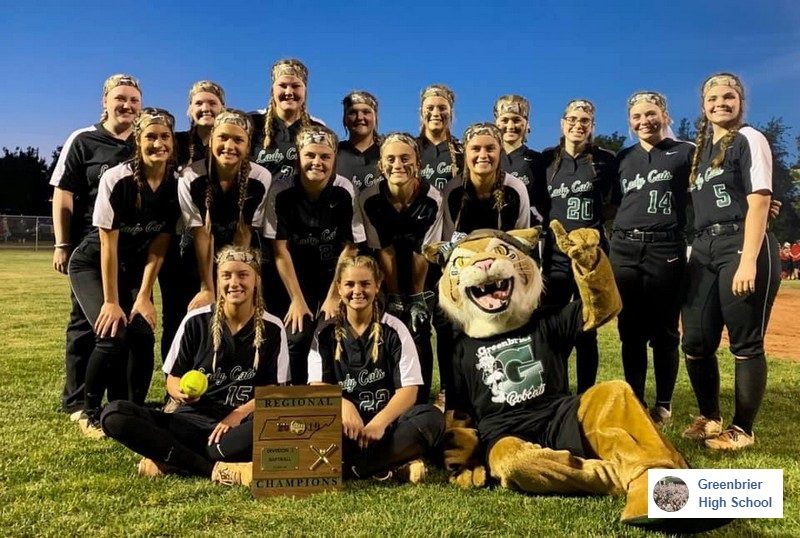 SAVE THE DATE!…
June 18 (Tuesday) 10:00 – 11:00am Mr. Bond "The Science Guy" at Stokes Brown Library
Everyone's favorite Science Guy is back! This is a Summer Reading program. The Science Guys have created a 45-minute show designed for the 2019 Summer Reading theme, "Space! A Universe of Stories."
The 2019 science show includes experiments about life in space, rocket propulsion, centrifugal force, planets, and orbits. Kids and adults are invited to participate in the presentation which includes over a dozen hands-on science experiments and explosions. Owner Keith Trehy (Mr. Bond) says, "Don't worry, no library books will be harmed in the performance!"
Stokes Brown Public Library – 405 White St, Springfield, TN 37172, USA
ALSO AT STOKES BROWN LIBRARY…
Last Thursday of Each Month: Local Writers Group – Word Weavers Robertson County – from 12:00pm-2:00pm at Stokes Brown Public Library in Springfield, TN.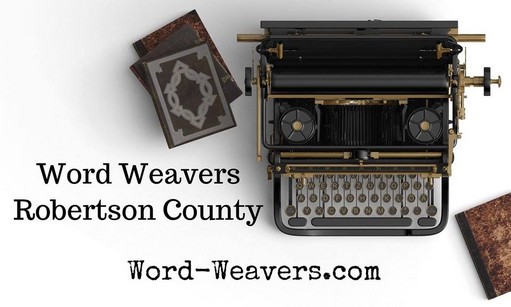 Are you a local writer who'd like to connect with like minded creatives in your area? Would you like to receive feedback on your work and be a part of a group where you can grow as a writer? If so, please join us for our monthly writers critique group meeting held the last Thursday of each month from 12:00pm-2:00pm at Stokes Brown Public Library in Springfield, TN.
For more information contact Callie Daruk (615) 308-5638 – [email protected]
Word Weavers is a monthly critique group dedicated to providing a forum for Christian writers to critique one another's work in a face-to-face format. Writers of all levels are welcome. To sign up please visit https://word-weavers.com/


SAVE THE DATE…
May 25 – Adams, Tennessee: Public Invited to place flags on Veterans headstones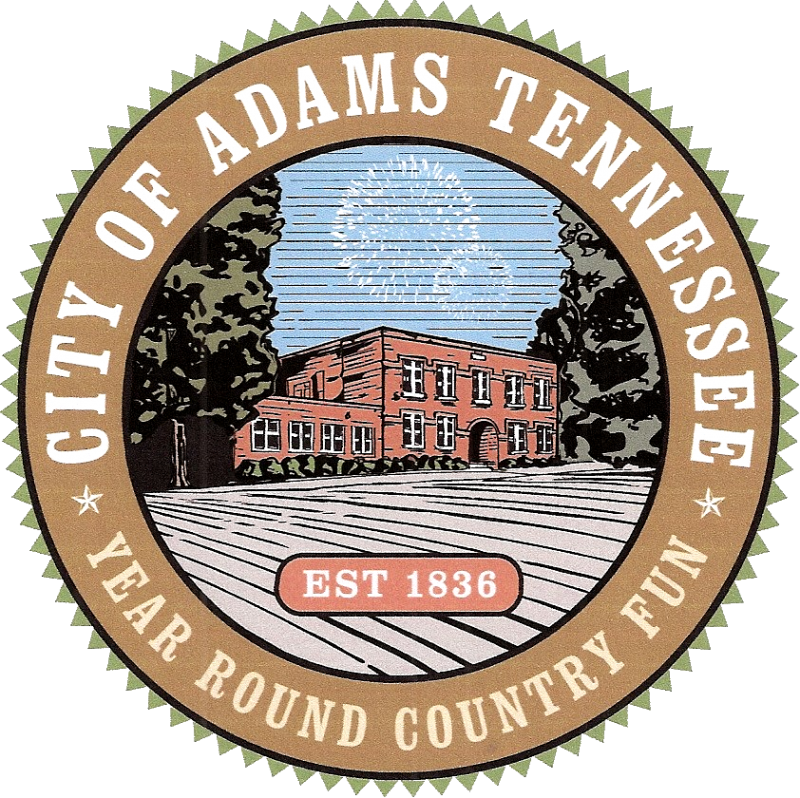 On Saturday, May the 25th at 8:00 AM, Mrs. Kay Bagby will be at the Bell Cemetery to place American Flags on the Veterans headstones.
The flags are furnished by the Daughters of American Colonists.
This event is open to the public and would like to invite anyone and everyone to come out Saturday morning for this event!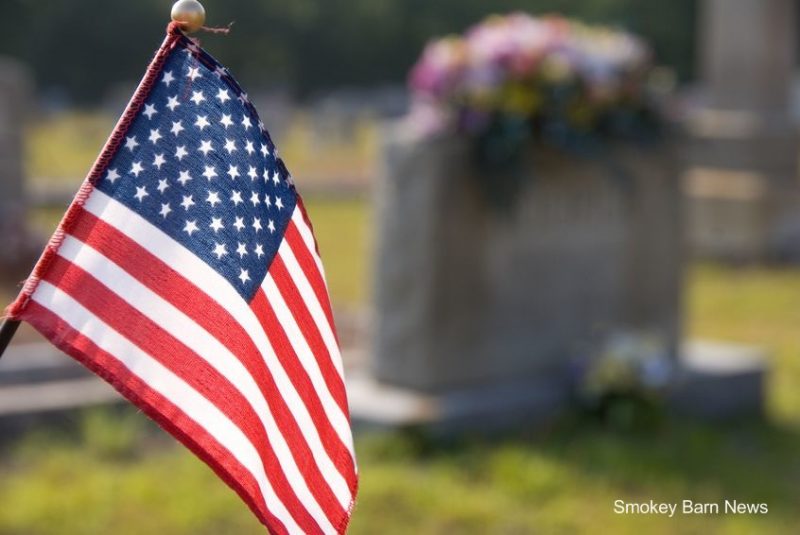 Youth Initiative Chief David Thompson Summer Program (6th-12th grade)
SUMMER YOUTH PROGRAM
FREE – Zero cost for any child accepted into this program.
The CDT Youth Initiative Summer Program is a completely free Summer camp for local youth. We meet 5 days a week, provide the kids with meals, cooking classes, yoga, sporting activities, field trips, swim lessons, and so much more!
It is our goal to provide these opportunities to anyone, 6th-12th grade who is interested in bettering themselves. We have a zero tolerance policy. Bad attitudes, cell phones, vaping, and disrespect will result in immediate termination. We do have a waiting list of kids who want to be in this program and we suggest that any minor interested in joining us, have a long talk with their parent or guardian before signing up. We only want serious contenders participating.
Again, there is zero cost for any child accepted into this program. If you are still interested, please submit an application and we will set up an appointment to meet in person and go over more policies and provisions. APPLY ONLINE –> HERE
Activities include things like: A Nashville Sounds game, Swim lessons, Chess lessons, Cooking class, Dairy farm trip and more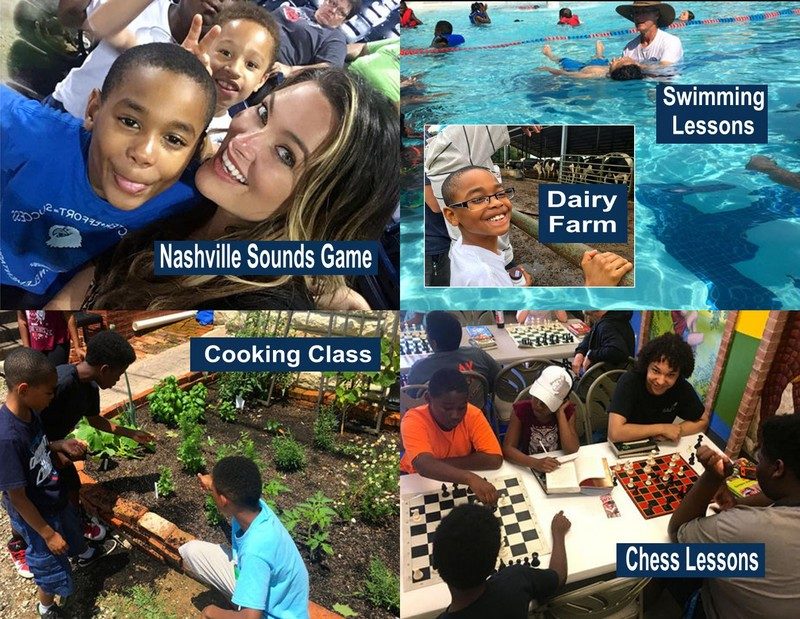 Greenbrier Middle School: Teacher/Coach Tommy Williamson's Retires
Thank you, Mr. Williamson, for your dedication to our students!
Mr. Willliamson's favorite quote: " Discipline yourself, so no one else has to" Pat Summitt.


SAVE THE DATE!…
May 25: 8th Annual Live The "Green" Way LIQUID COLOR 5K – Hosted by Jennifer Green Foundation
Saturday, May 25, 2019 at 8 AM – Robertson County Fair, TN : 4635 Highway 41 N, Springfield, TN
The 8th Annual Live the "Green" Way LIQUID COLOR 5K takes place at the Robertson County Fairgrounds making use of the scenic Springfield Greenway as a "down and back" course following along the beautiful Sulphur Fork Creek. This is a primarily flat course with a slight incline towards the finish line. It is a fast course, work on your personal record. Also, near the finish line are the infamous COLOR LANES, but don't worry, if you don't want to be sprayed we have SPLASH FREE AREA. This year the event will be professionally timed at both start and finish.
This great event raises money for the Jennifer Green Foundation that supports Special Education Programs in Robertson County, TN, a cause that was very near and dear to Jennifer's heart.
Included with race registration is a pre-race packet pick up event on Friday Night, May 24, 2019, which includes entertainment, T-Shirt Sales, Fire Dept, D.A.R.E., and a Community Vendor Fair with individuals selling their handmade items along with various other items. A BBQ Dinner is available with tickets available from Foundation Members or purchased at the packet pick-up event.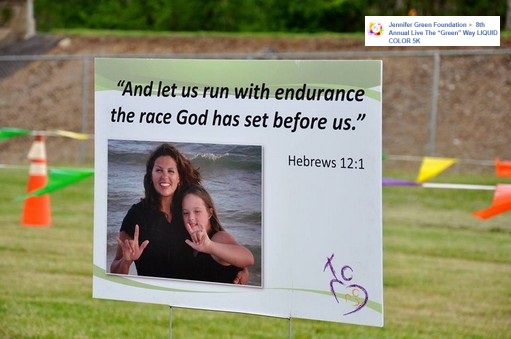 The Jennifer Green Foundation was formed in 2012 to honor and remember Jennifer Green. Jennifer was an amazing Christian, mother, wife, daughter, sister, and friend. Anyone whoever met her loved her. She was never without a smile on her face. She also loved children and they loved her. Besides her faith and her family, she had two other passions….running and children with special needs. Our foundation will raise money to help support local special education programs.
If you have any questions, please feel free to email us at [email protected] or check out our website at WWW.JENNIFERGREENFOUNDATION.ORG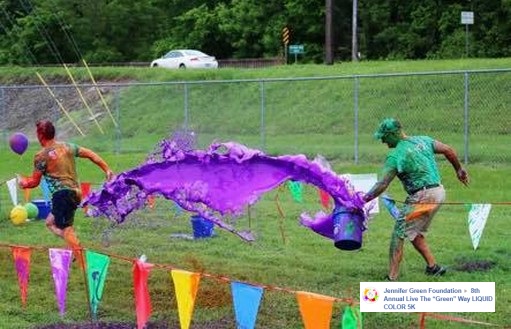 City of White House, TN- Police Department Says… 
Thank you HB Williams Elementary for all the goodies!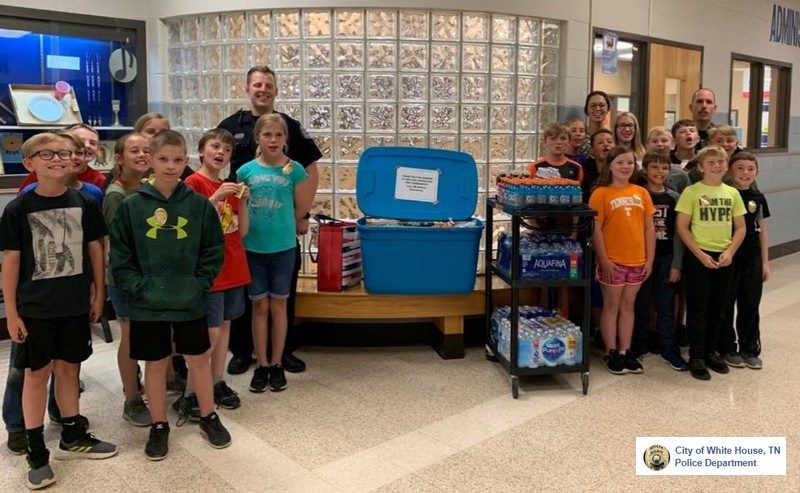 A premier Smokey Barn News sponsor
Payne Chevrolet – Another Happy Customer
Another new Blazer is rolling off the lot today! Congratulations Paula on your new ride! Our Memorial Day Sale is still going strong with $3,500 off blazers. Come on in and check it out before it's too late!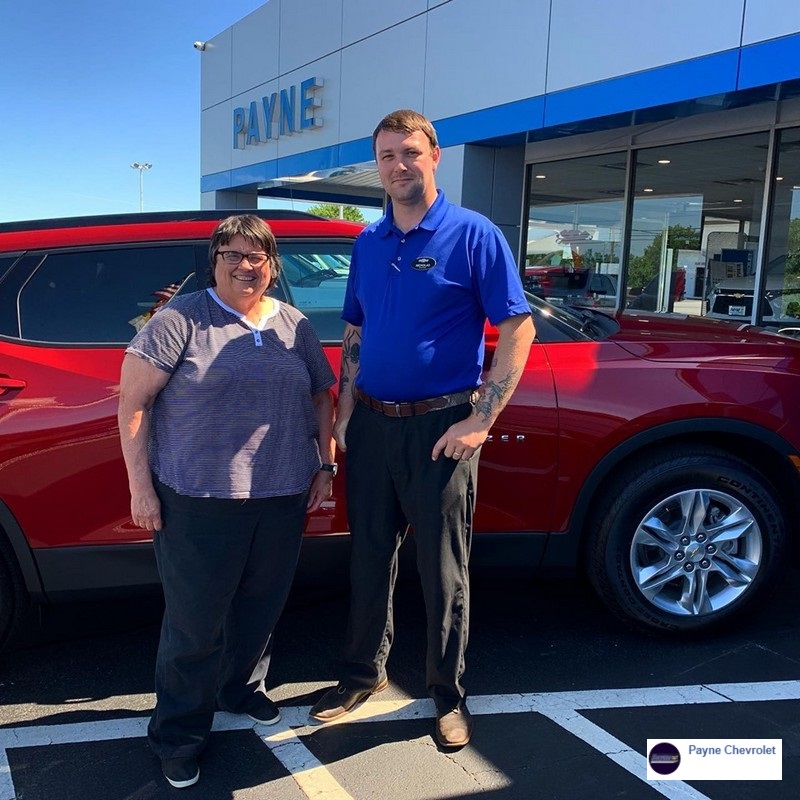 Greenbrier High School May Community Leader of the Month – Staff Sergeant Joshua Gill
Mrs. Bogle is presenting Staff Sergeant Joshua Gill with our May Community Leader of the Month certificate. Staff Sergeant Gill has volunteered several occasions to help promote a positive learning environment for our students. He has delivered motivational messages connected to leadership and community, as well as provided the Rock Wall to help students build confidence and promote team building in an interactive environment. No matter what the need, he is always willing to help support our students and staff throughout the year.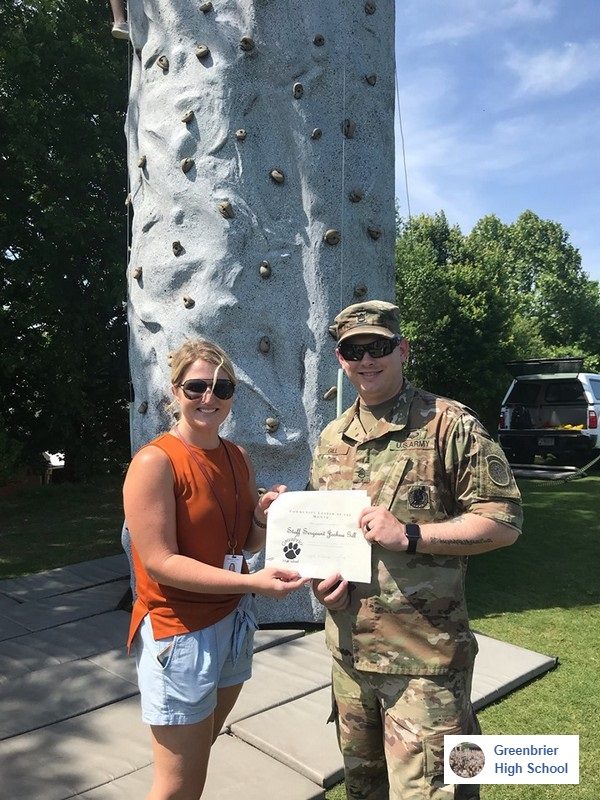 City of Adams, TN – Cub Scouts Get Their Own Room in City Hall! 
Cub Scouts presented the City with a plaque last Thursday at the City Meeting.
We are very appreciative of this plaque. Thank you so much Cub Scouts Pack 454! The plaque is on display at City Hall.
We are also excited to announce that the Cub Scouts will be having their own room here in the City of Adams located upstairs in City Hall. We are excited to have them!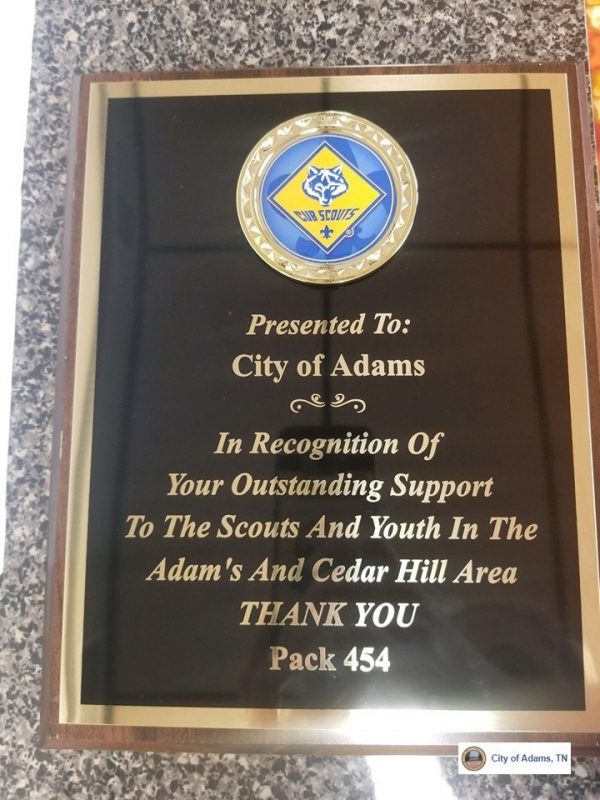 The Mayor's Corner
City of Springfield Monthly Meeting May 21st at 6pm. All our welcome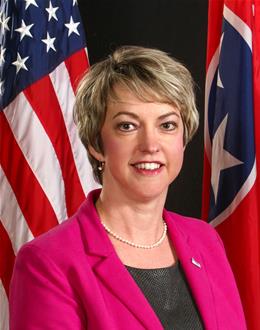 Tuesday night, May 21st is our regular monthly meeting of Springfield Board meeting with the first reading of the budget at 6 pm.
Springfield Splash To Open May 25th!
The Springfield Splash pad is opening at Martin Luther King Park on Saturday, May 25th from 10 am to 2 pm with family fun with Hollingworth Grill Team and Hunts Pizza along with DJ Johnny.
Come join us for the fun and kickoff the Memorial weekend.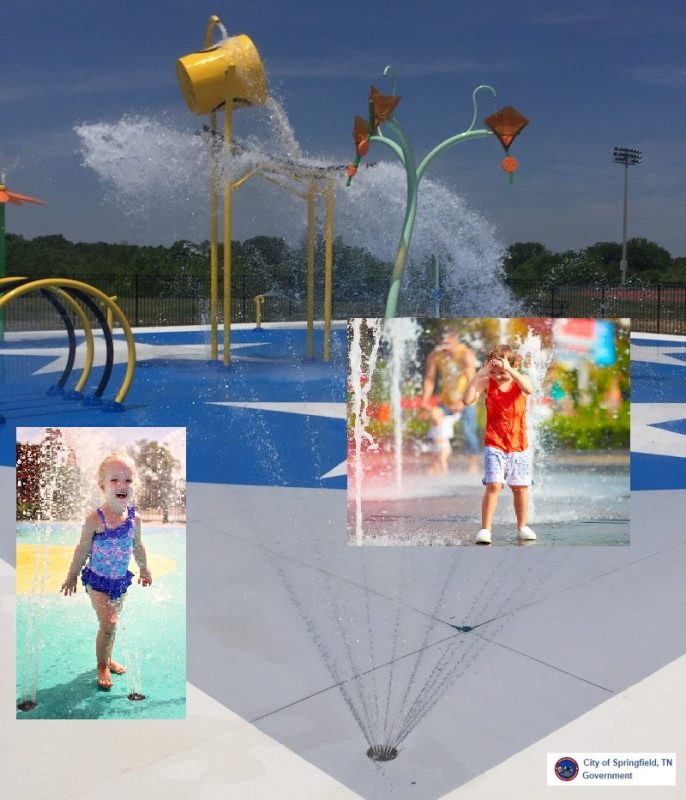 Congratulations To All Robertson County Graduates of 2019!
Springfield High School Leads Off Graduation Season
Two-hundred and thirty-eight Springfield High School seniors received their diplomas at the 119th graduation ceremonies at Austin Peay University's Dunn Center on Thursday night.
Valedictorian Benjamin Galluzzi and Salutatorian Sarah Ramey addressed their fellow graduates before SHS teacher Michael Lamb delivered the commencement address.
Six graduates completed their high school career with a perfect 4.0 GPA, and 57 others maintained a 3.5 average. Thirty-three graduates graduated with both high school and college credits and a total of 146 are on track for post-secondary education. Principal Teresa Leavitt announced that the scholarship amount earned by the class totaled $4,266,217. Click —> HERE To See More pics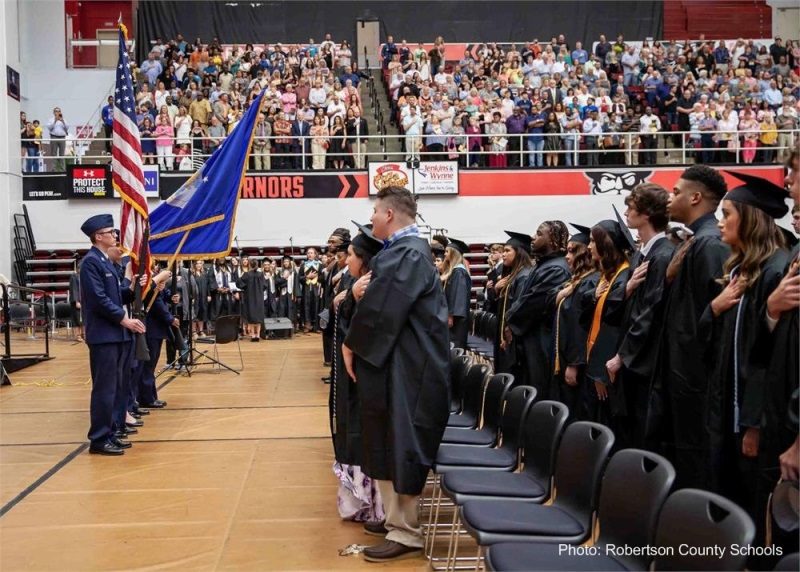 East Robertson High School Celebrates 2019 Graduation
Eighty-three East Robertson High School seniors marched across the front of the school gym on Friday, May 17, to receive their diplomas and recognition as full-fledged ERHS graduates.
Valedictorian Hanna Sermons and Salutatorian Abigail Dixon each addressed their fellow-graduates during the ceremony, before Principal Mary Cook spoke to the entire group.
Sixty-three graduates are heading to post-secondary training of some type and 34 students completed their high school career with a GPA of 3.5 or better. Thirty-four graduated with Honors, 20 graduated with Distinction, 14 with State Honors, and 9 were TN Scholars. Nineteen students have completed 12 hours or more of college credits.
Scholarship totals awarded to graduates this year totaled more than $675,000.
Of special note for the evening was the presentation of an honorary diploma to the parents of Ethan Bibb. Ethan, who would have graduated with this class, passed away in the 3rd grade from Cancer. Click —> HERE To See More pics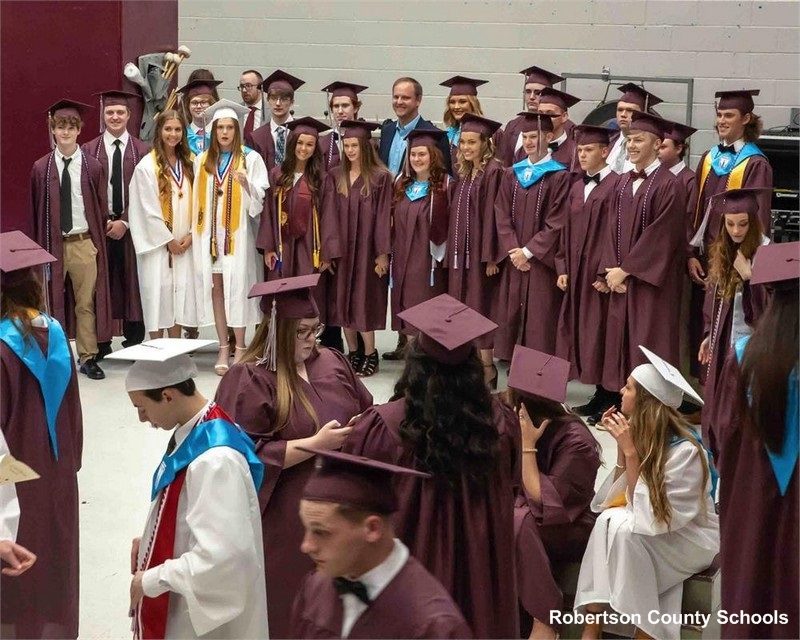 Jo Byrns Holds 2019 Graduation Ceremonies
Sixty-nine seniors entered the Jo Byrns High School Gym on Saturday, May 18, for the last time as students, and walked out as high school graduates just over an hour later.
Valedictorian Emily Sorensen and Salutatorian Olivia McCaskill each addressed their class members with final thoughts that included both memories and encouragement for the future.
Three graduates completed their high school education with a perfect 4.0 GPA and 27 others maintained a 3.5. Fifty-one will be attending college or university in the fall, and two are joining the military.
The class of 2019 graduated 45 students with Honors, 15 with State Honors, 20 with State Distinction, and two as TN Scholars. A total of 18 graduates were enrolled in dual enrollment and/or graduated with college credits or certificates. Two of them will be attending Austin Peay State University next year enrolled as juniors because of their academic accomplishments. Click —> HERE To See More pics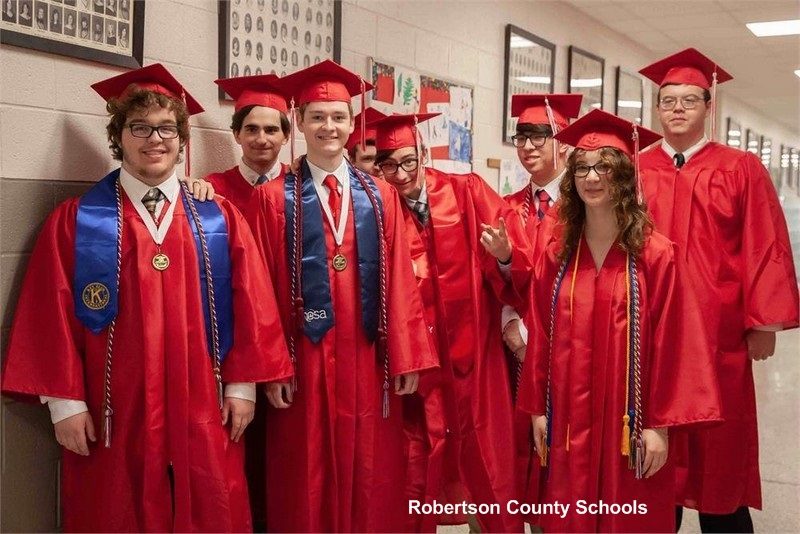 White House Heritage Graduates Class of 2019
White House Heritage High School graduated 116 high school seniors on Sunday, May 19, in a packed-out gym full of family, friends, and well-wishers.
Valedictorian Breanna Leigh Bishop and Salutatorian Phoebe Ann Dawson shared their hearts with fellow classmates, encouraging them one last time before they concluded their secondary academic journey.
Emily Stone, a 2015 graduate of White House Heritage High School, delivered the Commencement Address. She is a 2019 graduate of the University of Tennessee – Knoxville with a degree in animal science. She also completed antibiotic research while at UT-K, and will be attending St. George University Medical School in August pursuing her medical degree with a concentration in general surgery.
Forty-two students graduated with Honors, 24 with Distinction, and 37 with State Honors. Eleven students graduated as TN Scholars.
More than half the class are making plans for some type of further education next year. Fifty-five will be heading to a four-year program of some type, and 45 are making plans for two-year education. An additional 9 will enroll in the Tennessee College of Applied Technology, making for a total of 86.5% of the graduating class making plans for college or technical school.
Five graduates will begin a military career and seven others are joining the work-force immediately.
Four graduates completed their high school careers with perfect 4.0 GPA's and the most recent scholarship awards total for those attending post-secondary training is 2,400,000. Click —> HERE To See More pics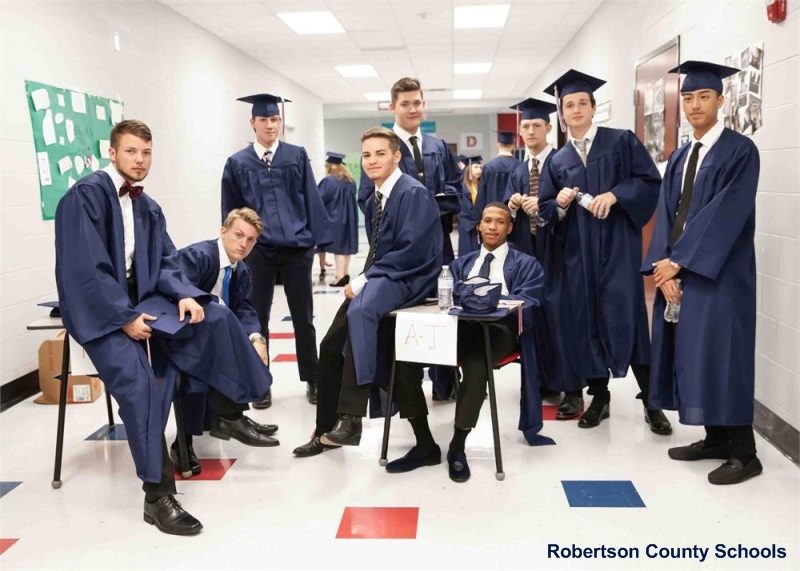 Greenbrier Concludes 2019 District Commencement Schedule
Greenbrier High School graduated 192 seniors Monday, May 20, on the school's football field under sunny skies.
Valedictorian Lukas Carpenter and Salutatorian Neh Patel each delivered an address to their fellow graduates. Carpenter referenced the combination of fear and excitement they each faced, saying both were ok, and that they as a graduating class should acknowledge their fears of the future, but not be controlled by them.
Sixty-two graduates completed their high school scholastics with Honors, 19 with Distinction, 45 with State Honors, and 18 as TN Scholars. Three carried a 4.0 GPA to graduation, while 65 maintained a GPA record of 3.5 or better.
One student graduated with an Associates Degree from Austin Peay State University and 116 were HOPE eligible. Scholarship awards to the group totaled $2,334,550.
Click —> HERE To See Photos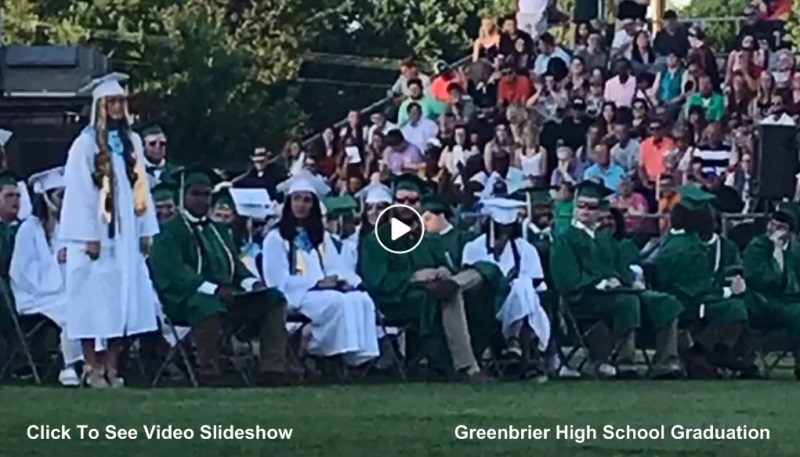 For more top news see Smokey's front page..
Smokey Barn News (Advertisement)


We bring you ALL the News in and surrounding Robertson County, Tennessee.