Fri./Sat. Big Rig Races & Live Music At The Rim In Greenbrier
GREENBRIER TENNESSEE: (Smokey Barn News) – Going to be a Big (we mean really Big) Big night at Highland Rim's Veterans Motorplex in Greenbrier TONIGHT!
That's right, tonight (Friday) @ the Rim it's the all-new American Big Rig Series!! Grandstand gates open at 4 pm Qualifying begins at 7 pm followed by local racing!
LIVE MUSIC: Music Artists Adam and Amy Pope playing from 5-7 pm
Track owner Jerry Criswell tells Smokey Barn News, that they're expecting 14 Big Rigs tonight with no less than TWO 10-lap Big Rig Heat races and ONE 30-lap Big Rig Feature Race!!!
14 cars by themselves on the track at the Rim is a special to see all by itself! Now try to imagine 14 Big Rigs tearing up the track as they fight for the number one spot!!
TONIGHT'S RACE: WHAT YOU NEED TO KNOW
WHAT: Twin American Big Rig Heat Races "30 laps" and a Big Rig PIT PARTY where you meet and greet and get autographs!!
WHEN: Friday night Adults $35, Sen/Miltary $30, Student $20, Ages 6-12 $10, Age 5 and under $5. Track info: 615-643-8725
WHERE: 3183 Kelly Willis Rd. Greenbrier. TN MAP
WHY: Why? For you of course!! See you there!!
SATURDAY NIGHT SEPT. 17th, 2023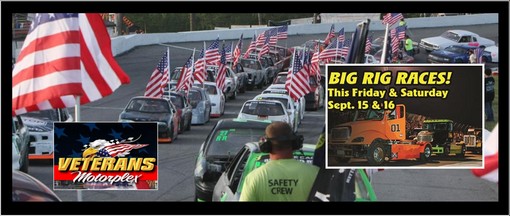 Sat. Afternoon & Evening Racing & BIG RIGS!
Saturday Night Ticket Prices: Adult $35, Senior / Military $30, Student $20, Children 6-12 $10 5 and under $5
Veterans Motorplex @ The Rim in Greenbrier
4:00 ALL BIG RIG DRIVERS TO THE SLOT CAR TRACK IN STANDS
Springfield Plumbing Late Models 3:53 – 4:00
Road Warriors 4:02 – 4:09
Road Dogs 4:11 – 4:18
Scrappers 4:20 – 4:27
Drivers Meeting 4:40
Qualifying: Pest Doctor Ridge Runners, Pull a Part Pure Stocks
Road Dogs, Springfield Plumbing Late Models
BIG RIG Practice 5:45 – 6:15
6:40 BIG RIGS to the Infield for Qualifying
6:50 Adam and Amy Poke sing I Ain't over it yet
6:55 Adam and Amy Sing the National Anthem
7:00 Big Rigs Qualify
Road Warrior 20 Lap Feature
Pest Doctor Ridge Runners 30 Lap Feature
1st BIG Rig Heat Race 10 Laps
2nd BIG Rig Heat Race 10 Laps
Road Dogs 20 Lap Feature
Pull a Part Pure Stocks 30 Lap Feature
Springfield Plumbing Late Models 50 Lap Feature
BIG RIGS to the front Stretch for Pit PARTY
BIG RIG TENNIS BALL TOSS 2- BIG RIG Shirts to the Winner
AMERICAN BIG RIG I-65 30 LAP SHOWDOWN
SCRAPPERS 15 LAP Feature
Mobile: To See The Latest Stories or to share this article, scroll below