Twilight Bandits Strike Two Markets Minutes Apart Monday
REWARD OFFERED
RIDGETOP/GREENBRIER TENNESSEE:  The Robertson County Sheriff's Office is seeking information in regards to two (2) store burglaries that occurred in the early morning hours of December 13th, 2021.
The first burglary occurred at the AM/PM Market on Hwy 41 South in Ridgetop, TN at approximately 3:05 am. MAP
The second burglary occurred at the SpeedGo on Old Greenbrier Pike in Greenbrier, TN at approximately 3:23 am. MAP
The two businesses are about 4.5 miles apart. DISTANCE MAP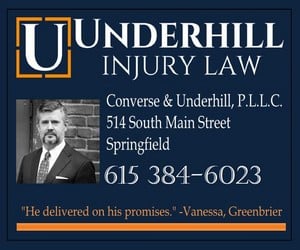 Detectives believe there are two suspects, and they are involved in both burglaries. The two suspects were wearing dark-colored clothing, hoodies, and face coverings.
They were observed on video fleeing the scene in a silver mid-size SUV or Cross Over heading in the direction of the City of Greenbrier, TN.
If anyone knows the identities of these individuals or has any information, please call the Robertson County Sheriff's Office tip line at 615-382-6600, email Detective James Kendrick at [email protected]. The Sheriff's Office is offering a reward for anyone that provides information leading to the arrest and conviction of the suspect(s).