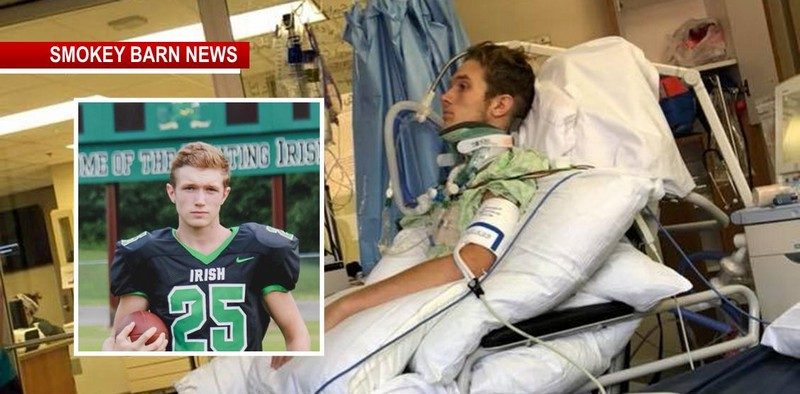 Two Communities Unite With Benefit For Paralyzed Football Player This Saturday
CEDAR HILL TENNESSEE: (Smokey Barn News) – A Houston County football player is alive thanks to the actions of a Robertson County (Jo Byrns High) athletic trainer. Now the community is rallying around the family with love and support.
Jo Byrns High Athletic Trainer Alex West, told WSMV News 4 that there was an emergency you train for but never think will actually happen. Now, one thankful family will never forget him.
West, in his first month as the athletic trainer at Jo Byrns High, would face a moment during a game that he too will likely never forget.
A recent game put Houston County High and Jo Byrns High on the field here in Robertson County.
"One of their kids went down," West told News 4. "Everyone else was getting up from the pile-up, and he was just there laying motionless. I took off for him."
Houston County High student Jefferey Cox had suffered a critical injury.
"You could see the kid was really struggling," said West. "He couldn't breathe. I felt for a pulse, and he didn't have a pulse. I yelled for people to call 9-1-1. I started CPR. We got the helmet off him as I stabilized his head. That way I could check his airway."
"To be honest, I was scared myself," West said. "I was terrified. We just kept going with CPR, the breaths and the compressions for 15 minutes until Springfield EMS arrived."
Jefferey remains at Vanderbilt.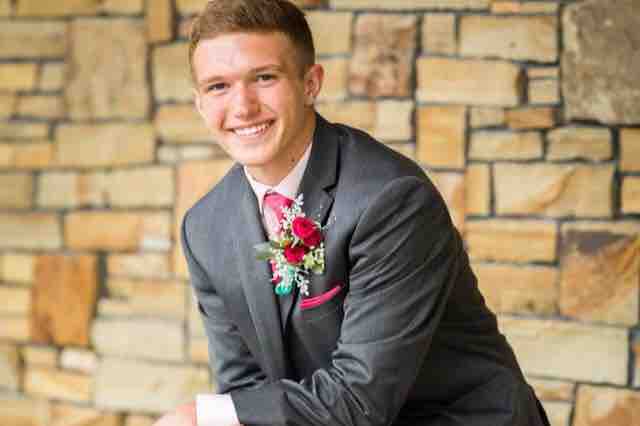 His mother Alicia Parker told News 4 in a statement;"We all know what God can do, and that is where our trust lies. I thank God for Jo Byrns athletic trainer Alex West who performed chest compressions for a long time on the field while waiting on the ambulance.
Jefferey has 100 percent brain function because of him. We are very hopeful and know he will pull out of this because God is on his side. We are so thankful for all the prayers and support. So many communities have been amazing to us. We could not get through this if it weren't for so many people. Now, with all that said, I really want policies to change.
Every team should have a medical trainer and an ambulance should have to be at every game, even just scrimmages."
"I get a little emotional about it, really," said West. "I guess you're not fully prepared until you're in it. I guess the training just took over. To Jefferey, we're all wishing the best for you. It's going to be a long road still. We've all been praying for him nonstop, and we're hoping for the best."
According to the family's GoFundMe page, Jefferey has had surgery on his C1 & C2. At this time Jefferey has no movement below the neck. Jefferey is at Vanderbilt Medical Center and will be hospitalized for an extended period. Please help us support his family who is missing work to be in physician consultations and making the 75 mile one-way trip to the hospital every day.
A Benefit for Jefferey Cox and Family planned for August 25 – Saturday at 11 AM – 3 on the town square in Erin Tn at the stage near the courthouse. There will be BBQ plates, Chicken leg qtrs, Baked beans, Potato salad and Can drink. All plates are strictly by donations and all the Proceeds go to the family.  If you're interested in helping please contact Shane 615-423-8662 or Runt 615-681-1130.
Toni Hallman tells Smokey Barn News, "The entire Robertson County community has really come together to raise money for the injured HC football player! JBHS football boosters sold over 300 T-shirt's, East Robertson raised money, people have been donating money and raffle items. Alex West is a hero and Jefferey has 100% brain function because of his efforts on the field. This has impacted the Jo Byrns football community in many ways!"
On Facebook Jefferey's Strong Journey

Smokey Barn News (Advertisement) 

Smokey Barn News (Advertisement)


We bring you ALL the News in and surrounding Robertson County, Tennessee.