Smokey Barn News
Tuesday August 19, 2014
Springfield, Robertson County, Tenn..
Two Suspicious Fires A Mile Apart In Springfield Tuesday Night
There were two suspicious fires in Springfield Tuesday night. The first fire was a home on 4th Ave near Memorial Blvd., the second fire was less than a mile away at the Royal Inn. Both fires are being classified as suspicious according to Captain Don Pulley with the Springfield Fire Department.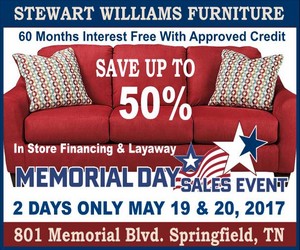 The home fire on 4th ave started around 10:00PM and it was the second fire at the same address in less than a month, it is now completely destroyed. According to Captain Don Pulley with the Springfield Fire Department, the fire is being labeled suspicious and is being investigated for arson. The home is located on 4th Ave in Springfield. (Location of home).
The first fire at the home was started accidentally by a fryer according to home owner Eric West who has owned the home since 1992. The 1400 square foot home was classified as a total loss but Springfield Fire had saved enough of the home that Mr. West was able to leave some items in the home while he recovered from back surgery.
Mr. West had been staying with  relatives since the first fire wile he waited to rebuild the home. The items stored in what was left of the home were the belongings of his son who passed away after a tragic auto accident four years ago. "It was all I had from my son"  Mr. West told Smokey Barn News.
The second fire just a mile up Memorial Blvd at the Royal Inn started in a pile of garbage just outside the hotel. The fire was called in around 2:00AM and when fire crews arrived the fire has spread to the hotel itself. Luckily Springfield Fire made short work of the fire and contained it to the outer superficial facing on the right side of the hotel.
No injuries were reported at either fire, Captain Pulley didn't think the two fires were connected.
Smokey Barn News (Sponsor/Advertisement)

We bring you ALL the News in Robertson County, Tennessee.