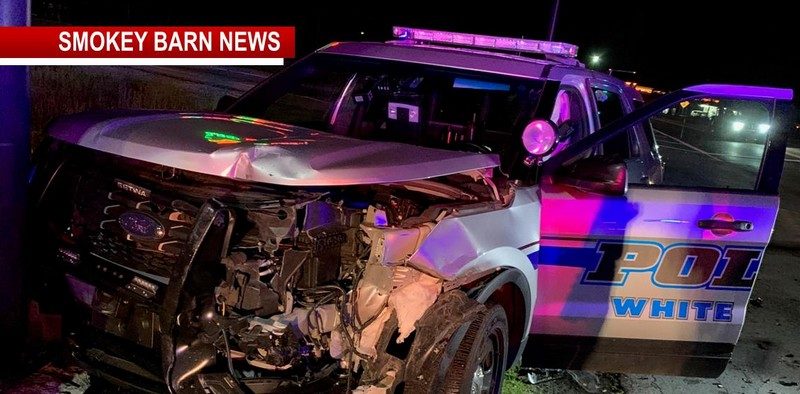 WH Police Chief Humbled By Community Response After Crash
WHITE HOUSE: (Smokey Barn News) – A serious crash left two vehicles heavily damaged in White House Friday night, however, no serious injuries were reported.
One of the vehicles involved was a White House Police SUV. We're told that the officer did sustain very minor injuries but was able to finish his shift. The driver of the second vehicle was also not seriously injured and no one was transported following the crash.
"It looked worse than it was," said White House Police Chief Pat Brady
The crash occurred Friday Night a the intersection of Hwy 76 and I65 around 8 pm. MAP
White House Police Chief Brady told Smokey Barn News that he's humbled by the response he has received from the community regarding the accident. "Both vehicles sustained major damage but thankfully no major injuries occurred. We appreciate the overwhelming response from the community in regards to this accident," Chief Brady said. "We have received dozens of calls, texts, and Facebook messages offering prayers and asking about the condition of both the officer and the driver of the 2nd vehicle. That's what makes this community so special." CONTINUED….
The Tennesee Highway Patrol investigated the crash. According to the THP's preliminary analysis of the crash, the 2017 Ford Explorer police cruiser (traveling East) had the green when a 2012 Honda CRV (traveling West) turned left at the I65 S ramp. As the Honda made the turn towards the ramp it impacted the side of the police cruiser.  The impact put the Honda into a spin and into a ditch and sent the Police cruiser into a utility pole.
According to the THP report, no citations were issued or charges filed. There was also no mention that drugs, alcohol or distracted driving played any part in the crash and both drivers were properly restrained.
Smokey Barn News (Advertisement)
Smokey Barn News (Advertisement)
We bring you ALL the News in and surrounding Robertson County, Tennessee.