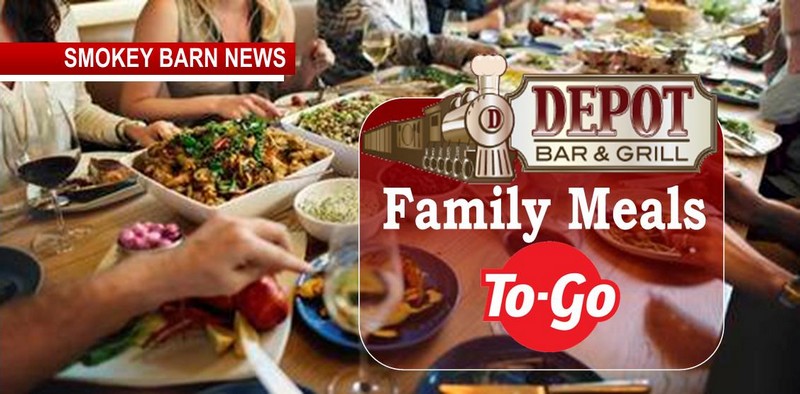 What's For Dinner At The Depot? Everything!
SPRINGFIELD TENNESSEE: (Smokey Barn News) – What's for dinner at the Depot? Their full menu and more! Other than their full menu, the Depot is now offering special family meals for take-out.
"Hey Springfield, as you know, we are going through an unprecedented time right now and are focused on keeping you safe and fed. Thank you so much for the support so far through it."
We know that dinner at Depot Bar & Grill is a long-standing tradition for many families in our community. We are so grateful for that and love seeing you at the restaurant time and time again. While we can't continue the tradition as we normally would with in-house dining, we can make sure you still have a delicious meal to gather around the table with.
The Family Meals menu is ready and posted below. For the FULL MENU click here.
Choose one entree and two sides, and call us at 615.382.8584 the day before to order yours by 4 pm. It'll be ready for pick-up at the restaurant the next day.
The meals are $28.00 for a family of four and $35.00 for a family of six. All meals come with rolls and butter.
Give us a call now to order yours! Our number is 615-382-8584.
Our regular menu is still available for carry-out: Just call 615.382.8584 and place your order, then, in a few minutes, come on by and pick up your delicious meal!
STARTING Tuesday we will be open Tuesday-Saturday from 11 – 7 pm, so get your Monday orders in today!
Thank you so much for your support! We will get through this. God bless you all!
(CLICK IMAGE TO ENLARGE)