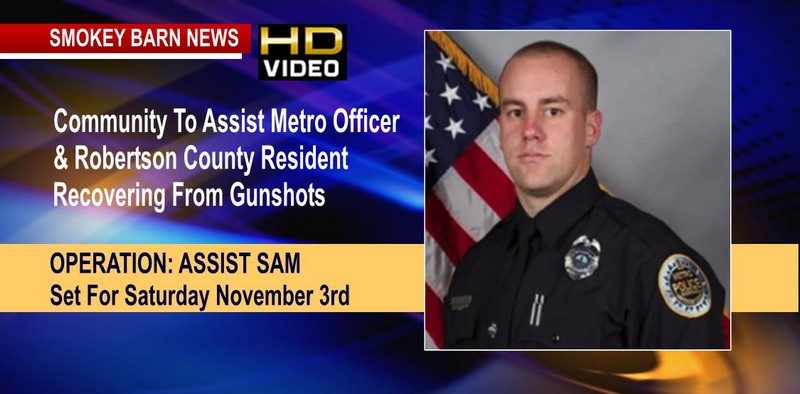 Work Day Planned For Local Wounded Officer (How You Can Help)
ROBERTSON COUNTY TENNESSEE: (Smokey Barn News) – It's a day every officer hopes will never come. On October 5th, that day came for Metro Officer Samuel Galluzzi, 24, of Robertson County who was shot twice during the pursuit of an armed suspect in Nashville. One bullet shattered the bone above his right ankle. Officer Galluzzi will require months of rehabilitation.
Now the community is reaching out to the Galluzzi family with some good old-fashioned elbow grease.
Officer Galluzzi and his wife purchased a home in the Robertson County area in 2017. The home is in need of tree removal, drainage work, ground leveling, brush removal, wood cutting, and landscaping. Sam had plans to do the work himself this fall.
OPERATION: ASSIST SAM
OPERATION: ASSIST SAM will coordinate volunteers and supplies to do much of this work in ONE DAY.
WHEN: The project is scheduled for Saturday, November 3 beginning at 9:00 am and ending approximately at 4:00 pm or earlier, depending on the number of volunteers.
WHERE: For directions and more information contact the Project Coordinator: Paul Fuqua [email protected] 615-406-5746
WHO: Tony Cobb of Cobb Construction and Excavation has agreed to serve as the Project Manager. He will direct the project.
WHAT CAN YOU DO?
VOLUNTEER TO WORK: Anyone who can do manual labor. WEAR BOOTS –IT IS MUDDY.
We need 5 people with weedeaters to clear brush and weeds. Bring everything you need including eye protection. BRING WORK GLOVES IF YOU HAVE THEM.
We need 5 people with chainsaws to cut up felled trees to be carried off the premises.
We need anyone who has a truck that can haul off wood, limbs and brush to their property to be disposed of.
We need people that can bring their shovels, grubbing hoes, rock rakes, wheelbarrows and 5-gallon buckets. PLEASE WRITE YOUR NAME ON YOUR TOOLS-we will have Sharpies there.
VOLUNTEER TO DONATE ITEMS: We need 50 rolls of landscape mesh. one White Dogwood Tree, 100 feet of railroad ties.
PLEASE EMAIL OR TEXT the project manager Paul Fuqua if you can work, donate supplies, bring your weedeater, chainsaw or, truck to haul wood or debris. Paul Fuqua 615-406-5746 [email protected]
DONATE MONEY: The cost of this project will be about $2,000.00. To help out with donations contact Paul Fuqua 615-406-5746 [email protected]


Smokey Barn News (Advertisement)


Mark your Calendar & Make Plans For Your Family Holiday Photos. South Central Growers Presents 2018 Poinsettia Open House. FREE POINSETTIA FOR EACH VISITOR!
November 10, 2018, from 10:00 AM to 2:00 PM
Additional poinsettias are available for purchase. They make great gifts and accessories for holiday parties, weddings, and church events.
*All proceeds from sales will benefit Beauty for Ashes – A Healing Place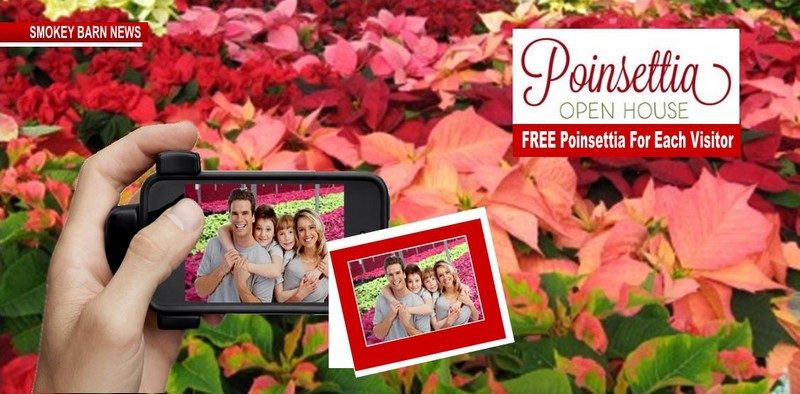 We bring you ALL the News in and surrounding Robertson County, Tennessee.